Works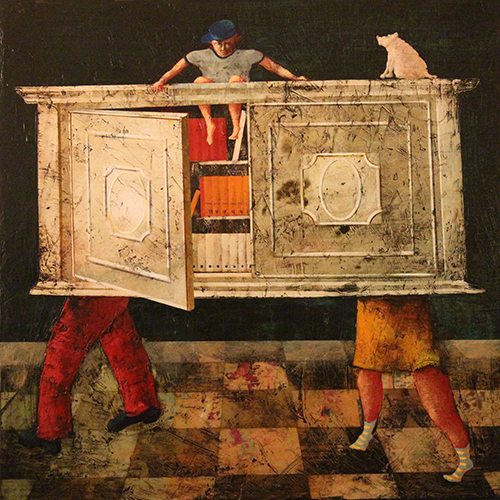 Present in our gallery since 2017.
The reality of visionary between dreams and playful curiosity tries to lead the artist in to the center of the invention, where the wonder, the contextualization dimensional, spatial and temporal subjects, entered into a dreamlike horizon that restates them, and tells in a new perspective, are effective pictorial expression, lightness surprise that is renewed in the titles of the paintings, an integral part of the implemented ironic displacement with the painting, whose titles adds an additional indication surrealistic able to take us in the very spot where creativity takes form: there, where are born the metaphors.
Angelo Palazzini was born on 1953. Today his works are present in a stable manner in the most renowned Italian and foreign galleries. Appreciated and recognized exponent of surrealism, was recognized by critics and the public. He has exhibited in many important exhibitions, among which: "Surrealism Padano, from De Chirico to Foppiani" Gothic Palace in Piacenza; "Surrealism Padano, from De Chirico to Leonor Fini", Museo Civico Revoltella in Trieste; "Italian Art 1968-2007", the Royal Palace, Milan; "Contemplations", Castel Sismondo, Rimini; "Venice Biennale", 54th edition 2011, Palazzo della Ragione, Milan.