Opere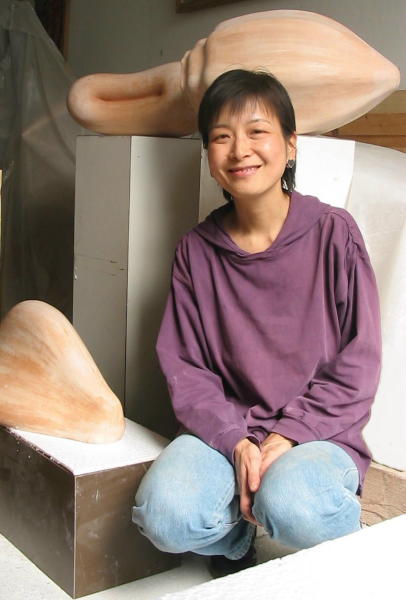 Mariko Isozaki ha esposto in Galleria Gagliardi dal 2005 al 2013.
Mariko Isozaki (1964 - 2013)
La prima impressione che ho avuto guardando i suoi lavori è "la vita". I lavori non sono rappresentazioni realistiche di cose viventi, ma loro hanno un senso di linee morbide, un equilibrio di colori ed un lucentezza che trasuda vita. Alcune persone considerano queste forme parti di corpo, altri fiori maturi. Vedendo i suoi lavori, si prova le stesse sensazioni davanti ad oggetti animati: un calore ed una superficie viva. Questo è quello che vuole. "Si pu" percepire solamente i miei lavori attraverso il senso di vista, così creo oggetti che suggeriscono calore, le fragranze e tessitura." Effettivamente, quando persone descrivono il suo lavoro spesso usano parole come "tattile" e "l'olfattivo", termini che non possono concernere possibilmente solamente al senso di vista. Queste percezioni combinate sono precisamente quelle che crea il sentimento di spazio, la relazione tra la realtà ed il senso della vita. Loro colmano la distanza tra l'osservatore e l'oggetto e creano un'atmosfera altrimenti irraggiungibile attraverso il solo senso di vista. I suoi lavori, chiaramente non si muovono o crescono, ma lo spazio cambia con la loro presenza. Uno può dimenticare che i suoi lavori sono solo arte ceramica.
Nel 1990 si laurea in "Craft and Industrial Design" alla Musashino University of Art di Tokyo, dove poi insegna per dieci anni, per specializzarsi poi all'Istituto Statale d'Arte per la Ceramica "Gaetano Ballardini" di Faenza (1992).
Dal 1994 al 2009 presenta alcune personali in diverse importanti gallerie in Giappone, soprattutto a Tokyo, Mie, Osaka, e presso il Sogetsu Art Museum di Tokyo (1999). La sua attività si sviluppa poi a livello internazionale, con altre personali, tra cui: Consolato Generale del Giappone, Milano (2003); Galleria Fogolino, Trento (2006); Zen Art, Milano (2007); Associazione Culturale Arte Giappone, Milano (2007); Naviglio Modern Art, Milano (2007; '08). Inoltre partecipa a numerose collettive, tra cui: "International Ceramic Competition Mino", Gifu, Giappone (1998); "Competizione Internazionale di Ceramica Contemporanea", Faenza (1999; 2003); "ASIART", Genova (1999); "Scultura Gioiello", Lugano e Chiasso (1999); "Abitare il Tempo2, Verona (1999); "Art Works on the Desktop", Tokyo (1999-2001); "La Diversità2, Firenze e Lecce (2000); "100 Kleine Werken Van Grote Meesters", Ostenda, Belgio (2000); "Naturalezza Inventada2, Cordoba e Lugo, (2000); LINEART, Bruxelles (2000); "Bianco e Nero", Monza (2001); "Art Rotterdam" (2001); "Duo Exhibition", Nijmegen, Olanda (2001); "New Movements in Craft", Tokyo, Kyoto, Yokohama, Nagoya, Osaka (2002-'04); "Salon de la Céramique d'Art Contemporain", Parigi, (2006); "ArtVerona" (2006; '08); Galleria Hausamman, Cortina d'Ampezzo, (2007); Galleria Repetto & Co., Acqui Terme (2007); Naviglio Modern Art Gallery, Milano (2007; '09).
Le sue opere sono presenti in importanti collezioni pubbliche e private, tra cui: Saitama Prefectural Governement Building, Giappone; Cosmos Welfare Institution for the Aged, Tokyo; Kawaguchi Institution for the Aged, Saitama; Proud City Umejima, Tokyo; Zushi Ocean Villa Riviera, Kanagawa; Art Blanc Ooimachi Musée, Tokyo; Kotsu Eidan Ito Heart Spa, Shizuoka, Giappone; Hotel Nikko Kansai Airport, Osaka; Inax Corporation, Giappone; Kyug-Hee University, Corea del Sud; Kutani Ceramics Institute, Ishikawa, Giappone; Istituto Statale d'Arte per la Ceramica, Faenza; Museo Internazionale della Ceramica, Faenza; Sogetsu Art Museum, Tokyo; Kampo Health Center, Saitama; Meiji Life Insurance Land Axis Tower, Saitama; Trendmicro Corporation, Taipei.
Nel 2005, grazie ad una borsa di studio del governo giapponese, studia le tecniche del marmo a Carrara, dove periodicamente risiedeva dal 1999, collaborando con i Laboratori SGF e Corsanini e dove ha preso parte a Torano Notte e Giorno (1999; '03; '06). Nel 2008 partecipa a "Donna Scultura", VI ed., nella Chiesa di S. Agostino di Pietrasanta.
Personali1994Gallery m1995Gallery Isogaya (Tokyo)1996Gallery Tao (Tokyo)Gallery m (Tokyo)1997Inax Gallery Ceramica (Tokyo)1998Gallery Tao (Tokyo)Gallery Meguro (Mie, Japan)1999Sogetsu Art Museum (Tokyo)2001Gallery Jin (Tokyo)2004Plus Minus Gallery (Tokyo)2005Gallery Tao (Tokyo)2006Galleria Fogolino (Trento, Italy)2007Naviglio Modern Art Gallery (Milan, Italy)Art Verona'07 – per Cardazzo Contemporaneo (Verona, Italy)2008Cardazzo Contemporaneo Naviglio Modern Art Gallery (Milan, Italy)Gallery Amano (Osaka)Gallery Tao (Tokyo)2009Shinjuku Takashimaya Art Gallery (Tokyo)2011Gallery Tao (Tokyo)2011Shinjuku Takashimaya Art Gallery (Tokyo)2017sexAltri spazi espositivi2002La Vinaccia (Carrara, Italy)2003The Japanese Consulate General (Milan, Italy)2007Zen Art (Milan, Italy)Associazione Culturale Arte Giappone (Milan, Italy)Collettive1998The 5th International Ceramic Competition '98 Mino (Tajimi City Gymnasium / Gifu)1999The 51st International Contemporary Ceramic Competition (Faenza International Museum of Ceramic / Italy)Scultura Gioiello 1999 (Finter Bank of Zurich / Lugano,Chiasso, Switzerland)"ASIART Asian Contemporary Art" -Biennale d'Arte Contemporanea Nr.1- (Genoa, Italy)"Abitare Il Tempo" (Verona,Italy)"Art Works on the Desktop [VIII] '99-'00" (Contemporary Art Gallery NIKI / Tokyo)2000"La Diversità Colori Locali" (Firenze Expo & Congresso, Ecomuseum Lecce / Italy)"100 Kleine Werken Van Grote Meesters" (Casino Art Gallery / Oostende, Belgium)"Naturaleza Inventada '00-'01" (Cordoba,Lugo,etc, Spain)"Art Works on the Desktop [XI] '00-'01"(Contemporary Art Gallery NIKI / Tokyo)"LINEART Art" Fair (Brussels, Belgium)2001"Bianco e nero" (Fatto ad Arte Gallery / Monza, Italy)"Art Rotterdam" Fair (Rotterdam, Holland)"Duo Exhibition" (De Vierde Dimensie Gallery / Nijmegen, Holland)2002"New Movements in Craft [I] -Respective Forms- '02-'03" (Takashimaya Gallery / Tokyo,Kyoto, Japan)2003"The 53rd International Contemporary Ceramic Competition" (Faenza International Museum of Ceramic / Italy)2004"New Movements in Craft [II] -Respective Forms-" (Takashimaya Gallery / Yokohama, Nagoya, Osaka, Japan)2006"3rd Salon de la céramique d'art contemporaine" (Salle Annexe Mairie / Paris, France)"Art Verona '06" Fair (Verona, Italy)2007Galleria d'Arte Hausammann (Cortina d'Ampezzo, Italy)"Group!" (Naviglio Modern Art Gallery / Milan, Italy)2008"The 6th Donnna Scultura" (Churh of S. Agostino / Pietrasanta, Italy)"Crystal Sweets" (Gallery Satsu / Tokyo)"Art Verona '08" Fair (Verona, Italy)"Gallerism 2008" (Osaka Contemporary Art Center / Osaka)2009"Incoerenza" (Cardazzo Contemporaneo Naviglio Modern Art Gallery / Milan, Italy)"The Power of Decoration - A View point on Contemporary Studio Craft" (Crafts Gallery The National Museum of Modern Art Tokyo / Tokyo)"Artistic Christmas Vol. 3" (Shinjuku Takashimaya Art Gallery / Tokyo)"DOMANI: The Art of Tomorrow 2009" (The National Art Center Tokyo / Tokyo)2010"CARTA al T – prove d'autore" (Cagliari T HOTEL / Cagliari, Italy) (Aquario Civico di Milano / Milano, Italy)"The 11th KAJIMA SCULPTURE COMPETITION" Bronze Award (Kajima KI Building / Tokyo)"Kunstart 10" International Contemporary Art Fair (Bolzano, Italy)"Food design" (Casa Cogollo detta del Palladio / Vicenza, Italy)"2010 Taiwan Ceramics Biennale" (Taipei County Yingge Ceramics Museum / Taipei)"MIYABI" (Accademia di Bell Arti di Carrara / Carrara, Italy) (Museo Crocetti / Roma, Italy)
Public and Private Collections
Kotsu Eidan Ito Hearth Spa "SANTENYA Ito" (Shizuoka, Japan)
Hotel Nikko Kansai Airport (Osaka, Japan)
INAX Corporation (Japan)
Kyug-Hee University (Korea)
Kutani Ceramics Institute (Ishikawa, Japan)
Faenza National Ceramic Arts Institute (Faenza, Italy)
Faenza International Museum of Ceramic (Faenza, Italy)
Sogetsu Art Museum (Tokyo)
Museum of Model (Pietrasanta, Italy)
Saitama Prefectural Government Building (Saitama, Japan)
Kampo Health Center "RAFRE Saitama" (Saitama, Japan)
Cosmos Welfare Institution for the Aged (Tokyo)
Meiji Life Insurance Land Axis Tower (Saitama, Japan)
Kawaguchi Institution for the Aged (Saitama, Japan)
"PROUD CITY Umejima" (Tokyo)
"Zushi Ocean Villa RIVIERA" (Kanagawa, Japan)
"ART BLANC Ooimachi Musée" (Tokyo)
Trendmicro Corporation (Taipei)
NIKI RESORT Inc. (Tokyo)
"PROUD CITY Shinurayasu" (Chiba)
DAYS Inc. Showroom (Tokyo)
"VENASIS Kanamachi" (Tokyo)
City hall of Tachikawa (Tokyo)
Soushi Gakuen High School (Okayama)
Taipei County Yingge Ceramics Museum (Taipei)
Ark Hills Front Tower (Tokyo)