Opere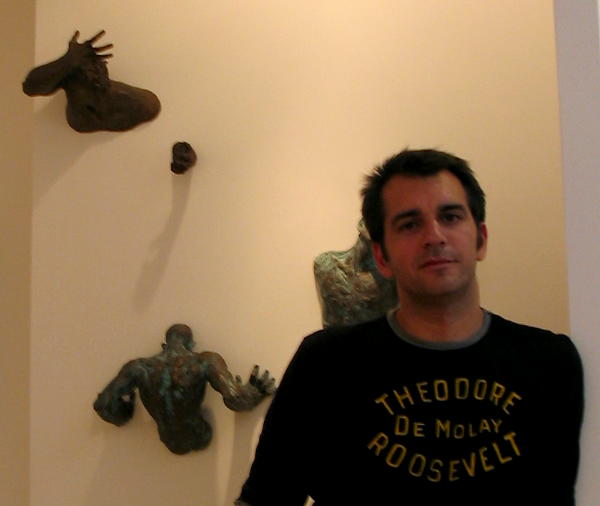 Matteo Pugliese ha esposto in Galleria Gagliardi dal 2003 al 2009.
Ancor prima di conoscere Matteo Pugliese in carne ed ossa, l'ho conosciuto in una delle sue forme di creta, che si spingeva fuori da un algido muro bianco, lacerandosi i muscoli, gridando un silenzio doloroso con occhi spalancati fino a spaccarsi. L'ho osservato a lungo,da ogni angolazione,sotto ogni luce, come ipnotizzata di fronte a quell'urlo materializzato-principio di fuga,utopia di salvezza- che solo una coscienza ben addestrata alla cecità avrebbe potuto ignorare, non riconoscere come il suo stesso riflesso.Vorrei che riusciste a dedicare un'ora del vostro tempo a questa offerta di un'esperienza nuova, che vi spogliaste di ogni ruolo, maschera, autodifesa, che vi immergeste in questo microcosmo di pareti bianche da cui spuntano ora un volto, ora un volto e un braccio, e poi una gamba, e poi un corpo intero, che si contorce per liberarsi del piatto candore, per nascere ai sensi. Non c'è pace, non c'è quiete, soddisfazione; il fine è il movimento, la meta, la fuga. Ogni nuova condizione raggiunta, finisce per anestetizzare i sensi, e questi "dannati del moto perpetuo" hanno come missione l'interminabile ricerca della Verità, consapevoli che la Verità con la "V" maiuscola non esiste, ci si può solo convincere che sia quella "comoda poltrona" su cui lasciarsi sopravvivere quando si diventa troppo stanchi per proseguire nella ricerca, troppo disillusi per continuare a coltivare una speranza, troppo vecchi per andare OLTRE. Antonella Baldoni
Matteo Pugliese è nato a Milano nel 1969.
Nel 1978 la sua famiglia si trasferisce in Sardegna dove Matteo vive per i successivi 12 anni.
Durante questo periodo ha sviluppato un forte amore per il disegno e la scultura e ha continuato il suo lavoro artistico senza alcuna educazione formale. Dopo aver terminato gli studi secondari in lettere classiche a Cagliari, è tornato a Milano per frequentare l'università.
Nel 1995 si è laureato in Lettere moderne all'Università di Milano con una tesi di laurea in Critica d'arte.
Incoraggiato da amici, nel 2001 organizza e finanzia la sua prima mostra personale affittando uno spazio espositivo privato nel centro di Milano. Solo 18 mesi dopo tiene la sua prima mostra "ufficiale" in una galleria di Brera, Milano, e dopo pochi mesi tiene una personale a Bruxelles.
Oggi le sue opere sono in esposizione permanente in gallerie in Italia e nelle principali città del mondo: New York, Roma, Hong Kong, Londra, Anversa, Lugano e sono state esposte in alcune delle più importanti fiere d'arte italiane e internazionali come la Hong Kong Art Fair (Hong Kong), ArtFirst (Bologna), Arco (Madrid), Fiac (Parigi).
Negli ultimi anni le sue opere sono state vendute con notevole successo presso alcune delle più prestigiose case d'asta del mondo (Christie's, Sotheby's, Bonham's e Dorotheum).
2021
Naturalia Collective Exhibition Al Blu di Prussia Napoli, Italy
2019
Leonardo Da Vinci - Art & Science – Then & Now - Collective Exhibition City University Exhibition Gallery
Lau Ming Wai Academic Building, City University of Hong Kong, Kowloon Hong Kong
Seven Dimensions Solo Exhibition Kwai Fung Hin Art Gallery Exchange Building, Hong Kong
Nelle tue mani Solo Exhibition Imago Art Gallery Lugano Switzerland
The Guardians Solo Exhibition Boise Art Museum, Boise, Idaho, Julia Davis Park. USA
2018
The Guardians Solo Exhibition Massey Klein Gallery New York, NY USA
Matteo Pugliese Sculptures Solo Exhibition M Contemporary Gangnam-gu, Seoul, South Korea
White Collective Exhibition Imago Art Gallery Lugano, Switzerland
The Wall Collective Exhibition Palazzo Belloni Bologna Italy
2017
Vortici Solo Exhibition Villa Fiorentino Sorrento Italy
Spiriti Ostinati Solo Exhibition Milano Malpensa Airport (Terminal 1: Arrivals) «La porta di Milano»-Italy
In collsborsxionr/In collaboration con/with Imago Art Gallery and SEA spa
Spiriti Ostinati Solo Exhibition Imago Art Gallery Lugano, Switzerland
2016
The Secret Solo Exhibition WM GALLERY I Antwerpen, Belgio
Spiriti Ostinati Solo Exhibition FONDAZIONE LA VERSILIANA, MARINA DI PIETRASANTA, ITALY
Organized by Imago Art Gallery Lugano Switzerland
Extra Moenia Solo Exhibition ROBILANT VOENA GALLERY, Saint Moritz, Switzerland
2015
Breath of Freedom Solo Exhibition BERTRAND DELACROIX GALLERY, New York USA
Delphine Boël, Octave Landuyt, Matteo Pugliese Collective Exhibition WM GALLERY, Antwerp, Belgium

2014
Gravitas- Barbara Nati, Matteo Pugliese mostra collettiva CASA D'ARTE ARTRIBÙ, Roma
Serenissima Babel Solo Exhibition CAFFÈ FLORIAN, piazza San Marco, Venezia, Italy
2013
Passaggi Solo Exhibition IMAGO ART GALLERY, Lugano, Switzerland
Corazze Solo Exhibition FONDAZIONE MUDIMA, Milano Italy
Presentazione della scultura in bronzo "Custode Samurai V" presso il MAS-Museum aan de Stroom Anversa Belgio
MUSEUM ON THE RIVER, Antwerp, Belgium Solo Exhibition
2012
MATTEO PUGLIESE: SCULPTURES Solo Exhibition WO-MEN IN FINE ART, Antwerp Belgium
The summer of the Beetle Solo Exhibition GALERIE NOORDEINDE, The Hague, Holland
Matteo Pugliese-CORAZZE Solo Exhibition CASA D'ARTE ARTRIBÙ (CATALOGUE), Roma, Italy
2011
I Guardiani del Tempo Solo Exhibition IMAGO ART GALLERY, Lugano, Switzerland
Matteo Pugliese: Out of the Wall Solo Exhibition SCULPTURE GALLERY, Brussels, Belgium
Matteo Pugliese – From the wall and further tales Solo Exhibition KWAI FUNG HIN ART GALLERY, Hong Kong.
2010
La profondità nel segno: Demetz, Galliani, Pugliese Collective Exhibition CASA D'ARTE ARTRIBÙ, Roma
HEROES: Matteo Pugliese Solo Exhibition GALERIE NOORDEINDE, The Hague, Holland
Sublimazioni, Demetz, Ottieni, Pugliese collective Exhibition CASA D'ARTE ARTRIBÙ, Roma, Italy
2009
Through Light and Space: Giorgio Morandi & Matteo Pugliese Collective Exhibition IMAGO ART GALLERY, London, UK
Matteo Pugliese e Walter Trecchi Collective Exhibition GALERIE NOORDEINDE, The Hague, Holland
2008
Matteo Pugliese, Sculptures Solo Exhibition FILIP KESTELOOT SCULPTURE GALLERY, , Brussels , Belgium
2007
Matteo Pugliese & Martin Palottini Collective Exhibition GALERIE NOORDEINDE, The Hague, Holland
Extra Moenia Solo Exhibition TEATRO LIRICO DI CAGLIARI, , Cagliari, Italy
2006
Contraria-mente Solo Exhibition GALLERIA GAGLIARDI San Gimiganno, San Gimignano (Siena), Italy
Matteo Pugliese Solo Exhibition GALLERIA PITTURA ITALIANA, , Milano, Italy
De Ontsnapping: M.Pugliese, A. Smirnof, Sokia, Collective Exhibition GALERIE NOORDEINDE, , The Hague, Holland
Matteo Pugliese- Sculptures Solo Exhibition PALAZZO COMUNALE DI SAN LORENZO AL MARE, (IM), Italy
2005
Extra Moenia Solo Exhibition GALLERIA GAGLIARDI San Gimignano, Taormina (Messina), Italy
Matteo Pugliese & M.M. Gautier Collective Exhibition FILIP KESTELOOT «SCULPTURE GALLERY» , Brussels , Belgium
2004
Freedom Solo Exhibition GALLERIA GAGLIARDI San Gimignano, San Gimignano (Siena), Italy
Flight from the wall Solo Exhibition FILIP KESTELOOT SCULPTURE GALLERY, Brussels, Belgium (catalogue)
2003Matteo Pugliese, sculture: 1998-2003 Solo Exhibition GALLERIA «IL CASTELLO», Milano, Italy (catalogue)
2002
Matteo Pugliese- Sculptures Solo Exhibition OREA MALIÀ, Milano, Italy (catalogue)
2001
Extra Moenia, Matteo Pugliese Solo Exhibition MCCANN-ERICKSON, Milano, Italy