Works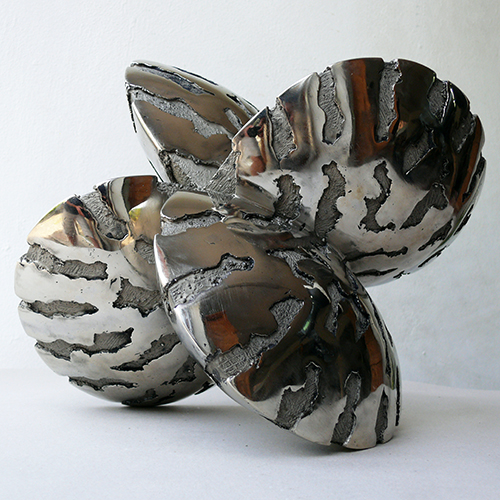 Adriano Leverone exhibits in our gallery since 1994.
Adriano Leverone (1953-2022)
Adriano Leverone's work is suffused with plastic tension which lends a formal abstraction to the pieces and implies an aristocratic choice of style. These qualities tend to underline the expressive quality of line. Leverone is an undisputed master of ceramics. Indeed, it is this technical expertise combined with his constant exploration of the medium and a formal equilibrium which synthesise to produce work of extraordinary beauty and illusionary lighness. This idea of levity is also conveyed in his stone (marble and granite) and bronze pieces. Throughout the work one is able to perceive a continuous path which links the origins of human artistic expression (clay is in fact the first material used by man for self expression) and the most recent instances of Contemporary Art. The visual perception in Leverone's work is however, only a prelude to a tactile exploration. Each work is an essembly of positive and negative forms, of concaves and convexes which project into the space, occupying and seeming to breathe it.The pieces appear to be living organism, both unicellular, as in his smaller works, and multi-cellular, as in the langersculptures which Leverone is producing more often these days. Leverone's work is refined Art in which thesophisticated applicationof aesthetic principle serves to showoff naturally and efficiently, geometric rigour and ornate decoration in plastic synthesis. Claudio Giorgetti
The Fire: the best sculptor's ally; the element that transforms, melts, paints, and gives back malleable forms, like clay and even the hardest metals. In effect, the artist is capable to stretch out the exquisite traps" into this primordial element, in order to capture every touch of the colour of the poorest matters, like clay and metal, where they conceal themselves in memories of the mythical meteorites falling from the sky then rekindled in the forges of Vulcano.

Isabella Del Guerra, 2004
Adriano Leverone was born in Italy in 1953
After his diploma from the Istituto Statale d'Arte in Chiavari, he enrolled at the art teachers' training college G. Ballardini Ceramics Art Institute in Faenza in 1971. Between 1973 and 1974, Leverone studied at Carlo Zauli's studio. He began exhibiting his work during this period at personal and collective exhibitions. In 1975, he opened his first personal studio for ceramic work. Between 1983 and 1985, the artist was part of the A Tempo e a Fuoco Art Movement led by Vittorio Fagone. During the subsequent years he dedicated himself to teaching: from 1979 to 1986 at the Albisola Ceramic School and in 1994 at the Centro Italiano Femminile based in Genoa. He also taught a ceramic sculpture class at Berea College Crafts (KY., USA). On behalf of the Ministry for Foreign Affairs, he spent time in Ethiopia from 1987 to 1989 and in Brazil in 1992, taking part in a programme to train technicians and to set up a ceramics school as an expert in working with terracotta. In the following years he created various works for public bodies in stoneware, slate, and bronze. Leverone was also invited to take part in art exhibitions and international symposia. During his artistic career he was awarded numerous honours and credits. His works are exhibited in many private and public collections both in Italy and abroad. There are many personal exhibitions in Italy and abroad: Ceramics Museum Carouge Switzerland, International Symposium ART IS LIFE. Barth Germany, Aichi Prefecture Seto Japan, Ceramic Art Museums Fuping, Shaanxi China, Dankook University Seoul Incheon Corea, Bandol France, 54° Biennale di Venezia Venice Italia, Genoa, Palazzo Rosso Museum UNESCO, Internationaal Ceramic Museum Faenza Italy, Vallauris France, Museum National Gallery of Modern and Contemporary Art Rome Italy, Museum of Oriental Art Odessa Ukraine, Roentgen Museum Neuwied Germany, Carlo Pizzichini .
Monuments:
Faenza, MIC (International Ceramics Museum).
Carouge, Geneva (Switzerland), Musée de Carouge.
Fuping, Xi'an in Shaanxi (China), Flicam (FuLe International Ceramic Art Museums).
Seoul Incheon (Korea), Dankook International University.
Tajimi, Gifu Prefecture (Japan), MINO Ceramic Park.
Seto, Aichi Prefecture (Japan), Seto City Museum.
Santo Stefano di Camastra (Messina), Ceramics Museum.
Castelli (Teramo), International Collection, Istituto Statale D'Arte F. A. Grue.
Awards
1978 Faenza, XXXVI International Ceramic Art Award, purchase award.
1981 Faenza, XXXIX International Ceramic Art Award, gold medal.
1986 Chiusi (Siena), Beato Angelico Italy Award, purchase award.
1986 Gualdo Tadino (Perugia), XXVI International Ceramic Art Award, golden plate award.
1988 New York (USA), Leading International Competition, certificate of merit.
1990 Savona, IV National Ceramic Art Award, first prize.
1999 Venturina (Leghorn), ETRURIARTE10 International Sculpture Competition, first prize.
2002 Tajimi, Gifu Prefecture (Japan), VI International Ceramics Competition, MINO, bronze medal.
2004 Athens (Greece), European Ceramics Competition, merit prize.
2007 Albissola Mare, Comitato di Rigore Artistico, Pozzo Garitta award.
2007 Barth (Germany), XI International Symposium ART IS LIFE, first prize in the performance section.
2012 New Taipei City (Taiwan), 2012 Taiwan Ceramics Biennale, Yngge Ceramics Museum, Juror's recommendation prize.
2012 Chiavari, Società Economica di Chiavari Price Turio Copello 2011, gold medal, section artist.2014 Siena, Nobile Contrada del Nicchio. 2014 Lifetime Achievement Award.
Many art critics have written texts on his work, including: Vittorio Sgarbi, Jean Blanchaert, Claudia Casali, Silvia Imperiale, Mariastella Margozzi, Nino Caruso, Franco Ragazzi, Sandra Solimano, Elena Bono, Mirko Gualerzi, Gloria Cosi, Roberta Fiorini, Lexington KY USA, Morehead KY USA, Aldo Moretto, Matteo Fochessati, Sergio Noberini, Massimo Trogu, Vittorio Fagone, David Chiossone, Nalda Mura, Pier Paolo Benedetto, Nicola Mileti, Luciano Caramel, Stefano Gagliardi, Cecilia Chilosi, Franco Bertoni, Edoardo Di Mauro, Matteo Fochessati.
Forma come autobiografia
Siena
From 02/05/2014 to 11/05/2014
More Info
SCULTURE E FUOCO
Taormina
From Sett.2004 to Sett.2004
More Info
TERRE LIBERATE
MONTERONI (SI)
From 14/05/1993 to 23/05/1993
More Info