Works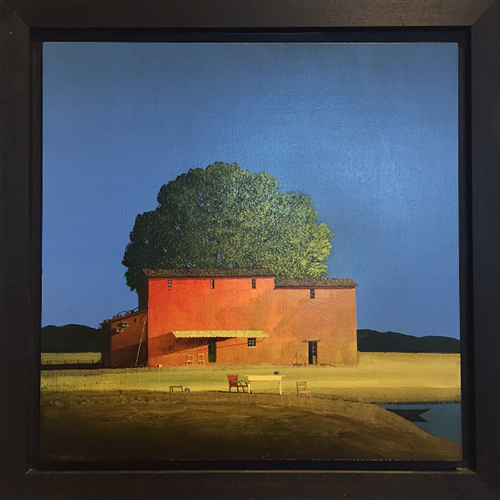 Alessandro Tofanelli exhibits in our gallery since 2014.
Solo ehxibition THE TIME IT TAKES Galleria Gagliardi, 2019
Alessandro Tofanelli is an eclectic artist: painter, photographer, director of films and documentaries on nature, but he lives his art, an art that involves both man and artist in a perfect symbiosis, in extreme simplicity. He sees the "meaning of life", his own and life in general, as being linked to the land, made up of men who still tell stories and of stories about men, and it is from here, from this lifeblood, that his artistic life is nourished.
Tofanelli has always been surrounded by nature, considering it a friend: he lives it, breathes it, makes it his own, interprets it by giving it voice and painting it, transforming it into poetry: this is what Tofanelli gives us.
The pictorial universe that Tofanelli represents is not an imaginary world, but then again it is: it is a time long gone, when woods were unspoilt, when farmhouses were occupied by big families and not divided into apartments passed off as country houses, when the air was clean and the landscape was well-tended; in a provincial area, slightly secluded, where men belonged to the land and lived according to the pace of the seasons, and that same land rewarded them with its fruits.
For Tofanelli, every painting becomes a world of its own, a reality bordering with dreams, an Eden in which life is simple, lived according to the slow rhythm of everyday gestures. The artist invites us to wander through his works, to disappear behind a farmstead, inside a house or in a vegetable garden, to lose ourselves in a poplar grove, listening to the sound of the wind rustling through the leaves. Although men are never portrayed, we can sense their presence thanks to the inclusion of everyday objects which tell about their life and story: there is an all-encompassing sense of peace. Each one of the artist's works is like an inner self-portrait, authentic, of a reserved painter who expresses his own personal story in his paintings, with the story of his land and his love of nature. It is also the story of a man who has always been accustomed, as a multifaceted artist, to perceiving and transmitting magic that touches the heart: real images of a today that entraps the light enchantment of poplar groves, lagoons and channels. Fishermen's huts, abandoned boats surrounded by shrubs, silent houses; they all seem to belong to a time outside of time....
Tofanelli and time outside of time: time does not pass, because it is the time it takes…
…to wait for a dawn or a sunset, to wait for a heron, to wait for the rain to stop, for the cloud to recede and leave room for the sun and, in that moment, that glittering vision is captured and made visible through the colours and the meticulous stroke, with each blade of grass, each leaf, each object reproduced by the brush, but also dictated by the great sensitivity of the Artist. This is the time it takes, waiting patiently, to grasp that unrepeatable moment and forget this frenetic and corrupt humanity of ours, perpetrator and, at the same time, victim of the revenge of an outraged, stricken, tortured and annihilated nature: Tofanelli launches a message of respect, deference and devotion that is owed to this world that hosts us and that has been living for much longer than we have.
An artist who can still surprise us, however, giving us the opportunity to enter a surreal, unsettling and ironic dimension where everything is possible again precisely because it is genuinely desirable: after all, it is the time that it takes, just enough to share a friendship, an understanding of coexistence, to be together and to help each other: because we are us, we are a community, and this is our strength.
The places where all this can happen are undoubtedly his islands, which rise from the lake like tiny microcosms, small houses surrounded by a strip of land, where life unfolds at an uncertain and unrecognisable time: it could be just before dawn or right after sunset, where small three-wheelers, bicycles, chairs and ladders are parked, bearing witness to a life that is lived. With a boat, on a silent lake lit only by a slice of moon, we meet an island inhabited by a petrol pump and a fruit and vegetable store, or an island where, in that tiny outdoor cinema illuminated by the faint light of an old lamp, we can come together to watch a film.
In this solo show, Tofanelli re-proposes the landscapes he loves but never in the same way, all capable of enchanting and arousing a poignant sense of calm, peace and poetry: each of them inspires us to find our own story, to imagine something different, unconventional and unusual, spurring us to use our imagination, to re-live our memories.
Tofanelli's works tell us that the meaning of life is to live at peace with ourselves, with others and with nature, in harmony with it.
Could the meaning of life be to "search for beauty", "search for the truth", "search for oneself"? Perhaps all three things together. In his paintings, they are found in a single message: Love, in the broadest sense, of truth, of life in all its forms. As a Man and as an Artist, this is Alessandro Tofanelli…
Isabella Del Guerra, 2019.
The act of painting by Alessandro Tofanelli is the age-old mastery of technique; all these factors together commune with a modern interpretation which is born of today, of the instantaneousness of a forgotten memory, isolated, silent, free. It is precisely silence, be cause his paintings are not merely to be seen but also to be listened: a silence of what is immobile, slowly built up by colour, of what is so loved as to be unapproachable, sacred, not of this world. His poetic imagination find its place, recognises its "humos" and is drawn into a rigorous balance of form and at the same time imaginative. His paintings are "landscape portraits" not portraits in the literal sense, but images characterised by an infinite number of physiognomic variations, by theatrical lighting specific for that artificial scene, conducted by a skillful director and the result of a unique intellectual operation. Portraits of non-existent landscape, fruit of stratification of images dear to the artist, images composed of memories, elaborated again by the art of memory. Tofanelli is a romantic who takes his time. His brush strokes accentuate each blade of grass, each branch of a tree, each flower in a meadow in way that is a soft and mottled. It is as if he caressing the nature he loves with complete tenderness. This quality is revealed in a moltitude of ways, where he sees beauty in the simple, elegance of nature. His paintings inspire a feeling of tranquility and us can only observe, with discretion, the details and "listen to" that spontaneous and slowly uncontainable creative force which characterizes each detail of the his paintings.
Alessandro Tofanelli was born in Italy in 1959.
Alessandro Tofanelli, in 1977 he graduated from the Arts' Institute in Lucca and then moved to Milan, where he attended the Brera Art Academy. Whilst in Milan, Tofanelli collaborated as an illustrator for several magazines published by Rizzoli and Mondadori. In 1975 he won First Prize for his work 'La Resistenza' which was exhibited at the Modern Art Gallery in Lucca. In 1984 Tofanelli went on to win the much coveted 'Giotto d'Oro' prize and in 1987 he won the 'Best Painter under 35 Years of Age'. Since 1977 Tofanelli has exhibited his work in a number of prestigious galleries throughout Italy and abroad. He has always combined his painting with his work as a professional photographer and a television videodocumentarist. When asked about his painting, Tofanelli states that he wants to investigate the relationship between time and memory, and to properly do this he has chosen landscape his favourite subject. Landscape, to him, is a privileged point of observation to contemplate the flow of time as well as to place memories of forgotten places and people whom he wishes to remember. Although he paints landscapes, Tofanelli is no conventional genre painter. The perspectives are tenderly distorted, so that depictions of grass and trees and horizons become subtle evocations of memory and passing time.
He has had many personal exhibitions in public spaces, foundations and museums in Italy in almost all the territory and abroad as: Mito Japan, Hong Kong, St. Petersburg and Moscow Russia, Munich Germany, Spring Lake New Jersey Usa, Singapore, New York USA, Londra UK, San Francisco California USA, Albemarle Carolina del Nord USA, Instabul Turkey, Sidney Australia, Strasbourg France, Barcellona Spagna.
Many art critics have written texts on his work, including: I.Del Guerra, L. Alberti, Maria Teresa Leoni Zanobini, E. Aretini, Natale Emilio Baldaccini, Alessandro Romanini, Omero Biagioni, Gilberto Finzi, Giovanni Faccenda, Osvaldo Patani, Tommaso Paloscia, Umberto Baldini, Furio Colombo, Roberto Monti, B. Zancan, Valerio Grimaldi, Fortunato Bellonzi, Giuseppe Mascherpa, Pier Carlo Santini, Maia Teresa Filieri, R. Tabozzi, Mario Mazzocchi, Alessandra Bonomini, Silvano Ambrogi, B. Bancari, Simona Foà, Antonio Tabucchi, Nicola Micieli, Maria Teresa Filieri, Giorgia Calò, Giovanni Pieraccini, Alessandro Romanini, A. Mitrangelo, Francesca Centurione Scotto Boschieri, Antonella Serafini, N. Cobolli Gigli, Enzo Dall'Ara, Dino Carlesi, T. Conti, Mario Rocchi, Francesco Mozzetti, R. Del Beccaro, Carlo Ludovico Ragghianti, David Himmelberger, S.I. Bartoli, A. Dragone, Paolo Levi, B. Modugno, Elena Ginannesca, Leo Strozzieri, John Ray Taylor, Pier Carlo Santini, Isabella Del Guerra.
Most important exhibitions:
1983 Galleria d'Arte contemporanea - Arezzo
1984 Galleria Il Tempietto - Brindisi
1985 Galleria Da Vico - Torino
1986 Galleria Seen - Londra
1987 Galleria La Medusa - Roma
1987 Villa La Versiliana - Marina di Pietrasanta (Lucca)
1988 Studio 10 - S. Martino dall'Argine (Mantova)
1990 Spazio d'Arte contemporanea - Mito (Giappone)
1991 Studio 10 - S. Martino dall'Argine (Mantova)
1991 Galleria Agarte - Roma
1992 Università Bocconi - Milano
1992 Galleria Blue Chips - Lucca
1993 Galleria Forni - Bologna
1994 Galleria Davico - Torino
1996 Galleria Officina dell'Arte - Roma
1996 Galleria Rutzmoser - Monaco
1997 Alex Ho Gallery - Hong Kong
1997 Connie Mancini Gallery - Spring Lake (Stati Uniti)
1997 Rose-Rich Fine Arts - Singapore
1997 Galleria Capricorno - Vigevano
1997 Trade Center - Singapore
1998 Galleria la Vetrata - Roma
1998 Villa La Versiliana - Marina di Pietrasanta (Lucca)
1998 Spring Lake Gallery - New York
1999 Galleria Rutzmoser - Monaco
1999 Studio 10 - S. Martino dall'Argine (Mantova)
2000 Albemarle Gallery - Londra
2001 Galleria L'Immagine - Arezzo
2002 Galleria L'Immagine - Cesena
2003 Sala Maccabelli - Russi (Ravenna)
2005 Galleria Marescalchi - Bologna
2005 Galleria Macchi - Pisa
2006 Albemarle Gallery - Londra
2006 Magazzini Salviati - Vecchiano (Pisa)
2007 Galleria Margutta 3 - Roma
2007 Magazzini Salviati - Vecchiano (Pisa)
2008 Galleria World's Artists - Milano
2008 Studio 10 - S. Martino dall'Argine (Mantova)
2008 Himmelberger Gallery - San Francisco
2008 Galleria L'Immagine - Cesena
2009 Galleria Stefano Forni - Bologna
2009 Albemarle Gallery - Londra 2010 Galleria Orizzonti Arte - Bari 2
2010 Galleria Orizzonti Arte - Bari
2011 Albemarle Gallery - Londra 2011 Palazzo del Ridotto - Cesena
2011 Palazzo del Ridotto - Cesena
2012 Palazzo della Fondazione Banca del Monte – Lucca
2013 Centro espositivo San Michele degli Scalzi – Pisa
2013 Galleria Barnadas – Barcellona
2014 Galleria Orizzonti Arte contemporanea – Ostuni
2014 Galleria TRAshART– Vienna
2015 Forme e colori - Bossolasco (Cuneo)
2015 Galleria Orler - Punta Ala (Grosseto)
2015 Studio 10 - S. Martino dall'Argine (Mantova)
2016 Palazzo della Fondazione Banca del Monte – Lucca
2016 Galleria Orler - Punta Ala (Grosseto)
2016 Ransom Gallery – Londra
2017 Galleria TRAshART– Vienna
2017 Galleria Orler - Punta Ala (Grosseto)
2018 Galleria Gagliardi – San Gimignano
2018 La Brilla – Massarosa (Lucca)
2018 Galleria Barnadas – Barcellona
2019 Ransom Gallery - Londra
2019 Galleria Gagliardi San Gimignano mostra personale "IL TEMPO CHE CI VUOLE"
Prizes won: in 1975 he won the prize "La resistenza in Lucchesia" (the painting is in the Gallery of Modern Art in Lucca) and the first prize "Concorso INA- Touring" at Palazzo Strozzi in Florence. In 1984 he won the "Giotto d'Oro" prize, in 1987 he won the "Onda Verde" prize in Florence and the international "Ibla Mediterraneo" prize. His paintings are auctioned at Christie's.
Cinema:
2018: Production of the film "44 days", written and directed by him (among the actors: Stefano Dionisi)
2013: Production of the film "Senza ritorno", which he wrote and directed (starring actors: Stefano Dionisi, Raffaella Rea, Alessandra Arlotti and David Coco
2012 During the festival Viareggio Europa Cinema Alessandro Tofanelli was awarded the Monicelli Prize.
2006: The film, written and directed by him, entitled "Contronatura" and produced by R&C Produzioni (leading actors: Valeria Cavalli, Andrea Di Stefano and Maya Sansa), won the special jury prize at the Europacinema festival and the Nice Festival in New York and San Francisco. The film was shot entirely within the boundaries of the Migliarino-San Rossore- Massaciuccoli Natural Park (location in the province of Lucca and Pisa: Torre del Lago, Lake Massaciuccoli, Migliarino, Tenuta Salviati, San Rossore). "Contronatura" opened the Nice Festival in Amsterdam, the edition of the festival in St. Petersburg, Moscow and Perm. It was finally purchased by Most Media (Russian distribution company). It was declared a suitable film for the art-house circuit.
1997 as part of the Festival Europa Cinema, he made the feature film entitled "Il canto delle nuvole" with a narrating voice by Giancarlo Giannini and music by Federico De Robertis (Nirvana).
1991: he was assistant director in the feature film entitled "Confortorio" by director Paolo Benvenuti.
In 1992 the film participated in the Festival di Locarno.
1986: he was assistant director in the feature film with a subject (made in 35 mm) entitled "The Kiss of Judas" by director Paolo Benvenuti
In 1988 the film was presented at the "Settimana della critica" of the Venice International Film Festival.
He collaborated with the director Francesco Alberti for the realization of a short film for the School of Bassano by Ermanno Olmi.
Documentaries:
Alessandro Tofanelli has collaborated, since 1983, with the television programs of Rai: "Geo" - Rai Tre (Tiziana Piazza and Gabriella Carosio), "Linea verde"- Rai Uno (Sandro Vannucci), "Quark"- Rai Uno (Alberto Angela), "Giorno di festa"- Rai Due (Bruno Modugno). He has also collaborated with the BBC on the "Natural history unit".
The most important works are listed below:
2016: Production of the documentary "L'Eden minacciato", commissioned and financed by Italia Nostra sezione Versilia
2015: He directed the documentary "Noi I giovani dell'appartamento", financed through Italia Nostra sezione Versilia by the Fondazione Banca del Monte di Lucca.
2013: He has produced and directed the documentary "Men and deer" dedicated to the annual capture of deer practiced in the Park of Migliarino San Rossore Massaciuccoli. The documentary was previewed in the Park of Migliarino San Rossore Massaciuccoli.
2010: He produced and directed the documentary "I giorni della paura" dedicated to the flooding of the river Serchio in December 2009 and the damage caused by it in the town of Vecchiano. The documentary was screened at Viareggio Europa Cinema in October 2010.
2000: He produced and directed the 40-minute documentary "Il tarabuso".
He made a documentary on the San Rossore Estate entitled "I giorni di San Rossore" which was commissioned by the Ente Parco Migliarino-San Rossore-Massaciuccoli and was presented at the film club Arsenale in Pisa.
1998: the collaboration with the French Canal Plus for the digital circuit begins, for which it has produced several videos dedicated to the Italian environment and a feature film dedicated to crafts in nature.
1996: He made the documentary "La macchia di Migliarino" for RAI and, in the same year, the documentary "Come si fermasse il tempo".
1995 He directed the documentary "Nel mare delle Apuane" with a narrating voice by Giancarlo Giannini. The work was awarded at the XXI international film exhibition L'uomo l'Ambiente held in Viterbo.
1992-1995 He directed the following short films for Rai: "I bottini di Siena", "I falsi di Modigliani", "La casa colonica del Chianti".
1992 he was invited to Russia to make, in collaboration with the State Television, a series of reports on the life and traditions of that country.
1990 He made the documentary entitled "A man and a lake" selected and invited to participate in the International Festival of naturalistic cinema in Lamotte Beuvron in France.
1983- 1990 He produced and directed the documentaries: "Il gruccione", "Il tuffetto", "L'uomo degli stampi", "I pescatori del Serchio".
1983 Year of the beginning of his collaboration with RAI. (RAI: Italian Radio Television)
IL TEMPO CHE CI VUOLE.
San Gimignano
From 07/09/2019 to 29/09/2019
Tutti i giorni 10:30 - 19:30
More Info