Works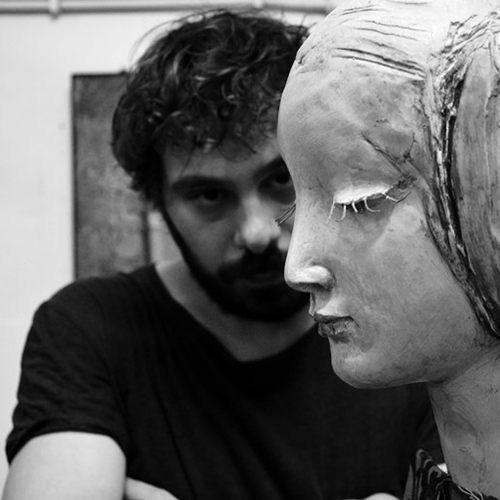 Alessio Deli exhibits at Galleria Gagliardi since 2016.
Alessio Deli (1981). After graduating from the Art Institute of Marino, in 2004, he graduated from the Academy of Fine Arts in Carrara with a specialization in sculpture. Discipline teaches at plastic the Academy of Fine Arts in Rome. His works have been acquired by: Basilica di Santa Maria in Aracoeli, Roma - Museo MACS, Catania - Raccolta Civica d'Arte Contemporanea di P.zzo Simoni Fò, Bienno, Brescia - Museo Arte Contemporanea Roberto Bilotti, Rende, Cosenza - Galleria Nazionale della Calabria, Cosenza - Palazzo Munucipale San Quirico d'Orcia, Siena - SedeGenerale TV2000, Roma - Antico Collegio Martino Filetico, Città di Ferentino - Università degli Studi "La Sapienza" Roma - Nuova Chiesa S. Pietro Apostolo, Cosenza - Chiostro S. Bonaventura al Palatino, Roma - Parco Porporati, Torino. Alessio Deli as a contemporary artist with a classical heart. Deli, in fact a faithful interpreter of modern decadent civilization but also a visionary evoker of ancient culture , a characteristic which is always prominent in the DNA of Italian artist. From this stems the originality of his artistic output, which might appear disconnected in terms of form and theme but is actually always perfectly true to his poetic vision from his alluring female heads, which bring to mind classical nymphs oe ancient shiels decorations, to his ancient idols wrapped in sheets of iron, similar to the blankets used in modern sea rescues. Past and present, together with nature and artifice, exist in the game of simulation adopted by Deli. Alessio Deli knows his craft well and is master of the most varied skills while favoring those that exploit the aesthetic and symbolic values of metal, be it iron, bronze or copper. A manual ability that is not improvised but derives from the long practice of his talent, used to facilitate the output of works that express a free and inventive creativity. Taken from the text by Francesco Negri Arnoldi
His area of research and artistic production, which began in his formative years, has been developed and enriched in the last decade on issues of a figurative nature, both in drawing and sculpture. Deli is known for his sculptures made by assembling and modeling recycled materials; his sculptural style has deep roots in the classical tradition. This relationship between contemporary and classic has been based over the years through the recovery of abandoned and recycled materials, while in this last artistic production, in particular for the realization of the Korai, the sculptor stages a recovery of memory and historical identities linked to the Italian plastic tradition.
MOSTRE PERSONALI
2019 Korai, Incipit Memoria, Palazzo Valentini, Roma
2017 Immutabile Dea, Galleria Gagliardi San Gimignano, San Gimignano
2016 La Bellezza e la Ruggine, Sala Santa Rita in Campitelli, Roma
2014 Antologica alla III Biennale Internazionale, Grottaglie
2013 Re-cycle, RvB Arts, Roma
2012 Odusia, Polo Museale S. Agostino, Cortona
2012 Museo dell'Agro Veientano, Palazzo Chigi, Formello
2009 Sulle Strade della Multiculturalità, Camera dei Deputati,
Palazzo di Montecitorio, Roma
2008 Ars minor, Basilica di Santa Maria in Aracoeli, Roma
2007 Metamorphosis, Museo Civico Umberto Mastroianni, Marino
MOSTRE COLLETTIVE PRINCIPALI
2018 M.A.N.I., RvB Arts, Roma
2018 Empatia, Triphè Gallery, Roma
2016 In Vanitas Vanitatum, Macro (Museo Arte Contemporanea Roma), Roma
2016 Collezione Artisti Italiani, MacS (Museo Arte Contemporanea Sicilia), Catania
2016 Raccolta Civica di Palazzo Simoni Fè, Bienno
2015 L'evoluzione della Materia, Castello di Nelson, Bronte, Catania
2015 MacS Catania, Giornata Internazionale dei Musei 2015, promossa dall'International Council of Museums, Catania
2013 In Viaggio con Calvino, Casa dell'Architettura, Roma
2013 Natura, Galleria SMAC, Roma
2013 Arte in Fiera, Reggio Emilia
2012 The Affordable Art Fair (AAF): Stand – RvB Arts, Roma
2012 Invitato alla 42 Edizione di Forme nel Verde, S. Quirico d'Orcia
2012 Asta Bandita da Christie's
2012 Biennale Internazionale di Grottaglie 2012, Grottaglie
2011 The Affordable Art Fair (AAF): Stand – RvB Arts, Milano
2010 Fabula, Seconda Edizione: Museo di San Salvatore in Lauro, Roma
2009 Sursum Corda, Galleria Interno Ventidue Arte Contemporanea, Roma
2009 Fabula, Prima Edizione: Museo di San Salvatore in Lauro, Roma
2005 Per le vie del Mugello, Convento di Bosco ai Frati Barberino, Mugello
COLLEZIONI PERMANENTI
MacS (Museo d'Arte Contemporanea Sicilia), Catania
Museo d'Arte Contemporanea Roberto Bilotti, Rende, Cosenza
MAM Museo Arte e Mestieri della Provincia di Cosenza
Raccolta Civica d'Arte Contemporanea, Palazzo Simoni Fè, Bienno, Brescia
Palazzo Municipale di S. Quirico d'Orcia, Siena
TV 2000, Sede Generale, Roma
Antico Collegio Martino Filetico, Ferentino
Università degli Studi di Roma La Sapienza, Roma
Basilica S. Maria in Aracoeli, Roma
Nuova Chiesa S. Pietro Apostolo, Cosenza
Parco Porporati, Torino
IMMUTABILE DEA
San Gimignano
From 09/09/2017 to 30/09/2017
Tutti i giorni 10:30 - 19:30
More Info