Works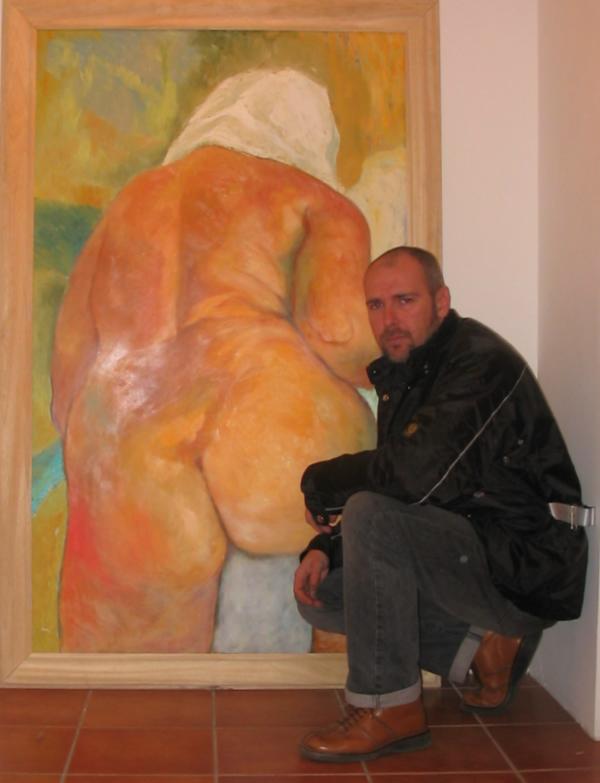 Andrea Meini exhibited at Galleria Gagliardi from 2004 to 2007.
It all starts with the Renaissance. To be more precise, with a small, sixteenth century-style painting of a young naked woman holding a cat on her lap. Meini painted it in 2002. In the curves of the hand that accompanies his brush, an attitude towards female beauty develops: centuries ago, in the moment considered by western civilisation to be the cradle of beauty, aesthetes decreed that to be beautiful, a woman had to be curvy. Today, these curves are the nightmare of women young and old. Yet, Meini finds a harmony which is anything but banal in even the roundest of bodies. He searches the rotundities rejected by the very same women that nourish them, for the formal perfection of the "square and the circle". His always-calibrated compositions take advantage of fullness, transforming it into irrepressible geometries. The pictures are based on horizontal or diagonal planes which rest on the position of the figures. They are natural poses, studied while unobserved, as though peeping through a keyhole. Meini's women feel comfortable, they're alone with themselves and don't focus on us. They don't need to appear. Their beauty is revealed and unveiled for what it is. Accompanied by warm colours, it takes on even shades interrupted only very occasionally by glimpses of deep reds and blues. Behind the figures, the backgrounds flake into almost abstract spaces. The atmospheres are suspended. The everyday settings of unmade beds and beaches are fixed in meticulously studied spatial arrangements. A Magical Realism setting. Silvia Bottinelli
Andrea Meini, nato il 1966.
Diploma di Maturità Artistica e perfezionamento in Arti grafiche all'Istituto d'Arte di Porta Romana Firenze.
Laurea in Arti Visive all'Accademia di Belle Arti di Firenze sez. Pittura.
La sua attività artistica ha inizio nel 1989 con una collettiva "Pellegrini dell'Assoluto" Lucca a cura dell'Accademia di Belle Arti di Firenze.
1996 "Santa Chiara – Monastero e Regio Conservatorio" San Miniato (PI), presentazione cura di CarloPedretti.
2000 Volti Della Pace San Miniato (PI) Aula Pacis, collettiva con testi di Mons. Andrea Cristiani, Enzo Bianchi, Giuseppe Billi, Alberto Pozzolini.
2003 Personale, Della Bellezza Rivelata Palazzo Ghibellino, Empoli, testi di Silvia Bottinelli e Giorgio D'Amia.
2004 Collaborazione con la Galleria d'Arte Gagliardi di San Gimignano (SI).
2007 Realizzazione di una parete sulla vita di San Giovanni Battista (m.6,75 x 4,32) nella Sagrestia della Chiesa Collegiata di Fucecchio (FI), catalogo con testi di Mons.Gianfranco Ravasi , Riccardo Cardellicchio e Mons. Andrea Cristiani.
2010 Le visioni passando, passando Fucecchio (FI) collettiva a cura di Marco Fagioli.
2011 Non d'Itaca si sogna Spazio d'Arte A. Moretti, Carmignano (FI) con testo di Marco Fagioli.
2012 "Questo è il mio Fiume" Villa Pacchiani Santa Croce sull'Arno (PI), collettiva a cura di Romano Masoni con testo a catalogo di Nicola Micieli.
2013 Personale, Il Paesaggio-Luci ed Ombre Spazio d'Arte A. Moretti Carmignano (FI), con testo a catalogo di Ladislao Nocentini.
2014 "PAE/SAGGIO" Ginestra Fabbrica della Conoscenza, Montevarchi (AR),collettiva a cura di Carles Marco e Paola L. Cioncolini.
2014 Personale, ACQUECOLORATE Fornace Pasquinucci Capraia Fiorentina (FI).
2015 Personale Arte e Gusto Budapest, Istituto Italiano di Cultura a cura di Alessandro Balli.
2015 "Il Volto dei Volti" Roma, presentazione in catalogo di due lavori per il XIX Congresso Internazionale sul Volto di Cristo, testo di Laura Monaldi.
2017 Personale Visioni di Empoli Palazzo del Pegaso Consiglio Regionale della Tosacana Firenze 29 giugno - 15 luglio. Catalogo con Testo di Valfredo Siemoni
2017 Personale Visioni d'Empoli MuVe Museo del vetro 25 novembre 14 gennaio 2018. Catalogo con testi di Valfredo Siemoni, Paolo Pianigiani e Fiorenza Bruni

Opere Pubbliche
1996 Realizzazione di un Paliotto per la Chiesa di San Felice in Piazza a Firenze
2002 Realizzazione di un'immagine di San Pio da Pietralcina collocata in parete nella Piazza omonima in San Miniato (Pi).
2007 Decorazione su tavola di una parete della sagrestia nella Chiesa Collegiata di Fucecchio con scene della vita di San Giovanni Battista. (m.6,75 x 4,32)
2008 Realizzazione di un'immagine di Santa Bernadette Soubirous per la Chiesa di Nostra Signora di Lourdes in località Le Botteghe, Fucecchio.
2009 Realizzazione pittorica in affresco della Madonna di Piazza per l'Arciconfraternita di Misericordia di Fucecchio.
2010 Realizzazione dell'immagine di San Candido, Patrono della Città di Fucecchio, per la Chiesa Collegiata
2014 Immagine di San Teofilo da Corte per la Contrada Capitana Porta Raimonda di Fucecchio, collocata nella Chiesa della Vergine.
2016 Realizzazione del "Cencio" dedicato al Giubileo della Misericordia per il Palio Città di Fucecchio
2017 Realizzazione di un Drappo per il "Palio dei Comuni della provincia di Pisa" presso l'Ippodromo di San Rossore (PI)