Works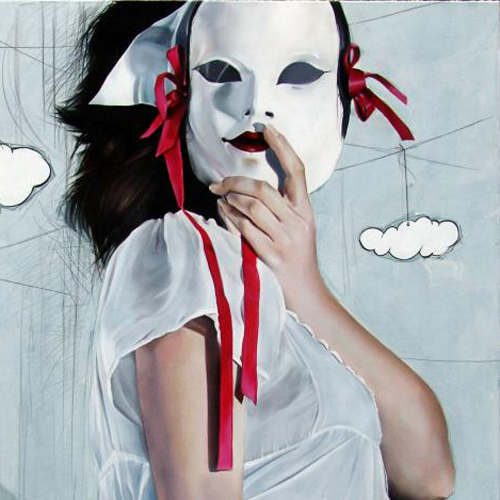 Elisa Anfuso exhibited at Galleria Gagliardi in 2010.
Mostra personale La mia ombra è lieve Galleria Gagliardi, 2010
My shadow is gentle There is a girl without age who lives in a room where time is timeless, where dream, fantasy, desire and projection come together to form a parallel universe. In the room with the small door always closed, perhaps once entered you can't or don't want to leave because everything you desire you can magically transform into reality and, if you listen carefully, in the background, just softly sung, a lullaby of children brings back nostalgically at a distant childhood. An enchanted room where origami come to life and fly between the black curls of a young girl, where wooden horses, careful and obedient, follow her, where flowers bloom vital and colourful popping up from the floor and clocks tell time that does not really exist. A space where everything is possible without time and age. In this dimension we read, we feel the levity of the eternal adolescence, a limbo where a thin veil marks the transition from childhood to adulthood, a condition crystallised without risk of infection. A world seemingly innocent and joyful that hides, beyond the small door, the security of a shelter from a reality that too often frightens and that more often we are unprepared for. Elisa Anfuso writes poems from which emerges an inner self full of secret aspirations and desires, verses entrusted to small sheets which, in her paintings, are processed in small birds of paper flying confused or tied to light wires: note of a very intimate and deep path: images/metaphors of a journey that she lets us sharing revealing her own secret emotions. On canvas and on paper, oils and pastels brightly stained colour elegant dresses, steady pen signs draw games, chairs and stacked armchairs, boxes containing who knows what secrets, cages that they left them fly away, giving them the coveted freedom, the shoes of a small Cinderella.
Isabella Del Guerra 2010

Solo Exhibition​
2019
Eyes Wide Shut
Museo MAGA, Gallarate (VA)
a cura di A. Crespi
2016
(In)conscia Veritas
Liquid Art System, Positano (Na)​
2015
Come in cielo, così in terra
Square Gallery, Positano (Na)
2014
La Caduta di Eva
Galerie Augustin, Vienna
2013
A thing to play with
Studio Lab, Capri (Na)
Pondus Animae
Caruso Gallery, Milazzo (Me)
2012
[Solitudo]
Spazio Arte Duina, Paitone (BS)
Di sogni, di carne
999 contemporary, Roma
2011
La stanza dei giochi di Penelope
V-Bonà Club, Catania
Non calpestare la linea rossa
Galleria dell'Ombra, Brescia
2010
"La mia ombra è lieve"
Galleria Gagliardi, San Gimignano​
SOgNO
Artesia Galleria d'Arte, Catania
Group Exibition​
2019 Ex-voto. Per Arte ricevuta. A cura di A. Crespi - Museo Marini, Firenze​
2018 Ten women's soul. A cura di M. Izzolino - Liquid Art System, Capri​
2017 Infanzia Interrotta. A cura di A.Biceri e C. Bottisio - Caserma La Marmora, Torino
2015 Eterogenesi della Forma. A cura di A.M. Martini - Palazzo Platamone, Catania​
2014 From Figurative to Abstract. Section Portrait - White Room, Capri
Aliens, Le forme alienanti del contemporaneo - Casa di Ludovico Ariosto, Ferrara
2013 Wikam - Palais Ferstel & Palais Niederösterreich, Vienna
Locus Animae 8 | Dea Madre - Foyer del Kursaal, Jesolo (Ve)
Aliens, Le forme alienanti del contemporaneo - E-lite studiogallery, Lecce
Scritto sul corpo - E-Lite Studiogallery, Lecce
2012 Iconica - RezArte Contemporanea, Reggio Emilia
Ilussioni parallele - Spazio Arte Duina, Paitone (Bs)
A proposito di donne - Galleria Conarte - Savona
Saluzzo Arte, Donne solo e semplicemente donne - Fondazione A. Bertoni, Saluzzo (Cn)
No Lands Border - Terrain Vague - Cosenza
Avantgarde - Avantgarde Gallery, Caserta
2011 Germinale - Spazio Arte Duina, Paitone - Bs
Conviv-io, Convivenza con l'io - S. Carlo dei Barnabiti, Firenze
2010 Una donna senza tempo - Galleria Mondadori, Venezia
Premio Combat - Artisti Finalisti in mostra - Bottini dell'Olio, Livorno
Premio Arte Laguna - Arsenale, Venezia
Premio speciale Galleria dell'Ombra
Premio speciale Galleria Gagliardi
Premio speciale Istituto di Cultura Italiana
2009 Sguardi Multipli, Rassegna nazionale di arti visive - Castello Estense, Ferrara
Il secondo libro dei sogni - Vie di fuga - Castel dell'Ovo, Napoli
Aida, rassegna d'arte - Palazzo dei congressi, Taormina (Me)
Premio Laetitia Cerio 2009 - Centro Caprense I. Cerio, Capri (Na)
Start-Up, Rassegna internazionale, a cura di R. Ronca, Villa SantIsidoro (Mc)
È nato prima l'uovo o la colomba? Museum & Fashion Marella Ferrera, Catania
La mia ombra e' lieve
San Gimignano
From 18/09/2010 to 09/10/2010
More Info