Works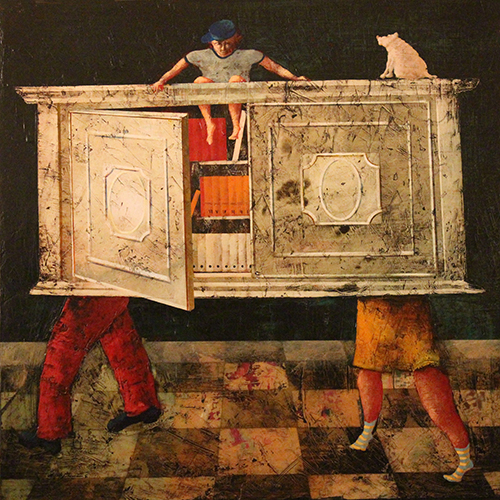 Angelo Palazzini exhibits in our gallery since 2017.
The reality of visionary between dreams and playful curiosity tries to lead the artist in to the center of the invention, where the wonder, the contextualization dimensional, spatial and temporal subjects, entered into a dreamlike horizon that restates them, and tells in a new perspective, are effective pictorial expression, lightness surprise that is renewed in the titles of the paintings, an integral part of the implemented ironic displacement with the painting, whose titles adds an additional indication surrealistic able to take us in the very spot where creativity takes form: there, where are born the metaphors. His painting is defined visionary and fantastic by critics and art historians, it makes him adhere to the broader pictorial current of surrealism.
Many art critics have written texts on his work, including: Vittorio Sgarbi, Gipponi, Aldo Benedetti, Giovanni Serafini, Mario Monteverdi, Giovanni Tonini, Paolo Rizzi, Alda Merini, Maurizio Stupiggia, Laura Salmi, Andrea Ferrari.
Appreciated and recognized exponent of surrealism, was recognized by critics of Art and the public.
Gold Medal Award for the Arts and Communications, Municipality of Lodi
Award Oldrado da Ponte, Lodi 2003 and 2005
1st award Rotary Club International - District 2070
He has exhibited in many important exhibitions, among which: "Surrealism Padano, from De Chirico to Foppiani" Gothic Palace in Piacenza; "Surrealism Padano, from De Chirico to Leonor Fini", Museo Civico Revoltella in Trieste; "Italian Art 1968-2007", the Royal Palace, Milan; "Contemplations", Castel Sismondo, Rimini; "Venice Biennale", 54th edition 2011, Palazzo della Ragione, Milan, Monaco di Baviera, Signorini Palace Municipality Venue of Portoferraio, Palace of the Podestà Piacenza, Saint Paul de Vence Francia, Loebschen-Haus Landau Germany, Seattle USA, Nuremberg Germany, Beirut Lebanon, Londra UK, Strasbourg Germany, Paris France.