Works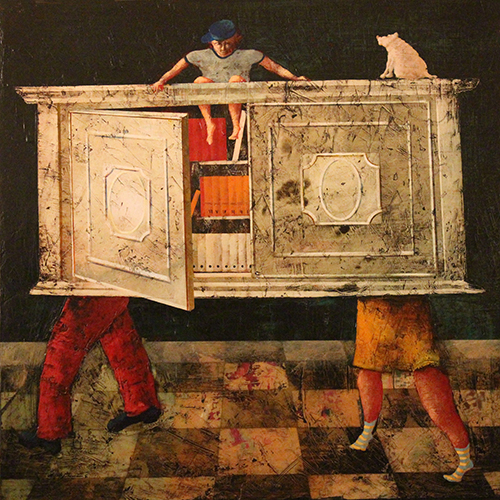 Angelo Palazzini exhibits at Galleria Gagliardi since 2017.
The reality of visionary between dreams and playful curiosity tries to lead the artist in to the center of the invention, where the wonder, the contextualization dimensional, spatial and temporal subjects, entered into a dreamlike horizon that restates them, and tells in a new perspective, are effective pictorial expression, lightness surprise that is renewed in the titles of the paintings, an integral part of the implemented ironic displacement with the painting, whose titles adds an additional indication surrealistic able to take us in the very spot where creativity takes form: there, where are born the metaphors. His painting is defined visionary and fantastic by critics and art historians, it makes him adhere to the broader pictorial current of surrealism.
Angelo Palazzini was born in 1953.
His encounter with art came early, and he has been a full-time painter since 1980. Although he has works exhibited all over the world, the artist is deeply rooted in his homeland, as if it were a solid and reassuring launching pad for exploratory flights into his very personal imaginative universe. His personal and collective exhibitions are countless: among the occasions that have determined his success, we recall his presence from '94 to '97 at the Festival dei Due Mondi in Spoleto, at Palazzo Reale in Milan in the exhibition "Italian Art from 1968 to 2007" and more recently at the 54th Venice Biennale. In addition to art galleries in San Gimignano Galleria Gagliardi, Turin, Piacenza, Padua, Avellino, his works are now exhibited in London, Paris, Munich, Beirut, as well as in numerous private and public collections in Italy and abroad.
Many art critics have written about his work, including: Vittorio Sgarbi, Gipponi, Aldo Benedetti, Giovanni Serafini, Mario Monteverdi, Giovanni Tonini, Paolo Rizzi, Alda Merini, Maurizio Stupiggia, Laura Salmi, Andrea Ferrari.
An appreciated and recognised exponent of surrealism, he has received recognition from critics and the public.
Medaglia d'oro award for arts and communications, Premio Comune di Lodi Oldrado da Ponte, Lodi 2003 and 2005
1st prize Rotary Club International - District 2070
He has exhibited in numerous important exhibitions, including: "Surrealismo Padano, da De Chirico a Foppiani" at Palazzo Gotico, Piacenza; "Surrealismo Padano, da De Chirico a Leonor Fini", Museo Civico Revoltella, Trieste; "Arte Italiana dal 1968 al 2007", Palazzo Reale, Milan; "Contemplazioni", Castel Sismondo, Rimini; "Biennale di Venezia", 54th edition 2011, Palazzo della Regione, Milan, Munich, Municipality of Portoferraio, Palazzo del Podestà Piacenza, Saint Paul de Vence France, Loebschen-Haus Landau Germany, Seattle USA, Nuremberg Germany, Beirut Lebanon, London UK, Strasbourg Germany, Paris France.
To report some of the most relevant:
"Contemplazioni" at the Castel Sismondo in Rimini curated by Alberto Agazzani,
"Traumaschinnen" at the Civic Museum of Klausen.
Selected by V. Sgarbi for participation in recent exhibitions of national importance, including:
"Surrealism Padano: from De Chirico to Foppiani" Gothic Palace, Piacenza
"Padanian Surrealism: from De Chirico to Leonor Fini" Civic Museum Revoltella, Trieste
"Italian Art from 1968 to 2007" Palazzo Reale, Milan.
To report finally the presence at the 54th edition of the Venice Biennale.