Works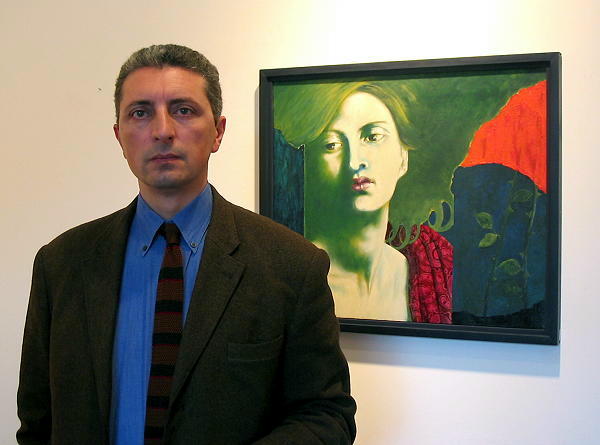 Antonio Delle Rose exhibited at Galleria Gagliardi in 2005.
Antonio Delle Rose exhibited in our gallery in 2005.Antonio Delle Rose is a cultured painter that uses the thought as I orchestrate interpretative of the different moments of the visual expression, besides as a theoretical support of the "transmutations in form" (to use the words of Hans Georg Gadamer) of his spiritual pulsions... " The figures - and the spaces - of Delle Rose they are silent, not because deprived of voice, but because absorbed in that incommensurable deposit of potential and unexpressed sounds that is called SILENCE, which is adjoining to the MYSTERY and both they are in the dizzy dimension of the ENDLESS. So the figures and the spaces of Delle Rose can speak, but with perceivable bawls only to whom possesses the ability to tune in himself to the listening of the sounds of the soul, that reach to the hearing, when they reach, by evocative way, crossing the kingdom of the mystery and bringing with itself infinitesimal harmonic and balmy doses, of truer truth. Armando Ginesi
Antonio Delle Rose was born in 1953. He has collaborated with the poetry magazines "Le Porte" and "Numero Zero". In 1986 he presented his own theatrical work entitled 'Il Cerchio di Bronzo' at the Teatro Sperimentale in Pesaro. In 1979 he published "Tripthucos"; in 1981 "Arte e Scienza"; in 1989 an essay on the Marche painter Osvaldo Licini; in 1994 he published "Intinti", a collection of poems; in 2014 "Arte a Parole".
1966
Pesaro, Estemporanea del Porto
1969
Pesaro, Saletta Rossini
1970
Pistoia, Premio Nazionale"Ugo Pasquini",
1971
Sassoferrato, Premio "G.B.Salvi" –premiato-
1973
Belgrado, Galerija Kulturnog,
Pesaro, Sala Laurana
1975
Mantova, Premio "Lubiam"-premiato-
Roma, X Quadriennale d'arte
"Nuova Generazione"
Milano, Galleria Pontaccio, "Rapporto75"
1976
Pesaro, Marche Producono,
Pesaro, Galleria Studio Pesaro,
Pesaro , Galleria Studio Pesaro,
1978
Wolfsburgh, Stadtische Galerie "Pesaresische Kunstler"
1979
Pesaro, Centro Culturale AICS,
1981
Pesaro, Comune di Pesaro,
1983
Pesaro, Deposito Figure,
Mondavio, Collettiva,
1984
Fano, Sotto la Tenda,
1988
Firenze, Studio d'Arte Contemporanea,
Senigallia, Galleria Portfolio,
Monteciccardo, "Borderline",
1989
Reggio Emilia, "Borderline",
Senigallia, Mostra Arte Sacra,
Sassoferrato, Premio "G.B.Salvi"-prermiato-
Ancona, Premio Marche,
Pesaro, Crono video grafie
"Pesaro1945-1980",
1990
Busto Arsizio, Inserimento nell'archivio storico di consultazione
dell'arte moderna e contemporanea, 1994
New York, Video Exposition for italian artists,
Monte Gridolfo, Personale,
Padova, Fiera d'Arte,Gall. Prisma,
Montichiari, Expo Arte, Gall. Astuti
Udine, Fiera di Udine, Gall. Astuti
Ancona Premio Marche,
1996
Colonia, Galerie Am Marht
1997
Dusseldorf, Fiera della grafica, Gall. L'Ariete
Roma, Studio S,
1998
Gubbio, Palazzo dei Consoli,
Pesaro, Nirvana
Montichiari, "6° Expo Arte",Gall. Diagonalart
Bologna, Arte Fiera, Gall.Diagonalart
1999
Bologna Arte Fiera, Gall.L'Ariete
Vicenza, Vicenza Arte, Gall. Prisma
2001
Pesaro, Centro Pescheria-Soglie-
Milano, Miart, Gall. L'Arite
Pesaro, Galleria Andromeda,
Pesaro, Galleria Andromeda, collettiva,
Beato Sante, Museo d'Arte Sacra-permanente-
2002
Urbino, Accademia di Belle Arti –Incidere-
Tripoli, Museo di grafica italiana-permanente-
2003
San Gimignano, Galleria Gagliardi,
Revere, Yong Museum," Il corpo e lo sguardo"
Ancona, Rettorato Università
Jesi, "Giobbe, l'uomo"
Museo Diocesano –permanente-
Pesaro, Libreria del Barbiere, " Zodiaco"
Ancona, Territorio a cura di Flaminio Gualdoni
Piobbico, Territorio
Sassocorvaro, Territorio
Camerino, Territorio
Tolentino, Territorio
Fabriano, Territorio
2004
Senigalia, Galleria Areate
Cagli, Territorio
Saltara, Territorio
Pesaro. Febal Spazio Arte
Frontone, Territorio
Urbinio, Casa natale di Raffaello
Montemerano, "Umano, troppo umano"
A cura di M. Pasquali
2005
Padova, Arte Padova gall. Van Sent
Falconara, Museo internazionale francescano –permanente-
Reggio Emilia, Arte Fiera, Galleria Annovi
Pesaro, Spazio dell'Arte Venturi, "Il terzo sguardo"
2006
Fano, Galleria Novato "Tra arte e vita" a cura di
Roberta Ridolfi
Senigalia, Galleria Arearte
Senigalia, Galleria Portfolio
2007
Fano Galleria Novato"Dalle parole alla visione"
a cura di Roberta Ridolfi
2008
Jesi Museo Diocesano
2009
Sassoferrato Premio G. B. Salvi
Modena Galleria Mies
Teglio Nuovi Scenari
a cura di Carlo Franza
2010
Alessano Fondazione don Tonino Bello
Collezione permanente
2011
Sassoferrato Premio G. B. Salvi
Lecce Galleria Il Grifone
Milano Libreria Bocca
"Artisti in cielo e in terra"
2012
Berlino Hoffmann Room
A cura di Carlo Franza
Sassoferrato Premio G. B. Salvi
2013
Montefiore
Dell'Asolo Arteinsieme
2015
Ancona Mole Vanvitelliana
Arteinsieme
2016
Abbiategrasso, Palazzo Cittadini Stampa
Ricordo di P.P. Pasolini
Senigallia, Musinf - Museo d'arte moderna, dell'informazione e della fotografia
Abbiategrasso Palazzo Cittadini Stampa Ricordo di P.P.Pasolini
Rozzano Centro Culturale P.P. Pasolini
Roma MACRO A cura di C. E. Bugatti e E. Longari
Roma Galleria Studio S "La bestia e la bella"
Padova 27° Arte Padova Galleria Viola
2017
Senigallia MUSINF Museo Rocca Roveresca
Locate Palazzo Trivulzio
2018
Sassuolo, Galleria Annovi
Trecastelli, Museo Nori
Cattolica, Galleria Santa Croce
Milano, Ricordo di Pier Paolo Pasolini
Fabbrica del Vapore
Opere in collezioni pubbliche
Beato Sante, Museo Arte Sacra
Tripoli, Museo di Grafica Italiana
Jesi, Museo Diocesano
Alessano, Fondazione Don Tonino Bello
Falconara, Museo Internazionale Francescano
Cupra Montana, Museo Internazionale Dell'Etichetta
Sassoferrato, Museo d'Arte G.B. Salvi
Trecastelli, Museo Nori De' Nobili
Senigallia, Chiesa di San giuseppe, Museo MUSINF
BIBLIOGRAFIA
Toni Toniato
Catalogo della mostra alla Sala Laurana, Pesaro, 1973
Claudio Ferri
"Un pittore del tempo" Il Resto del Carlino, 17-9-1973
Claudio Ferri
Rivista di cultura "Il Meglio" N°4, 1973
Toni Toniato
Catalogo "Izlozba" radeva studenta, Beograd, 1974
Valeriano Fanelli
Mostra allo Studio Pesaro Uno, 1978
Rosario Assunto
Mostra al Centro Culturale AICS con testi di:
G. Giagnolini, G. Castellani, V. Fanelli, S. Mariani,
G. D'Elia, R. Russo, C. Colangeli, Pesaro, 1979
Giancarlo Scriboni
Mostra al Palazzo Mosca, Pesaro 1981
Paolo Volponi
Catalogo "Mondavio 83" Gall. Una Arte, Mondavio, 1983
Mario Ramous
"Intinti" Cultura Duemila, Ragusa, 1985
Bernardo Valli
Intervista per il lavoro teatrale "Il Cerchio di Bronzo", 1986
Roberto Roversi
"Urnario" 1988
Andrea B. Del Guercio
Catalogo "Borderline" 16 Luglio 4 Settembre 1988
Miklos N. Varga
In prossimità della distanza, 1988
Maria Stella Sguanci
Catalogo " Chi cercate?", Senigallia 29 Aprile 31 Maggio 1989
Bruno Ceci
Oltrepassare la soglia, 1990
Antonella Micaletti
Mostra a Monte Gridolfo, 1994
Vittorio Rubiu
Catalogo Premio Marche 1994
Maria Stella Sguanci
Catalogo Premio Marche 1996
Francesco Romi
Mixer N° 2 del 6 Marzo 1996
Uschi Groth
Kolner Stadt-Anzeiger N° 75 del 28 Marzo 1996
Giorgio Trevisan
L'Arena di Verona 28 Ottobre 1997
Paola Azzolini
Archivio Ottobre 1997
Michele Loffredo
Images Art & Life N°42 Dicembre 1997
Alessandro Pitrè
Catalogo "Soglie", Centro Pescheria, 30 Marzo 25 Aprile 2001
Roberta Ridolfi
Il Messaggero 20 Maggio 2001
Luigi Ferraro
Il Nuovo Amico 27 Maggio 2001
Armando Ginesi
Catalogo Galleria L'Ariete 2001
Il Messaggero 11 Novembre 2001
Anna Maria Novelli
Juliet N°104 Ott.-Nov. 2001
Armando Ginesi
Catalogo Università di Ancona, 2002
Umberto Palestrini
Catalogo "Incidere" Urbino, 2002
Roberta Ridolfi
Il Messaggero 12 gennaio 2003
Armando Ginesi
Rivista Marche N 3-4 maggio 2003
Giancarlo Bassotti
Paolo Montanari
Rivista Marche Ottobre 2003
Flaminio Gualdoni
Catalogo "Territorio", 2003
Maria Antonietta Vitelli
Febal Spazio Arte, 2004
Luca Cesari
Catalogo Galleria Gagliardi, 2004
Marilena Pasquali
"La maschera e l'ombra"
catalogo Casa natale di Raffaello, Urbino 2004
Simone Socionovo
Corriere Adriatico, pagina regionale, 10-9-2004
TG3 regionale Marche
Servizio sulla mostra "Il silenzio negli occhi", 11-9-2004
Maria Lenti
" Antonio Delle Rose", Archivio N°5 ottobre 2005
Athos Tombari
"La luce di Delle Rose", Lo Specchio N°91 ottobre 2005
Fra' Giancarlo Mandolini, catalogo "In nome di Francesco",2005
TVRS, programma televisivo "Ulisse", intervista
sul tema "I linguaggi dell'arte", 2006
Paolo Angeletti
Il Resto del Carlino-Pesaro 13/5/2007
Roberta Ridolfi
"Dalle parole alla visione" 2007
Carlo Emanuele Bugatti
"Quaderni Nostos" N°4 2009
Carlo Franza
Catalogo " Nuovi Scenari " 2009
Mariano Apa
Catalogo G.B.Salvi 2009
Gabriele Simongini
Catalogo G. B. Salvi 2011
Silvia Cuppini
Catalogo G. B. Salvi 2012
Andrea Carnevali
Contemporart N° 82 2015
Rivista "Storia e Storia", 2015 Carlo Emanuele Bugatti
Toni Toniato
Carlo Franza
Gabriele Tinti
Catalogo "Ricomposto Zodiaco", Musinf Museo, 2017