Works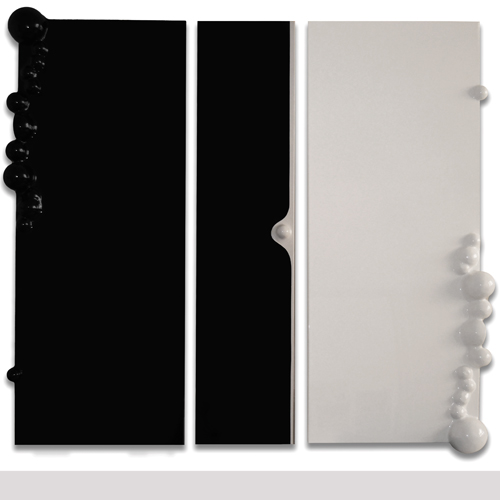 Beatrice Gallori exhibits at Galleria Gagliardi since 2022.
Beatrice Gallori was born in Montevarchi in 1978.
She graduated from the Liceo Classico Cicognini in Prato in 1996.
In 2001 she realised her passion for fashion and design by attending the Polimoda Institute in Florence, specialising in Fashion Design and Knitwear.
With the study of fashion comes the desire to experiment with painting: her first creations stand out for her innate ability to use matter, giving her canvases depth and life through instinct and emotional jets using various recycled materials.
Since 2008, he has exhibited in group shows in public and private spaces.
In 2009, she took part in "Arte in Vetrina-Prato, giovani talenti emergenti" curated by Giovanni Faccenda.
In 2010, she created hand-made knitwear sketches with pictorial interventions for the Bettaknit brand, which produced a real collection.
After these experiences, the desire to conceptualise her work was born, and so she began to study movement and recreate it on the canvas: for the viewer she tries to block "that movement" made unique and unrepeatable by nature but stopped, before falling, by the artist herself.
The first sculptures that tackle the third dimension are born, real pours of paint trapped and stopped in a temporal dimension, crystallised in an instant, after the fall but before landing.
In 2011, the sculpture "To Red - ing Future" became part of the catalogue of the "Combact Prize". In the same year, one of his "castings", "Milk Walking", was selected by the art critic, Arturo Schwarz, for the Sotheby's Contemporary Art Auction in Milan in favour of the Israel Museum in Jerusalem.
The ceramics of the collective exhibition "Linguaggi" in Milan were subsequently a great success with the public.
He took part in ArtVerona 2011 and then joined the "Artisti a km 0" project at the Luigi Pecci Museum of Contemporary Art in Prato, installing a work and a video entitled "I miei respiri" in the museum.
In 2012, he presented an installation created specifically for the "International Knitwear Day" sponsored by the Province and Municipality of Prato, with the collaboration of the Museo del Tessuto.
He intensified his collaboration with Italian galleries and presented exhibitions, both group and personal, in Italy and abroad.
One of her works was selected for "BAU10", a contemporary art container, and became part of the "Zavattini Collection" (Florence National Library).
In 2013, she began working with the Armanda Gori Arte gallery (PO), which took her works to various fairs and presented them to a wide audience.
Her work is constantly evolving and growing. His canvases and sculptures show a maturity in working with materials, making the works, now completely monochrome, essential and pure.
Prato's collective exhibition "Urbana Vestigia" was an opportunity to experiment with other forms of expression and her video, "Human Crisis", was chosen by Prato's Culture Department and Equal Opportunities Department as the symbol for the "International Day Against Violence Against Women" and one of her sculptures was installed in Prato's Piazza del Comune. At the end of 2013, at Armanda Gori Arte, she held a solo exhibition entitled 'Time Lapse' presented by the critic Valerio Dehò. His works now focus on the study of the cell and its changes. She brings back to her canvases "still images" of cellular movements that give her the possibility to investigate more deeply human diversity and life itself. In 2014, she participates in three group exhibitions at the "Galleria Armanda Gori Arte" in Pietrasanta: "Rosso Contemporaneo", "Plastica Italiana", "Differenze". In 2015, he is present at the "Galleria Comunale d'Arte Moderna e Contemporanea" in Arezzo with the exhibitions "Evolve-ING" and "Plastica Italiana"; "Photissima" in Venice; "Microscope" at the "Galleria Armanda Gori" in Pietrasanta; "BIOsphere" at the Museo di Pittura Murale in Prato. He closed the year with a solo exhibition entitled "#differences" at the Riccardo Costantini Contemporary gallery in Turin. He opened an exhibition at the Sassuolo Hospital "Origins", showing his works in the corridors of the hospital together with Volontariarte. She establishes collaborations with the galleries Lara & Rino Costa Arte Contemporanea, Valenza, Riccardo Costantini Contemporary, Turin that present her work at ArteFiera Bologna 2016 and in other contemporary art fairs, thus entering the Italian and international market. Also in 2016 one of his works entitled "BOOM" became part of the collection of the Bocconi University in Milan. In June, at the Vecchiato Arte gallery in Padua, he inaugurated his personal exhibition entitled "The Cell" curated by art critic Luca Beatrice. He closes 2016 presenting at the Lu.C.C.A Museum his personal exhibition CORE curated by Luca Beatrice and Maurizio Vanni. In March 2017 she presents at the Lara and Rino Costa Gallery in Valenza her solo exhibition entitled m(OTHERS) with a critical text by Alessandra Frosini. In December 2017 she participates again in BAG with her work BOOM at Bocconi University in Milan. In 2018 Beatrice Gallori shifts her research also in the field of sculpture that she realizes with recycled wood and polymer. This gives rise to sculptures that float between mirrors in a game of balances between spherical shapes and monoliths, underlining the precariousness of life. In January 2018 she is present at LA TRIENNALE DI MILANO with her personal exhibition, curated by Angelo Crespi, Biological Rules of the Materialmente cycle and at the same time she is chosen by the critic Luca Beatrice for the exhibition IL MILLENNIO È MAGGIORENNE at the MARCA Museo delle Arti in Catanzaro with the support of the Fabbrica Eos gallery - Milan - with which she starts a collaboration relationship. His installation VAST on show at the MARCA was acquired by the Fondazione Rocco Guglielmo. Also in January, together with the Lara&Rino Costa gallery, he presented an installation entitled Gaze at ArteFiera Bologna, curated by Alessandra Frosini. Two of his works enter the permanent collections of Lu.C.C.A. Lucca Center of Contemporary Art and MAS Museo delle Splendore in Giulianova. Also at the beginning of 2018, she forges a collaborative relationship with AriaArtGallery - Florence, London, Istanbul - and participates in the group exhibition in the Florence office, preparing, at the same time, the solo exhibition Emotion Capture, curated by Alessandra Frosini, which will be opened in April in the Istanbul office. She is currently working with Lara & Rino Costa Arte Contemporanea (Valenza), Fabbrica Eos (Milan) and AriaArtGallery (Florence/London/Istanbul) presenting her works in various fairs in Italy and abroad and through exhibition projects that will be organised in galleries and museum spaces, throughout 2018. His works are present in various Italian and international private and public collections.