Works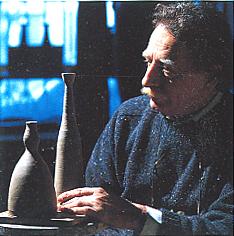 Bruno Gambone exhibited at Galleria Gagliardi from 1991 to 2008.
Bruno Gambone (1936-2021)
Bruno Gambone's works reveal a highly complex personality driven by a continuous need to experiment and aware of the material's potential, in the sense that it is a field abounding with new stimuli. As we can see from his enormous production, Bruno Gambone's language was born from a fine sensitivity that matured through an articulated series of studies. Actually, anote of admiration for the path that Bruno Gambone chose in his long career of artistic activity comes spontaneously. First of all, we cannot ignore the meticulous essentiality of his approach, the result of long thought and archetipal research. But then, we are immediately struck by the richness of the references to sensations that derive from the profound dialogue he mantains with the material enriched and renewed by primitive delays that only yield to the tension of contemporary arrangements with great parsimony. And finally, what is most interesting is the peculiar valence of each item,in form and colour, evolving continually to the point of entrancing the viewer by innovation, both in technique and in the relationship between the material and its sorrounding space. Gilda Cefariello Grosso
Bruno Gambone was born in Vietri sul Mare (Salerno) on 18 October 1936.
He briefly approached the world of ceramics at the age of 14 in his father's atelier, Guido Gambone.
Towards the end of the 1950s, while still in the Tuscan capital of Florence, he worked in Andrea D'Arienzo's workshop. Determined to work and establish himself independently, he also devoted himself to other artistic experiences such as fabric decoration and painting on canvas. In 1959 he held his first exhibition of paintings at the Galleria La Strozzina in Florence.
In 1962, he moved to the United States and spent five years in New York.
Here he frequented artists such as Robert Rauschenberg, Roy Lichtenstein and Andy Warhol, gaining numerous experiences in the fields of painting, sculpture, cinema and theatre.
After five years he returned to Italy.
He chose to live in Milan.
In the Lombard capital he came into contact with various artists such as Enrico Castellani, Lucio Fontana, Paolo Scheggi, Agostino Bonalumi and Gianni Colombo.
he worked in some Venetian workshops designing a series of furnishing objects such as lamps and small tables.
He was also interested in jewellery design during his time in Milan (1968).
He returned to this sector at the end of the Seventies, creating a series dedicated to imaginary animals, taking up patterns already used in his ceramic production.
Bruno Gambone is a member of the National Ceramics Council and a member of the Geneva Academy; for a decade he was President of the C.N.A. ASNART Association.
Today he is Honorary President.
In 1997 he became Artistic Director of the National Prize for Ceramics in Vietri sul Mare (Salerno).
Mostre Collettive
2020
Artefiera Bologna by galleria Il Ponte
2019
Artverona by galleria Il Ponte
NOMAD VENICE by Galleria Colombari
"Picasso e l'Arfica " Omaggio a Ugo Marano ,Cetara (SA)
Art Basel by Galleria Colombari
Abbazia San Gregorio Venice by CHAHAN
The salon Art + Design (Armory) NY by CHAHAN
2018
The salon Art + Design (Armory) NY by Galleria Colombari
ArteVerona by galleria il ponte
IT TAKES TWO (with Dana Fiona Armour) Baumgrasse 42/7 Vienna- Austria by Amir Shariat
L'asta Parigi Leclere
MIART – Milano by Galleria colombari
PAD Art Geneve Salon d'art by 18 David Gallery
2017
The Salon Art+Design NY (Armory) by Galleria Colombari
Arte Verona by Galleria il ponte ( i quardi )
L'asta Parigi Leclere
Art Basel by Galleria Colombari
MIART – Milano by Galleria colombari
" Pablo Picasso e altri viaggiatori. Storie naturali e viaggi spirituali " Cava deì Tirreni (SA)
Brafa Art Fair ( pittura ) – Bruxelles with Landau Gallery(Frankfult) & galleria il ponte (Fi )
Bologna Arte fiera( Pittura) – Bologna
2016
FIAC – Parigi (tramite PIASA)
ArtVerona (Pittura) – Verona
"They want EFX" – Vienna ,Austria(pittura)
Fuori Saone – Milano
MIART (pittura) – Milano
2015
ArtVerona (Pittura) – Verona
MIART (pittura) – Milano
2014
PIASA Parigi-France
2013
Expo Rurale Fortezza da basso – Firenze
Armory show by il ponte (vulcano,sculttura) – NY USA
PIASA- Paris
Palazzo Medici-Riccardi -Firenze " Pinocchio and friends "
2012
Galleria Blanchaert – Milano
Artigianato in fiera – Milano
Galleria dell'artigianato,mostra dell'artigianato, Firenze
54^ Biennale di Venezia padiglione Italia- Torino
Motre Collettive
2020
Artefiera Bologna by galleria il ponte
2019
Artverona by galleria il ponte
NOMAD VENICE by Galleria Colombari
"Picasso e l'Arfica " Omaggio a Ugo Marano ,Cetara (SA)
Art Basel by Galleria Colombari
Abbazia San Gregorio Venice by CHAHAN
2018
The salon Art + Design (Armory) NY by CHAHAN
The salon Art + Design (Armory) NY by Galleria Colombari
ArteVerona by galleria il ponte
IT TAKES TWO (with Dana Fiona Armour) Baumgrasse 42/7 Vienna- Austria by Amir Shariat
L'asta Parigi Leclere
MIART – Milano by Galleria colombari
PAD Art Geneve Salon d'art by 18 David Gallery
2017
The Salon Art+Design NY (Armory) by Galleria Colombari
Arte Verona by Galleria il ponte ( i quardi )
L'asta Parigi Leclere
Art Basel by Galleria Colombari
MIART – Milano by Galleria colombari
" Pablo Picasso e altri viaggiatori. Storie naturali e viaggi spirituali " Cava deì Tirreni (SA)
Brafa Art Fair ( pittura ) – Bruxelles with Landau Gallery(Frankfult) & galleria il ponte (Fi )
Bologna Arte fiera( Pittura) – Bologna
2016
FIAC – Parigi (tramite PIASA)
ArtVerona (Pittura) – Verona
"They want EFX" – Vienna ,Austria(pittura)
Fuori Saone – Milano
MIART (pittura) – Milano
2015
ArtVerona (Pittura) – Verona
MIART (pittura) – Milano
2014
PIASA Parigi-France
2013
Expo Rurale Fortezza da basso – Firenze
Armory show by il ponte (vulcano,sculttura) – NY USA
PIASA- Paris
Palazzo Medici-Riccardi -Firenze " Pinocchio and friends "
2012
Galleria Blanchaert – Milano
Artigianato in fiera – Milano
Galleria dell'artigianato,mostra dell'artigianato, Firenze
54^ Biennale di Venezia padiglione Italia- Torino
2011
Galleria dell'artigianato,mostra dell'artigianato, Firenze
2010
Galleria dell'Artigianato-mostra dell' artigianato- Firenze
2009
"Ceramica Contemporanea" Are Art Gallery , Firenze
"Maschere" Galleria Delle Piane , Milano
Galleria dell'Artigianato-mostra dell' artigianato- Firenze
Maison & Objet , Parigi -Francia
2008
Comune di Castellamonte , Torino
Castello Carlo V ,Monopoli
Galleria dell'Artigianato-mostra dell' artigianato- Firenze
"Animal " Giardino esotico del principato di monaco ,-Monaco
Sala del Tempio Adriano , Roma
"Mostra d'arte contemporanea di sculture di ceramica sul tema dell'Omeopatia " Napoli
2007
Sala della Cancelleria , San Gimignano
Premio Bancarella , Pontremoli
"Fatto ad arte" organizzato da Ugo La Pietra , Roma
Galleria Anghiari , Arezzo
Galleria dell'Artigianato-mostra dell' artigianato- Firenze
2006
Galleria dell'Artigianato-mostra dell' artigianato- Firenze
Carrusel du Louvre ,Parigi -Francia
Mostra dell'artigianto artistico italiano nel museo etnografico russo , S.Pietroburgo -Russia
Hotel Astria , Firenze
"Intimamente fermo esternamente flessibile" Biella
Toscana Promozione , Franlfurt -Germania
2005
"The tuscany life style"felissimo design house , NY -USA
Galleria dell'Artigianato-mostra dell' artigianato- Firenze
Ad arte biennnale del arti applicate , boario terme – PREMIATO
2004
I capolavori dell'artigianato artistico in Toscana , Certaldo
"Amore d'autore" Fiera arredo , Bologna
Ceramiche Fornace Pasquinucci, Limite e Capraia
I capolavori dell'artigianato artistico in Toscana , Chicago -USA
Chambre des beaux de mediterranee exposition galerie sema, Paris -Francia
2003
"Le stanze delle meraviglie" Mostra dell'artigianato , Firenze
Terra e fuoco, Bruxelles -Belgio
"Fuoco vivo-riti , ritmi e pratiche della creatività ceramica" Piazza A.Conforti , Salerno
"Dalla materia all'arte fatto-Casale dei Monaci- "Centro culturale comunale per learti applicate ed il territorio,Comune di Ciampino
"Radici antiche e omaggio al moderno" M.S.Savino , Arezzo
Group exibition of castel art , Gmunden -Austria
Nuove Spazialità per l'arredo urbano , Gualdo Tadino
Mercato internazionale a Gmunden -Austria
2002
"Nuovo Antico- dalla materia all'artefatto" Palazzo Carignano , Torino
Esposizione internazionale d'arte decorativa moderna, Torino
L'oggetto travestito , mostra dell'artigianato , Firenze
2001
"Albero d'autore " Marta , Firenze
"Terre toscane " Greve in Chianti
"Corno d'autore " Napoli
"Donne ,madonne e sirene " Salerno
2000
Museo permanente all'aperto , il muro di Caltagirone(Sicilia)
Convento S.Agnese , Vitorchiano (Viterbo)
40°Mostra della ceramica di Castellamonte , Torino
"A proposito dell'uovo " Asolo
"Religiosità e artigianato" , Palazzo del Monte , Padova
"Colori locali" , mostra dell'artigianato , Firenze
"Nel blu dipinto di blu " mostra dell'artigianato , Firenze
La casa del collezionista , Gift , Firenze
1999
"Metamorfosi di una bottiglia" Marta , Firenze
"In vino veritas" Monaco
"La diversità dai rituali domestici odori,sapiri della cucina italiana" mostra artigianato a Firenze
"Odori e sapori della cucina italiana" Monaco
La versiliana , Marina di Pietrasanta
39°Mostra della ceramica di Castellamonte , Torino
1998
Castello di Satigliana , Pavia
"Due giorni di arti e mestieri" Castello di Masino, Caravino (Torino)
38°Mostra della ceramica di Castellamonte, Torino
Mostra dell'artigianato, Visioni, Firenze
Mostra artigianato, Anghiari
Mostra artigianato, Livorno
1997
"Migrazioni Spirituali Mediterranee " Firenze, Bettona ,
San Gimignano, Chiostro del Duomo di San Gimignano, Collegiata di Santa Maria Assunta a cura Galleria Gagliardi San Gimignano
e Sciacca (Sicilia)
"Fra terra e Cielo-Le Campane" Chiostro del Duomo di San Gimignano, Collegiata di Santa Maria Assunta
a cura Stefano Gagliardi Galleria Gagliardi San Gimignano
XXV Rassegna dell'olio d'oliva extravergine di Reggello
Creta, Ravello (Salerno)
1996
"LAPIS" Mostra collettiva Galleria Gagliardi San Gimignano
"Materia Plasmata"Firenze
"Fatta a mano" Todi
"Meridiani-La carnale " Salerno
1995
Mostra personale "Bruno Gambone " Galleria Gagliardi San Gimignano
Mostra della ceramica di Castellamonte , Torino
"Virtualità del vaso" Macef ,Palazzo Cisi , Milano
1994
Mostra a Berlino organizzata Sogese, Berilino-Germania
1993
"Terre Liberate" Monteroni D'Arbia mostra collettive in collaborazione con Galleria Gagliardi San Gimignano
"Monteroni in vetrina" Mostra curata da Galleria Gagliardi San Gimignano Stefano Gagliardi Monteroni d'Arbia
Fiera di Viterbo
Mostra della ceramica di Castellamonte , Torino
1992
Arte Fiera , Bologna
"Straordinario" organizzata Sogese , Firenze
3°International ceramic festival , Mino -Giappone
Palazzo dei Priori , Volterra
Mostra della ceramica di Castellamonte , Torino
1991
Intreccio d'autore , Vicenza
Concorso nazionale della ceramica , Assemini- PREMIATO-
Mostra della ceramica di Castellamonte , Torino
Arte Fiera , Bologna
"Arte artigianato e design" Ferrara
Mostra itinerante Gift, Tokyo -Giappone
1990
Artigian export-cenacolo Ognissanti , Borgo Ognissanti , Firenze
Artigianato contemporaneo organizzata dal ministero Industria Commercio e Artigianato in occasione dei mondiali di calcio , Roma
Arte Fiera , Bologna
Mostra a Madrid organizzata Gift -Spagna
14°mostra regionale della ceramica S.Stefano di Camastra (Sicilia)
Mostra concorso comune di Capraia e Limite , Firenze
1989
Mostra Certardo
Esposizione artigianato artistico toscano, Gemellaggio Firenze e Nanchino -Cina
"Travering gallery " bruxelles, Utrecht e Parigi – Belgio e Francia
Arte Fiera , Bologna
Mostra dell'artigianato, Firenze
Mostra della ceramica di Castellamonte , Torino
Comune di Castellamonte, Torino
Gunther , Merano
Torre comunale di Alghero (Sardegna)
Arte contemporanea presso La Loggia ,Bologna
Chiesa di S.Spirito, Firenze
29°Concorso della ceramica "pro Tadino" , Gualdo Tadino
1988
"Artigianato e Città" Bologna
CNA di Bassano del Grappa
1987
Concorso nazionale della ceramica d'arte, Reggio Calabria
Florence Gift Mart ,Fucikplatz, Dresden -Germania Est
2°Concorso nazionale della ceramica d'arte assessorato alla pubblica istruzione del Comune di Savona
"Florence a Paris" expositiond'artisanat Florentin -Francia
Florence Gift Mart – Regione Toscana a Francoforte -Germania
Esposizione della città di Firenze , Reims -Francia
I segni di Firenze
1985
Nazionale Biennale piatto diceramica 85- PREMIATO
Campanaccio D'oro , Tonara, Nuoro(Sardegna)
"Ricerche" Desir, Spoleto
Concorso internazionale della ceramica tradizionale e d'arte , Assemini
Mostra dell'artigianato artistico a Francoforte -Germania
"Accent on Design" NY -USA
1984
Collettiva "materia forma e colore" Desir, Vulcano,Isole Eolie Messina(Sicilia)
Artigianato d'arte della Toscana , Zurigo -Svizzera
Esposizione dibelle arti , Fran Murphy – West Palm Beach , Florida -USA
"World Class-Gallery of Italia Artisty- Allen Fornitures, Needham Heights M.A -USA
Concorso nazionale della ceramica tradizionale e d'arte , Cagliari(Sardegna)
Rassegna del design delle arti e dei mestieri "il campanaccio d'oro" Tonara, Nuoro(Sardegna)
Salone internazionale della ceramica, porcellana e vetro ;Fiera di Vicenza – PREMIATO
1983
"Metamorfosi dell'oggetto" Cefalù(Sicilia)
Sakowitz Festival del design italiano ,Houston Texas -USA
"Arte Azzura" Westerly , R.I -USA
Mostra collettiva Kent's art gallery , Firenze
Concosrso Nazionale Biennale Piatto di ceramica 1983 Asti
1982
Iris, Villa Romana , Firenze
"Terra collettiva" Alghero(Sardegna)
Il design degli anni 80" Museum Modern Art , NY -USA
Mostra Mia Monza patrocinata WCC
"Il design degli anni 80" La Jolla Museum , California -USA
1981
2°Biennnale Nazionale della ceramica d'arte , Reggio Calabria oremio dell'ente provinciale per il turismo
Mostra Nazionale della ceramica di Reggio Calabria – PREMIATO
1980
Biennale della ceramica di Vallauris -Francia
1979
Biennale Nazionaledella ceramica d'arte RC
"ART MUDDY" Tokyo, Nagoya e Kyu-shu – Giappone
1977
Concorso internazionale della ceramica di Faenza
Mostra a Lione ,francia organizzata dalla Regione Toscana
Mostra permanente alla sedi ICE di Dusseldorf -Germania
Grottaglie ,Taranto 1°premio al concorso dela ceramica mediterranea
1975
Mostra autonoma italiana a Tokyo a cura dell'ICE -Giappone
Concorso internazionale della ceramica di Faenza
Partecipazione al MIA di Monza a cura dell'ENAPI
1974
Fiera di Monaco – MEDAGLIA D'ORO dell' ENAPI
Concorso internazionale della ceramica di Faenza
IV Concorso della ceramica mediterranea , Grottaglie- MEDAGLIA D'ORO
Treno Italia, Mostra itinerante tra le principali capitali Europee ENAPI-ICE
1973
II Esposition Internazional de la Ceramique,Element ceramique dans l'Art moderne -Francia
Mostra design dell'arredamento , Residence alla Maddalena, Milano
"See of Japan exposition " kyoto e Kanazawa -Giappone
XV Triennale di Milano
1972
Biennale di Venezia
"Pollution per una nuova estetica dell'inquinamento" Bologna
Concorso internazionale della ceramica di Faenza
1971
Concorso internazionale della ceramica di Faenza
1970
"Settimana italiana" a Kiel organizzata dell'ICE -Germania
1969
"Mostra Gambone Scheggi e X Art" Frankfurt a.m.-Germania
Geremia e Golone SPETTACOLO di Gambone , Isgrò, Sacchi e Shceggi , Museo Civoco , Bologna
"2+35″ Galleria Cadario , Caravate
"NT4" Zagabria -Yugoslavia
"Esperimento di nuovo teatro" Varese
"Oggi" Salone Annunciata , Milano
"30 artisti europei " Galleria M.Bochum -Germania
"Oggi" Salone Annunciata , Milano
"24 hours Open Theater" Varese
1967
"Ricerche intersoggettive " Firenze, Torino , Termoli , Livorno e Napoli
Mostra internazionali dei giovani,Milano e Torino
Mostra"Gualdo" Sesto Fiorentino , Firenze
Partecipazione al padirione dell'ENAPI alla Mostra dell'artigianato di Firenze
MIGRAZIONI SPIRITUALI MEDITERRANEE
Bettona
From 09/05/1997 to 18/05/1997
More Info
FRA TERRA E CIELO - Le Campane
San Gimignano...
From 25/04/1997 to 02/05/1997
More Info
LAPIS
San Gimignano
From 27/12/1995 to 07/01/1996
More Info
BRUNO GAMBONE
San Gimignano
From 03/09/1995 to 21/09/1995
More Info
BOLOGNA ARTE FIERA
Bologna
From gennaio 1994 to
More Info