Works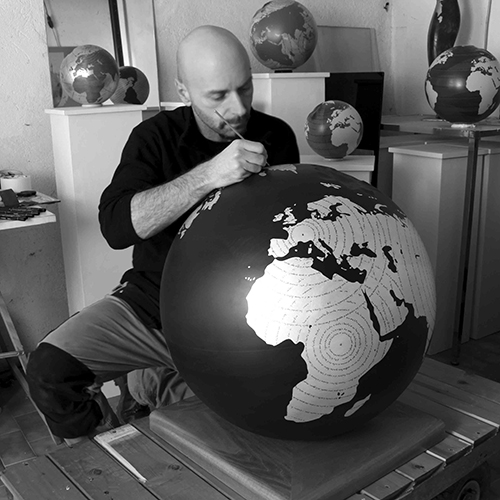 Christian Costa exhibits in our gallery since 2018.
The series "Mondi Ammaccati" (bruised worlds), perfect formal conjugation of the ecological concept "the Earth is offended", transposed also on the plane and with texts written in the World's Words variant.
Since 2011 I have been exploring this idea of my "Mondi Ammaccati" ('Dented Worlds'). I have always been unsettled and frightened by how humanity has been, with little consciousness, damaging our planet and, consequently, itself. Although this fear brings a negative aspect into my work, I also strive to show a way out through culture. This is why each of my dented worlds carry a significant scar together with writings from great artists and minds, such as Saint-Exupéry, Bulgakov, Bach, Montale and others, whom have immensely contributed to the evolving of humanity.The "Mondi Ammaccati" are wooden or stainless steel sculptures with paint or silver or gold thin foils. The text is handwritten with a special pen. Their shape varies from spheres, to disks, to panels. The world is ours to love, more than a right, it is a duty. Christian Costa
Christian Costa was born in 1976 in Italy, he graduated at the University of Fine Arts Albertina Academy of Turin, in the Sculpture specialty with the highest qualification and honors, he then studied abroad with ERASMUS scholarship for the realization of the last academic year at the Faculty of Fine Arts of the Complutense University of Madrid (Spain), then he took doctorate courses at the University of Vigo (Spain) obtaining the title of D.E.A. presenting the essay: "Los problemas de ficción en Pirandello, Fontana y Penone ".
Christian Costa began its exhibition activity in 1997.
Winner II of the "FONDAZIONE CESARE PAVESE" award. S. Stefano Belbo, (Cn), Italy.
His works have been exhibited with important exhibitions in many Italian cities and in many foreign countries: Spain, Madrid, Barcelona,La Coruña, Santiago de Campostela, Pontevedra - Romania: Bucaresr, Carei - Repubblica Czech: Prague - Denmark: Copenhagen - USA: Chicago - UK: London - Svizzera: Lugano