Works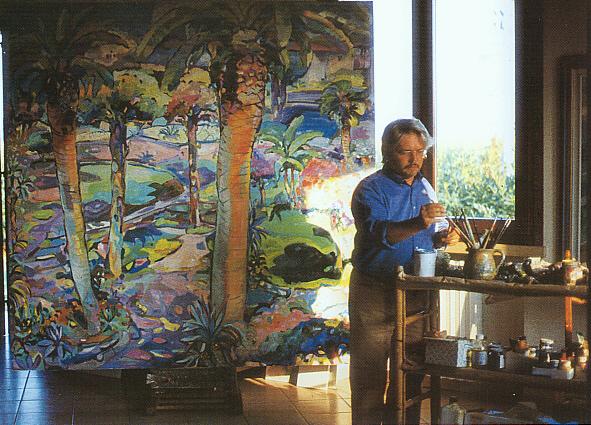 Claudio Malacarne exhibited at Galleria Gagliardi from 2004 to 2005.
When he was very young, he proved painter creating his first works at the age of 14. He frequented master Enrico Longflis's studio with methodical attention, succeeding in maturing his own pictorial investigation: so he is considered one of the most prolific colourists of our time. He loved very much the straight off paintings, with all those pithy brush-strokes that he already felt like his own. He studied passionately his favorite painters Gauguin, Van Gogh, the Fauves, Soroilla and Guttuso. In 1985 he started to exhibit his works, which were immediately appreciated by the public and the critics. His solo exhibitions were following each other and his works were notices by some merchants of art and in a short time were included in a market circuit at a worldwide level. He continued with his search for light. He traveled a lot to know new colors, atmospheres and subjects.Currently Claudio Malacarne is appreciated for his chromatic imagination, his aesthetic taste, the search for colors which are impetuous and soft at the same time. This free interpretation allows him to better express his feeling thus attaining an inner wellbeing, which is strongly shown in his pictorial balance.

La soglia dell'acqua " speciale Telemarket a cura di Floriano De Santi.
Galleria Zacchi Desenzano d/Garda
Galleria Pisacane Milano
Galleria Ottonovecento Laveno Mombello Varese
Galleria Menouar Parigi
Paratissima Torino
Personale Galleria Menouar Parigi
Personale Galleria 8novecento L.M. Varese
Paratissima Torino
Art faire Lussemburgo
2018
BAF fiera Bergamo personale
Galleria la saletta Taranto personale
Fondazione Sassi Matera " Daydreamers " personale
Galleria Menouar Parigi collettiva
Markbreit fair Germania personale
Galleria 8novecento Laveno Mombello (Va ) collettiva
Paratissima torino collettiva
Fiera Arte Lussemburgo collettiva
2017
Gallery Augustin, Vienna collettiva
Tennis Club Parioli, Roma personale
San Sebastian, Donosti Fair, Spagna personale
MARTA Hewett Gallery, Cincinnati USA " Riflessioni di colore" personale
Spazio Malacarne, Mantova personale
Galleria Idearte Potenza " Dreamers" personale
Paratissima Torino collettiva
2016
"Artbreit "- Marktbreit, Germania personale
Petit prince, Ravello personale
Galleria Zacchi, Desenzano personale
"Summer Time", Galleria Frammenti d'Arte, Roma.

2015
Museo Palazzo Collicola Spoleto "CLOSE-UP" collettiva a cura di Gianluca Marziani
Personale "Giardini" Galleria Spaeth Coburgo
Galleria Metropolitan Amburgo- collettiva
Personale Galleria CivicA Potenza
Personale Ex Chiesa del Carmine Taormina
Galleria Augustin Vienna "Sommer sonner strand meer" collettiva
Personale Galleria Kunstkontor Norinberga " Tempo d'estate"
2014
" I Sensi Liquidi " a cura di Gianluca Marziani Palazzo Collicola Arti Visive Spoleto. Opening Sabato 13 Dicembre ore 14.
La Mostra prosegue fino a Domenica 1 Marzo 2015.
Galleria "La saletta dell'arte " Taranto Novembre
Palazzo della Provincia Reggio Calabria Ottobre
Galleria "Estense Arte" Giugno
Galerie Spaeth Coburgo Maggio
Galleria Cm Artestudio Mantova Aprile
2013
"I COLORI DELLA LUCE" Personale Galerie in der Remise, Coburg, 25 Aprile - 25. Mai
2012
"LE FIGURE DELL?IGNOTO" Chiostro del bramante gallerie, ROMA, 18 Marzo - 15 Aprile
2011
Inaugurazione AQUAE Art Innsbruk - Galleria l'Immagine Cesena- Galerie Spath Coburgo- Mostra personale Acquario Civico Milano -Museo S.Croce Umbertide Pg.
2010
Arte Fiera Innsbruk - Personale Galerie in der Remise Coburg Germania- Perso-nale CM ARTESTUDIO - MAG-GIO Personale Galleria Estense . Cernobbio Personale Galleria "L'Immagine" - GIUGNO Dal 13 giugno Senesi Fine Art Positano Mostra personale " Le Navigazioni Esistenziali di Malacarne" - Dall'11 Giugno all'11 Luglio CASCINA FARSETTI VILLA PAMPHILJ (ROMA) - 11 Giugno Anteprima nazionale de "La Modella per l'Arte 2010" - LUGLIO Galleria Zacchi Desenzano - AGOSTO Settembre Galleria Magnolia Sirmione - Premio Vasto - Biennale di Grafica Campobasso.
2009
Arte fiera Innsbruck Gall. Linea D'arte Bari - Artinvest Rivoli, Gall. Zacchi Desenzano BS,- Gall. Estense cernobbio Co, CM Artestudio Mn,- Premio Morlotti Permanente Mi - Galleria Idearte Pz
2008
USB, sede di Lugano ( vedi Immagini )- Arte fiera Innsbruck Austria; Galleria Le Muse Cosenza;- Galleria Tribbio 2 Trieste - CM Artestudio Mantova (Animals feeling) - TuttarteGallery (Paestum) - Galleria Zacchi Desenzano del Garda - Arte Fiera reggio Emilia;- Arte fiera Gent Belgio;- Galleria Arena Reggio calabria;
2007
Galleria Lazzaro by Corsi Milano; Galleria CIVICA Desenzano del Garda; Capri art gallery Positano; CM ARTESTUDIO Mantova; galleria IDEARTE Potenza;Galleria Civica di Palazzo Todeschini Desenzano;
2006
CM ARTESTUDIO ( aprile ); Galleria Zacchi Desenzano del Garda (giugno) Miler Gallery Cincinnati USA ( giugno )
2005
Miller Gallery (Cincinnati); Verdesi Art Group (Ascoli Piceno); Galleria Gagliardi (Ascoli Piceno); Galleria Magnolia (Sirmione)
2004
Libreria Mondadori Mantova Mostra personale a cura comune Acquaviva d/Fonti Ba Gall. Gagliardi S. Giminiano Gall. La Mimosa Asoli Piceno Capri Artgallery Positano Miller Gallery Cincinnati Gall. La Magnolia Sirmione pers Gall. Idearte Potenza pers. Galleria Giotto Palermo
2003
circolo culturale 'Il Castello' mostra a cura Comune di Cerlongo e Goito (Mantova); museo Diocesano (in permanenza); Museo Yang Revere (collettiva); 'Incontro d' estate' presentazione ultimi lavori nell'atelier; Studio4 Molfetta; Galleria Giotto Palermo; Galleria Li art Sciacca; Myller Gallery Orlando Florida (collettiva); galleria Magnolia Sirmione
2002
Gall. Roggia Grande (T.N.); Gall Allegretti Arte (M.N.); Centro Arte Pan (Terni); Pico Art Show Room (Torino); Pico Art Show Room (Bologna); Gall. Magnolia (Sirmione BS); Miller Gallery (Cincinnati U.S.A.) collettiva; Pico Art Show Room (Riccione ) Cesena
2001
Galleria Miniaci (Anguilla - Caraibi); Artexpo (Bari); Galleria L'Immagine (Arezzo); Galleria Arteitalia (Pescara)
2000
Galleria Marano (Cosenza); Galleria Spazio Immagini (Foggia); EXPO (Bari); Fiera (Reggio Emilia); Europ' Art (Ginevra); Art Forum Museum (Montese - Mo); Galleria Magnolia (Sirmione); Galleria Nuovo Segno (Forl?); Personale ad Anguilla (Piccole Antille - Caraibi)
1999
Arte Fiera (Reggio Emilia); Galleria Idearte (Potenza); Galleria Petite Prince (Positano); Galleria Magnolia (Sirmione); Schaff Gallery (Cincinnati - USA); Arte Fiera (Montichiari); Galleria La Rocchetta (Pavia); Arte Fiera (Bari); Arte Fiera (Padova); Galleria del Cappello (Milano); Galleria La Rocchetta (Capo d'Orlando); Box Art (S. Bonifacio); Galleria Micati Arte (Giulianova); Arte Fiera (Forl?); Corarte Galleria d'Arte (Cisterna di Latina)
1998
Arte Fiera (Palermo); Arte Fiera (Bari); Arte Fiera (Padova); Arte Fiera (Vicenza); Galleria Niselli (Schio); Chiostro S. Francesco (Ravello); Galleria Arte Oggi (Campobasso); Orion Press Licensing (Tokio)
1997
Galleria La Saletta (Cremona); Telenorba (Bari); Retenove (Rovigo); Galleria Il Castello (Adria); Arte Fiera (Palermo); Arte Fiera (Pordenone); Arte Fiera (Padova); Arte Fiera (Ancona); MIART (Milano); Galleria Wogel (Heidelberg - Germany); Galleria Helga Wicher (Wuppertal - Germany); Galleria Executive (Bari); Galleria Stamperia dell'Arancio (Grottammare); Galleria La Mimosa (Ascoli Piceno)
1996
Mostra itinerante in varie citt? italiane; Galleria Barbone Arte (Bari)
1995
Arte Fiera (Bologna)
1994
Galleria Miniaci (Positano); Galleria Miniaci (Capri); Arte Fiera (Bari); Arte Fiera (Vicenza); Arte Fiera (Padova); Art Expo (New York); Art Show (Seoul); Galleria Arte Dimensione (Foggia); Galleria Perri Arte (Campobasso)
1993
Galleria Il Torrazzo (Cremona); Galleria Magnolia (Sirmione); Istituo Grafico Italiano (Milano); Galleria B e B (Mantova); Galleria B e B (Sirmione)
1992
Galleria Carpi Arte (Carpi); Galleria Il Torrazzo (Cremona); Galleria Magnolia (Sirmione); Premio Citt? di Monzambano; Casa Di Rigoletto (Mantova)
1991
Galleria Lo Scalone (Mantova); Galleria S. Giorgetto (Verona); Galleria Magnolia (Sirmione); Art Box, Carpi
1990
Sala 90, Palazzo Ducale (Mantova); Biblioteca Comunale (Pomponesco); Sala Mostre (Peschiera del Garda); Galleria La Torre (Mantova)
1989
Galleria La Torre (Mantova); Circolo Artistico Ferrarese (Ferrara); Palazzo Ducale (Mantova); Sala Mostre (Peschiera del Garda); Galleria La Firma (Riva del Garda)
1988
Sala Lombardo (Porto Mantovano); Palazzo Ducale (Mantova); Istituto Magistrale (Mantova); Sala Mostre (Peschiera del Garda)
1987
Palazzo Municipale (Goito)
1986
E.P.T. (Mantova); Torre Matildica (Goito)