Works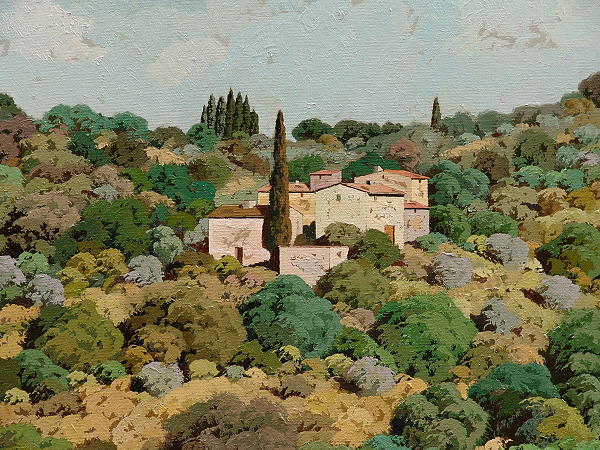 Cristiano Batacchi exhibited at Galleria Gagliardi from 2005 to 2014.
The artworks of Cristiano Batacchi inspire serenity and equilibrium. They are abundant in romantic vibrations. His chromatic palette is composed of a blend of colours, in which bright colours and black never appear. His painting has the dense and dark tones of ancient walls of renaissance houses. The nature that Batacchi paints belongs to our land, unique! Blue skies sulcated by white clouds, varied tonalities of grey of leaves of olive trees, the green of standing and dark cypresses, the sunny and excavated roads, the auster and rigorous architectonics of colonic houses absorbed by the silence of surrounding country. Batacchi, considered a post macchiaiuolo, has had as master Osvaldo Curandai, from who he has inherited the pleasure to pay homage to tuscan landscape, painting it. He has observed Rosai for his foreshortenings, the volumes of houses, the total and bare cuttings of scores. He has observed Soffici for the serene equilibriums of his backgroungs, developping later a personal painting characterized by a great ability and a pictorial, perspective competence. A genuine spontaneousness and a suggestive romanticism make his painting, with the presence of hard and definite brush strokes, savant darkenings and an abundant assonant, sometimes dissonant, colour scale. Paintings in which you can find a vibration of feeling, a great love for your own land. Paintings where delicateness and poetry are transparent, thanks to those tuscan foreshotenings; where human interference on the nature never has been so harmonious.
Cristiano Batacchi was born in Florence in 1968 and attended the Porta Romana Art Institute in Florence, where he graduated in "Art of advertising graphics and photography". His artistic career began in the late 1980s, first under the guidance of Osvaldo Curandai, a famous contemporary post-macchiaiolo painter, and later as a student of Roberto Masi, an important figurative painter with an unmistakable style. His paintings have been exhibited in solo and group exhibitions in galleries and art fairs in Italy and abroad.
2019 Palais de Nations in Ginevra exhibition "Luci e Suggestioni dalla Toscana",