Works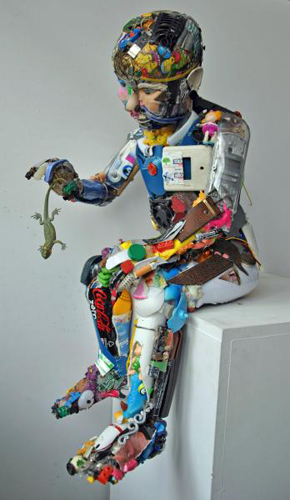 Dario Tironi was born in Bergamo in 1980.
He received a degree in sculpture with first class honours at the Brera Fine Arts Academy in Milan in 2006.
His work has been displayed on many occasions both in individual and collective exhibitions.
2010 "Premio Arte laguna"- special award, group exhibition, Tese dell'Arsenale di Venezia, curated by Igor Zanti
2010 "REALTA' OGGETTIVA"- solo exhibition, Galleria Gagliardi, San Gimignano (SI), curated by Isabella Del guerra
2010 "Open 13"- Esposizione Internazionale di sculture ed installazioni, group exhibition Lido di Venezia, curated by P. DeGrandis
2010 VARIAZIONI ESTETICHE Solo exhibition, 2010, Museo Civico Archeologico e della Collegiata, Casole d'Elsa, Siena
mostra organizzata da Galleria Gagliardi San Gimignano
2010 Museo del fiume Serio, installazione ambientale 10x12m, ambient installation , Bergamo
2011 HUMAN CONSTRUCTIONS Dario Tironi, Solo exhibition, 2011,
in collaborazione/with con Galleria Gagliardi San Gimignano and Galleria Conarte, Savona, Fortezza del Priamar
2011 WASTE (TORTONA) Palazzo Guidobono, Tortona
in collaborazione con Galleria Gagliardi San Gimignano
2011 CORPI PLASTICI Dario Tironi, Mostra personale/Solo exhibition, Conarte, Savona
2011 "Premio Arte laguna"- group exhibition, Tese dell'Arsenale di Venezia, curated by Igor Zanti
2011 "Cultura + Legalità = Libertà" – L'arte contro le mafie, group exhibition, Museo delle Scienze Naturali, Torino
2011 "IV Premio Fabbri per l'Arte 2011" – Bologna, curated by Alberto Agazzani
2011 MUMU art Museum Moskow Mosca Russia
2012 WASTE (MILANO) Spazio Montana, Milano in collaborazione con Galleria Gagliardi San Gimignano
2012 MINE Group exhibition, curated by Jacopo Perfetti, Superground Art kichen, Milano
2012 "Cultura + Legalità = Libertà" – L'arte contro le mafie, group exhibition, Biblioteca Nazionale Centrale, Roma
2012 "New generation" – group exhibition, Festival delle arti audio visive, Palazzo Pisani, Lonigo, curated by Matteo Vanzan
2013 ARTE IN TERAPIA Group exhibition, curated by A. D'Atanasio & N. Miele, 2013, Festival dei due mondi, Spoleto
Group exhibition, curated by A. D'Atanasio & N. Miele, 2013, Festival dei due mondi, Spoleto
in collaborazione con Galleria Gagliardi San Gimignano
2013 DA COSA NASCE COSA Dario Tironi, Permanet installation, 2013,
Museo nazionale della Scienza e della Tecnica Leonardo da Vinci, Milano
2013 "2nd International From Waste To Art Exhibition"- group exhibition, Baku, Azerbaijan
2013 GAME OF CULTURES Solo exhibition, curated by D. Del Moro Galleria Angelica, facente parte della Biblioteca Angelica
mostra organizzata da Galleria Gagliardi San Gimignano
2014 DIALOGUE Parco della Gherardesca, Four Seasons, Firenze
2014 "Face to face" – group exhibition, Galerie Carré Doré, Montecarlo, Monaco
2015 THINGS Museo Bernareggi, Bergamo
2015 EXPO ARTE ITALIANA Villa Bagatti Valsecchi, Varedo (IT), 2015Varedo (MB)
2015 IMPATTO 2.0 Museo Nazionale Atestino, Este (PD)
2015 CONTEXTO AREA CONTEMPORANEA, Edolo, Brescia
mostra diffusa in tutta la città con 30 artisti di cui molti noti al pubblico nazionale e internazionale.
2016 "Dalla terra al cielo" – group exhibition, Polo Museale Gualdo Tadino, curated by C. Monacelli e F. Sacchi Tommasi
2016 MONUMENT TO MANKIND Piazza del Duomo, Pietrasanta (LU)
2016 NEUROART MLAC – Museo Laboratorio di Arte Contemporanea Città Universitaria, Sapienza Università di Roma.
2017 CONFINI – IN BILICO SUL FILO DEL SOGNO Palazzo da Mosto, Reggio Emilia
2017 HO CERCATO L'ARMONIA Vittoriale degli italiani, Gardone Riviera Brescia
Ugo Riva, Girolamo Ciulla, Federico Severino, Michela Benaglia, Dario Tironi e Cesare Inzerillo
2017 PLASTIC BEAUTY Simon Bart Gallery. Portocervo, Poltu Quatu
2017 SUPER FUTURE MAD Museum of Art & Design, Singapore
Nynke Koster, Dario Tironi, Alessandro Rabatti, Niccolò Poggi, Leonardo Di Caprio, Btoy, Orticanoodles
2017 DIALOGUE 2 Parco della Gherardesca, Four Seasons, Firenze
2017 OGGETTI RI-MEDIATI Azimut, Brescia
2018 FIGURE FUTURIBILI Simon Bart Gallery, Collezione delle Cere Anatomiche "Luigi Cattaneo", Bologna
2018 CONTEMPORARY TRANSFORMATION Duke art space, Bangkok
2019 "Solo show" – solo exhibition, Gare 82 Gallery, Brescia
2019 "The room" – group exhibition, Palazzo Cusani, Milano, curated by Manfredi Style
2019 ANATOMIE DI CONSUMO Simon Bart Gallery, Bologna
2019 BIENNALE DI SONCINO Rocca Sforzesca e Ex Filanda Meroni, Soncino, Cremona
2019 IL DIALOGO DEI CONTRAPPOSTI. group exhibition
I protagonisti del '900, Retrostanze del '700 degli appartamenti storici e Quadreria della Reggia di Caserta
Installazioni e sculture di Dario Tironi e e Koji Yoshida
Mostra personale Realtà OggettiVA (Objective reality) Galleria Gagliardi, 2010
At the end of every day, all of humanity has contributed to creating artificial mountains of garbage, which we find covered with huge sheets of canvas, buried underground, along the roads we usually travel, along riverbanks and in seas. We come across them where all we would like to see is unspoiled nature. This is our reality! Our everyday life, which we create by buying things, consuming them and then throwing them away. A race to buy things, many of which are useless, created with the aim of deceiving us into believing that they will improve our life; objects that are modified constantly to improve their functions, resulting in the serious problem of disposing of an enormous volume of waste. Trash that Man wants to distance himself from, to be hidden where he can't see and can't smell it; he wants to live in clean, sweet-smelling environments. He too must smell good and this opens up the way for the enormous amount of shampoo, deodorant, household cleaners, degreasers and washing powders that wash whiter than white. This consequently creates more and more empty boxes and containers to swell the mountain of waste.
Bruno Munari crystallized in the resin waste of equipment, mechanisms and magnetic materials: "Archaeology of the Future" Big game for the archaeologist of the 6000s. Vere Gordon Childe, a famous archaeologist, wrote in the late '50s: "The loose bolt that fell out of my car this morning, the sardine tin, which I carefully buried after lunch at Esher Common, and the crater left by a German bomb are archaeological data just like the bay leaf blade, broken and thrown away by a Solutrean deer hunter ... The archaeologist of the 6000s might interpret bolts, sardine tins and bomb craters as documents indicative of the type of vehicle used on the roads around a big city, of the habits of some of its citizens and of the actions of some unknown enemies ... These are the things that archaeologists are interested in... human actions and thoughts". Waste recounts and tells our life, our habits. Dario Tironi and Koji Yoshida make sculptures from this waste.
A work of painstaking restoration, cataloguing objects, functions, forms, colours, materials and bringing them back to life, recycled in works of art. This is how the sculptures of these two young Artists come to life, figures that at first glance, may seem ingenious and imaginative sculptures in bright colours, clever and playful toys for adults, one-off works created like a composition of the famous building bricks made by LEGO. Made with the codes of our era, they testify and report, reflecting the image of our civilization: we are what we consume, from morning to night our every need is accompanied by a wrapper, packaging, food and objects that, once they have satisfied us, we want to throw away and reject. Sculptures made from things: observing them, each one of us can recognize an object or part of it which we have owned or used during our life.
Tironi and Yoshida also lead us to another point, encouraging us to think about how mankind is contaminated by technology and how we can no longer do without it. Videogames, computers and mobile phones belong to us and, even now, the progress of bioengineering has generated discoveries that correct the functioning of organs or replace body parts with transplants and implants of chips, pacemakers, artificial valves and limbs. The human being takes possession of the objects that he creates, and he feeds on them, using them to replace his own "broken" parts. The bionic man is not science-fiction, he is already part of our very near future and this will surely change the perception of man, his nature and his feelings.
The works of Dario Tironi and Koji Yoshida are sculptures but also entities that, motionless, with their objective reality, want to make us reflect.
Isabella Del Guerra, 2010
GAME OF CULTURES
Galleria Angelica Roma
From 17/04/2013 to 02/05/2013
More Info
ARTE IN TERAPIA trentatrè diagnosi d'artista curatori Alberto D'Attanasio e Nazzareno Miele
SPOLETO Chiesa di Sant'Agata
From 29 Giugno 2013 to 20 Luglio 2013
9-12 15-22
More Info
Padiglione Italia - della 54°Biennale di Venezia.
TORINO
From 26/02/2012 to 26/02/2012
More Info
Waste. C'era una volta il rifiuto.
milano
From 30/11/2012 to 20/12/2012
More Info
Cultura+Legalita'=Liberta'. L'arte contro le mafie.
roma
From 20/09/2012 to 18/10/2012
More Info
Human Constructions
Savona
From 09/07/2011 to 01/09/2011
More Info
WASTE - I Rifiuti tra sostenibilità ed arte
tortona
From 18/09/2011 to 23/10/2011
More Info
Realta' OggettiVA
San Gimginano
From 28/08/2010 to 12/09/2010
More Info
VARIAZIONI ESTETICHE
Casole d'Elsa (SI)
From 30/10/2010 to 21/10/2010
More Info