Works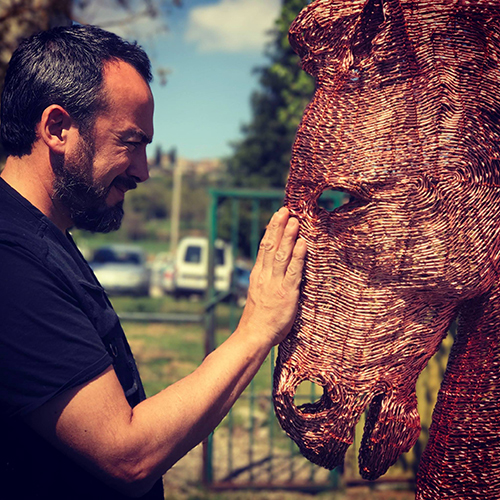 Davide Dall'Osso exhibits in our gallery since 2018.
Davide Dall'Osso was born in Pesaro in 1966, after graduating from Paolo Grassi in Milan, he worked as a prose actor until 1999, when he chose sculpture as the main language of his poetics.
Dall'Osso's sculptures always are projected to a defined direction, they always look for the reason of life due to their space organization and relationship with ligth.
Among its main exhibitions: in Italy 54th Venice Biennale, Milan, Viterbo, Turin, Rome, Reggio Emilia, Florence, Cremona, Pietrasanta, Genoa, Cortona, Brenta, Mantua, Siena, San Gimignano; abroad: Brussels, London, New York, Singapore, Hong Kong, Stockholm, Amsterdam, Lugano, Lausanne, Tarbes (France), EPSE Award Düsseldorf, Saint Paul de Vance.
Museums: Museum Palazzo Medici Riccardi, Florence - Church of Sant'Agostino, Cortona - Museum Palazzo Ducale, Mantua - Cloisters of San Pietro, Reggio Emilia - Civic Library of Sant'Angelo di Lizzola, Palazzo della Signoria, Jesi - Mole Vanvitelliana, Ancona - Castello Estenze, Ferrara - Municipal Gallery Santa Croce in Cattolica, Museum of Golden Bronzes in Pergola.
Projects and installations: Teatro Cortoceto - Centro Arte Contemporanea Conventino di Monteciccardo - Temporary Installation Scuola d'Arte Drammatica Paolo Grassi, Milan - "Dante 09" scenographic installation Piazza San Francesco, Ferrara - "Millimetri" Biennale Danza 2005, Teatro Piccolo Arsenale, Venice, "La giostra dell'Apocalisse" Rotonda della Besana, Milan - "Waves and Sand" permanent installation Main Hall Alexander Museum Palace Hotel Pesaro - "Presidio" Temporary installation Piazza Duca d'Aosta and Leoncavallo, Milan, Stage Installation Teatro Filodrammatici, Milan - "Marea" permanent installation donated to the Hospital of Carpi (Modena) - Installation sculpture big Horse, Independence Square, Siena, Palio di Siena 2014 - EXPO Milan 2015 "Tree of Food" pavilion SlowFood, Milan - Sanremo 2016 Teatro Ariston, Sanremo.