Works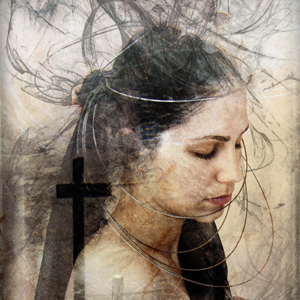 Dorian Rex exhibited at Galleria Gagliardi from 2012 to 2013.
Bachelor's Degree in Humanities Computing, graduated in Graphic and Interactive Virtual Environments at the University of Pisa. She began exhibiting in group exhibitions and events since 2009 and she is considered one of the most innovative and visionary leaders of Italian Digital Art. Dorian Rex, manipulates pictures of subjects/objects independent, processes them, gives them a semantic meaning and recomposing them in a mysterious image where the viewer is invited to decipher, to seek, to find out, with a personal walking through personal memories, experiences, loves, losses, joys and sorrows.
Elisa Ciregia, aka Dorian Rex, born in Italy in 1982, she's into sick and out of control manipulation of pictures of subjects/objects semantically independent that surprising her create an urgency, an unexplainable self-need to put them together. She got a degree in Humanistic IT, in Graphic Interactivity and Virtual Enviroments in Pisa.
2018
"FRAGILE _ III" Handle with care – Collettiva d'Arte contemporanea a cura di Benedetta Spagnuolo, dal presso il Museoteatro della Commenda di Prè, Genova
2017
"UGALLERY" – a cura di Ugallery, presso il Padiglione nuovo, fiera di Foggia, Foggia
2016
"OPHELIA" – a cura di Cell63 Art Gallery, Berlino
2015
"LE FIL ROUGE – collettiva" – a cura di Viviana Cazzato presso Specchia, Lecce (FIL ROUGE)
2014
"IN CHARTIS MEVANIE – Madre Terra – Terra Madre" – a cura di Alberto D'Atanasio presso Museo Archeologico Arcadia, Bevagna (IN CHARTIS MEVANIE)
"ALIENS – la seconda mostra" – a cura di FRATTURA SCOMPOSTA presso Casa di Ludovico Ariosto, Ferrara (FRATTURA SCOMPOSTA)
2013
"LOCUS ANIMAE festival di arte contemporanea" – a cura di Stefano Momentè presso Foyer de Kursaal, piazza Brescia, Jesolo
"ComeTeStelle" – a cura di Alberto D'Atanasio presso BEVAGNA SANTA MARIA LAURENTIA
"SEVEN – Lussuria" – International Exhibitons a cura di Roberto Ronca
presso EX CONVENTO DEI FRANCESCANI NERI, SPECCHIA – LECCE
"MUSE" a cura di Alberto D'Attanasio - Galleria Gagliardi San Gimignano
"SIBILLE"– Fuoriporta-Carrara
2012
"SEVEN – Superbia" – International Exhibitons a cura di Roberto Ronca presso Museo ARCOS – via S. Borgia, 1 – Benevento
2011
PAINTERS NEW GENERATION part 1 – Ubuntu Project Store+ Misael – Ferrara
"Arteforte 2011" – PALASPORT – FORTE DEI MARMI
"SEVEN – Accidia": Dal 25 giugno al 17 Luglio 2011 –
International Exhibitons a cura di Roberto Ronca presso Villa Vannucchi – San Giorgio a Cremano, Napoli www.7sins.it
"INTERIORA mostra ciò che hai dentro" – Brancaleone Levanna 13 – Roma
"CARRARA GIORNI D'ARTE" – Complesso Fieristico di Carrara – Marina di Carrara
"SEVEN – Invidia" – International Exhibitons a cura di Roberto Ronca presso Villa Vannucchi – San Giorgio a Cremano, Napoli
"IL VIANDANTE E LA SUA OMBRA" a cura di Alessio Brugnoli presso CLAC, Centro Labicano Arte Contemporanea – Roma
"IL BELLO PIU' BELLO" a cura di Angelo Cruciani presso Spazio Misael – Vicenza
"SENTIERO SEGRETO" a cura di Angelo Cruciani presso Spazio Misael – Vicenza
2010
"SEVEN – Gola": Dal 20 Novembre al 12 Dicembre 2010 – International Exhibitons a cura di Roberto Ronca presso Villa Vannucchi – San Giorgio a Cremano, Napoli www.7sins.it
"EUMENIDI" personale con performance di Emanuela Cinà a cura di Alessio Brugnoli presso Castelli Gallery – Milano
"NIGHT ITALIA PRESENTA MULTIMEDIA FESTIVAL EXTRALIGHT" spazio TraleVolte – Roma
"STARTUP 2010 rassegna internazionale di artisti emergenti" a cura di Roberto Ronca – Verona
"HUMAN GAMES FOR WORLD CUP 2010" a cura di Misael – Milano
"LOVE FOR SALE" a cura di Località Associazione per l'Arte, patrocinata dal Comune di Castiglione Olona e dalla Provincia di Varese
2009
"TURING TEST" A cura di: Mariasole Brivio Sforza, Kristina Snajder e Alessio Brugnoli presso Your Voice – Milano
"DANZA DI DE BROGLIE" A cura di: Kristina Snajder e Alessio Brugnoli presso la galleria New Ars Italica – Milano
"KME Karel Music Expo" – Cagliari
"LOCK DISPOSITION"personale presso MOCOBO – Roma
"NIGHT SIGHT" a cura di NIGHT ITALIA presso la Galleria12-13 – Roma
MUSE
San Gimginano
From 30/03/2013 to 1/04/2013
More Info