Works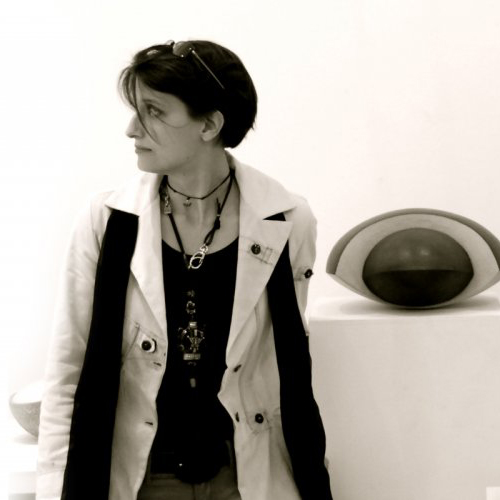 Elisa Confortini exhibited in Galleria Gagliardi in 2017.
Elisa Confortini was born in 1973 in Italy. Since the 1990s she has specialised in ceramic work. Elisa Confortini, is approaching the world of ceramics in 1996 and has since she develops a very unique creative spirit with varied joints and a strong footprint in conceiving compositional systems and original processing with a personal language with evident simplifications of the syntactic elements, placing in the her works, reflections with the strong critical value.
In her sculptures there are narrative elements although not succumbing to an exact formal rule, they make up with great sensitivity images of great emotional communication. The feelings that this artist translates in her works come to us through the construction of forms that are necessary for a very controlled development of harmony and strength, excluding visual impacts free from free desecration.
Having graduated in 1992, in 1996 she was deeply moved by the sight of some ceramic works and this determined her choice of work.
From 1996 to 1998 she attended workshops in various ateliers, in particular that of the ceramist Enrica Negri in Milan. In 2007 she took part in the competition for emerging artists organised by ICMEA (International Ceramic Magazine Editors Association) and was placed 4th among the ten winners. The following year she was invited to the FLICAM project of artistic exchange between Italy and China, participating in the artistic residency at the International Ceramics Art Museums in Fuping, China. In the same year a profound change in her life took place, which led her to Genoa, where she currently lives and works. Since then she has mainly dedicated herself to sculpture and participated in the 48th Exhibition of Ceramics in Castellamonte, Turin. In 2009 she began to frequent the studio of the sculptor Adriano Leverone, who allowed her to begin her own research into high temperature earthenware and enamels and brought her closer to a different material, bronze, with which she began to create some of her works. In 2010 she was invited to the fourth edition of "Concreta", an exhibition of ceramic sculpture at Palazzo Pretorio in Certaldo, Florence, and the following year to the exhibition dedicated to "Contemporary Italian Ceramics" in Bandol, France. In the same year he opened his own workshop "Atelier 99". He also took part in the international biennials of Ceramic Art in Faenza, Manises and Alcora in Spain, Aveiro in Portugal, Kapfenberg in Austria, and Taiwan.