Works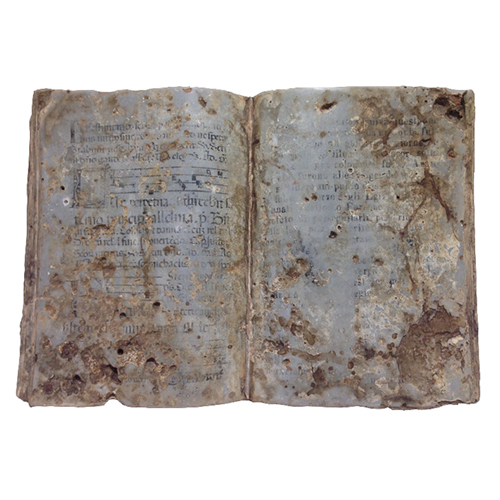 Enzo Guaricci exhibited at Galleria Gagliardi from 2009 to 2021.
Enzo Guaricci elaborates, with a personal processing technique, Objects-Subjects of daily common life. He clones it, reproducing a copy made by a mixture of marble powder and synthetic resins that make it as petrified, and more, "fossilized", eated away by time, real archeological-symbolic finds of "as we were tomorrow". So in his work there is a strong time bewilderment, where Present replace Future and contemporary mixes up with Past. The objects of our everyday life will, perhaps, exposed in the museums of the future, these will be the archeology of the future. In the 70's with the youth of New Pugliese, Enzo Guaricci studied Theatre Design at the Academy of Fine Arts in Florence and Rome. His years of training and before maturation spends them to Rome, where he is active among the young artists of the New Figuration Romana. In the 70s he takes part in many important artistic events, including the X'Quadrennial in Rome and the Biennale of Zaragoza. He was invitedfor solo exhibitions at the Modern Art Gallery in Chicago and at the Forum Gallery in Frankfurt and in other many Italian and European cities. He realizes a memorial on behalf of UNESCO in Gibellina dedicated to the victims of the earthquake in Sicily. In the 80's work as a scenographer, he creates designs for the Petruzzelli theater in Bari and TV shows on behalf of public and private broadcasters. In 1990 he left teaching to devote himself entirely to sculpture. Since then until now increasingly characterizes its style with bronze and resine materials and participates successfully through exhibitions and installations at major exhibitions in the main Italian cities and abroad: Switzerland, Germany, Spain, USA, France, Iraq, Korea, the Netherlands, Turkey, Russia, England.
Critical texts by Valerio Dehò, Raffaella A. Caruso e stralci critici di Maria Campitelli, Daniela Del Moro, Francesco Gallo, Linda Giusti e Pietro Marino.