Works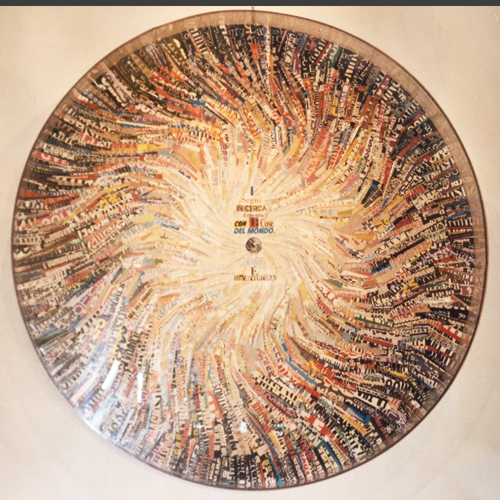 Eugenio Miccini exhibited at Galleria Gagliardi in 1996.
Eugenio Miccini (1925-2007)
He lived for a long time at boarding school and then completed his humanistic studies in the seminary, where he became passionate about Greek philosophy and Latin literature. He studied music and the organ with Domenico Bartolucci until the advent of the war, when he left the seminary and joined the partisans. In the meantime, thanks to Giulio Preti's courses, his philosophical interests were stimulated and regenerated by the theories of Hegel and the Hegelian left, Marx and Dewey; he graduated in Pedagogy with Lamberto Borghi and published several works of non-fiction and poetry. He began a period of literary militancy that led him to collaborate with magazines such as "Quartiere" and "Letteratura" and to the columns "Protocolli" and "Dopotutto" publishing semiological studies on the language of poetry; in 1961 he won the City of Florence poetry prize. This recognition prompted him to intensify relations and critical comparisons with great Florentine literary figures such as Mario Luzi and Carlo Betocchi, and with Romano Bilenchi who recommended him to Elio Vittorini who published his Tre poemetti (Three Little Poems) in the magazine "Il Menabò".
But it was in 1962 that his initial attempts at linear poetry gave way to his first experiments in Visual Poetry in which Miccini managed to find the true contamination between different expressive codes that had been typical of the avant-garde experiences of the early 20th century such as Futurism, Dadaism and Surrealism. In 1963, after taking part in the Gruppo 63 organisation, he founded Gruppo 70 together with Lamberto Pignotti and Luciano Ori, initiating the experience of visual poetry, a term that was adopted by all those who approached this genre, with whom Miccini embarked on a fervent and productive period of meetings, shows, exhibitions and publications, in particular the Poesie Visive that appeared in the Antologia di Poesia Visiva edited by Lamberto Pignotti. In 1969, still in Florence, he founded the Centro Téchne, directing the magazine of the same name and the related Quaderni dedicated not only to Visual Poetry, but also to the cultural and political debate of those difficult years. It was in this particular climate, shaken by continuous political and ideological tensions and clashes, that Miccini's activism opened up on several fronts: as well as being involved in the International Group of Visual Poetry and directing the magazine "Lotta Poetica" with Sarenco, he was also involved in teaching. In fact, he was appointed lecturer in Semiotic Disciplines at the Faculty of Architecture in Florence and taught History of Art at the Fine Arts Academies of Verona and Ravenna. In 1972 he was invited to the XXVI Venice Biennale, Il libro come luogo di ricerca, as part of an exhibition on artists' books, curated by Renato Barilli and Daniela Palazzoli. In 1973, he began to collaborate in the artistic and cultural activities of the Studio D'Arte Il Moro in Florence with presentations of exhibitions and books such as Crhoma e geometria (works by C. Cioni, R. Guarnieri and V. Tolu) on 2 February 1974 and the edition of the book Arte Contemporanea e discriminazione assiologica, edited by E. Miccini in 1975. In 1980, he was again at the XXXIX Venice Biennale, in the exhibition Il tempo del museo. In 1983 he founded the Logomotives Group with Arias-Misson, Blaine, Bory, De Vree, Sarenco and Verdi. Since 1984 he has also worked on the languages of cinema and photography. In 1986, in addition to participating in the XLII Venice Biennial, Art and Science, he was invited as commissioner for the Visual Poetry section at the XI Rome Quadrennial at Palazzo dei Congressi, as well as in numerous international exhibitions such as the MOMA in New York, the Stedelijk Museum in Amsterdam, the BWA Museum in Lublin, the National Gallery in Warsaw, Valencia, Antwerp and others. His fourth and last participation in Venice at the XLV Biennale, Opera Italiana, transiti, dates back to 1993. In recent years Miccini has pursued his passion for poetry, in fact he directs a series of contemporary poetry for the Edizioni del Centro Culturale Gino Baratta in Mantua; but he has not neglected his passion for exhibitions and reviews, nor that of publications, (citing the essay Poesia Visiva e dintorni, Firenze, Meta, 1995). His works are included in numerous public collections including: Museo della Pilotta, Parma; Galleria d'Arte Moderna, New York; BWA Museum, Lublin; Galleria d'Arte Moderna, Céret; Galleria d'Arte Moderna, Mantova; Gallerie Civiche di Bologna, Valencia, Antwerp, Lodz, Warsaw, Malo, Florence.
Poesia visiva
San Gimignano
From 05/10/1996 to 03/11/1996
More Info