Works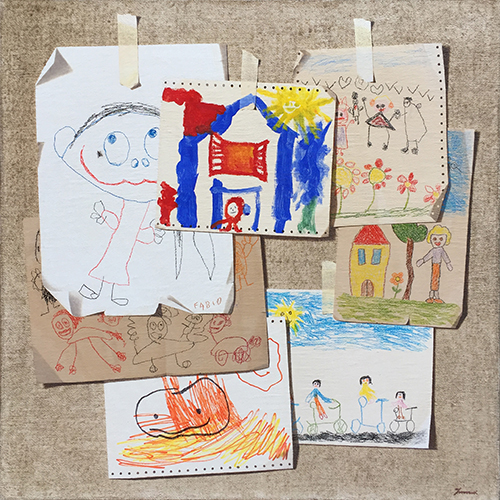 Fabio Inverni exhibits in our gallery since 2014.
The artistic production of Fabio Inverni might superficially seem almost hyper-realistic, but such a definition would be misleading for authentic understanding of the artist. His painting, in fact, delete the real even as it seems to take it to paroxysm. Solid technical preparation, Inverni has undoubtedly inherited the skill of painting from his father Francis. His paintings are in traditional media (paintings on canvas) and use of pigments (oil and wax crayons) [...] not using the avant-garde movements of the twentieth century. [...] Not only his paintings are never either traditionalists nor academic, but very suggestively and modern [...] The themes of his works are never discounted (eg, landscapes or figures), but, in an absolute minimalism intimate [...]
He attends the "T. Buzzi" Polytechnic School in Prato (Florence) where he graduates in 1988. In 1989 he moves to Rome to work as a texture designer for the "Faro Disegni" firm, in 1992 he starts to hang out at the historic "Saletta Ambra" artistic club in Poggio a Caiano, where he sets up his first exhibition.
Many personal exhibitions in public spaces and museums in Italy and abroad: Shreveport Louisiana USA, Geneve Switzerland, Viña del Mar Chile, Grace Museum" Abilene Texas USA, Hot Springs Arkansas USA as well, where he's honored as Ambassador of Arkansas, Knokke, Belgium, Madrid Spain, Irvine Texas USA, Raleigh North Carolina USA, "McGuffrey Art Center" in Charlottesville Virginia USA, San Francisco California USA, Benini Foundation in Johnson City Texas USA, Miami, Ibiza, Moscow Russian, Monaco, Dubai and Mumbai, Boca Raton Florida USA, New York USA, Düsseldorf Germany, 54th Biennale of Venice Venice Italy,
His works make their way to important public and private collections.
Art critics have written texts on his work: Stefania Laurenti, Franco Riccomini, Licinio Boarini, Nello Sguanci, Maria Soledad Mansilla Clavel, Giampaolo Trotta, Rossana Cheli, Ilaria Magni.