Works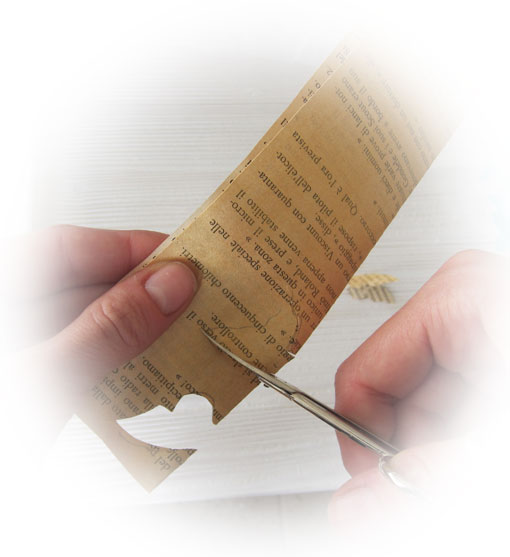 Federica Cipriani exhibits at Galleria Gagliardi since 2018.
I live Art in a constant search of my own state of harmony: colors, shapes, repetition and emptiness, caos and order. My creation are made of hundreds paper butterflies, suspended in nails of different heights and arranged on different composition levels. Butterflies are just a beginning, chosen as a metaphor, embodying both elegance and vulnerability. The paper is the main material because it's the perfect tradeoff between resistance and frailty. I am fond of old book pages, lost in time or saved from destruction, living again through my art. Some works are attempt to get a glimpse of something ethereal, beautiful and harmonic, other works focus on the never ending battle between immobility and dynamicity, framed in a tridimensional and ghostly architecture. My butterflies move at the most feeble wind blowing, nevertheless they are tragically fixed by nails. Within the same subjects, the choice of materials becomes crucial. The roughness of wood, together with its unicity due to age or color, provides a vibrant setting. It somehow reinforces the dichotomy between the apparent disarray and the controlled dispositions of forms. With Plexiglas used in very few cases, so discreet to be almost invisible, the focus shifts, so I tend to consider more to the surrounding environment. The canvas allows me to use different colors and create special nuances. Chaos, order, movement, immobility, freedom and interdependence: they all belong to who I am: a decorator and an craftsperson.
2006 Graduation of Master of Art in Decoration at the Academy of Fine Arts in Bologna
PRIZES
2015 1st prize Michelangelo Antonioni Award "4th Young Talents Competition for Ferrara"
2016 1st prize "Artist on tour" Award Affordable Art Fair, Milan
2016 Selected among the winners 5th edition "Premio Ora"
2016 2nd classified Nocivelli Award sculpture section, Verolanuova
2016 1st classified Art Award sculpture section, Cairo Editore, Milan
2019 3rd classified VII Premio Cramum, Villa Bagatti Valsecchi, Varedo
2019 1st classified Premio Rotary Club, VI edizione GENI COMUNI, Rende
2022
Mostra personale "In volo verso me" a cura di Stefano Gagliardi,
Galleria Gagliardi, San Gimignano
Mostra personale "Impronte nel vento" a cura di Valeria Tassinari,
Museo Magi '900, Pieve di Cento BO
2021
"Think Green" a cura di Margaret Sgarra,
Casa dell'Ambiente, Torino
"La Primavera in una stanza", Artsy
Le Dame Art Gallery, Londra-Roma
Esposizione Gagliardi Boutique Hotel/Art Gallery,
Galleria KoArt, Noto
Esposizione permanente presso Galleria Gagliardi, San Gimignano
2020
Collettiva "In Utero, il grembo come matrice primordiale"
a cura di Caterina Capantini e Giorgia Gibertini
ARTiglieria Contemporary Art Center, Torino
Mostra collettiva "Geni comuni", a cura di R. Sottile e M. Buccieri,
Museo del Presente, Rende CS
Esposizione permanente presso Galleria Gagliardi, San Gimignano
2019
Collective show, Le Dame Art Gallery, Melia White House, Londra
Premio The Artrooms Awards 2019, Londra
Collettiva "il cielo sopra di me" a cura di S.M. Frassá
(VII Premio Cramum), Villa Bagatti Valsecchi, Varedo
Collettiva "Geni Comuni" a cura di R. Sottile e M. Buccieri,
Museo del Presente, Rende CS
Collective show Cipriani-Grosso-Tamburro
LeDame Art presso Baglioni Gallery, Londra
The Dedica Antology
a cura di LeDame Art Gallery, Palazzo Naiadi, Roma
Collettiva, Galleria KoArt, Catania
Esposizione permanente presso Galleria Gagliardi, San Gimignano
Esposizione ExpoArte Montichiari
Galleria Lara e Rino Costa, Montichiari BS
Esposizione ArtParma Fair
Galleria Lara e Rino Costa, Fiere di Parma
2018
Esposizione Arte Padova
Galleria Lara e Rino Costa, Fiera di Padova
Esposizione ArtParma Fair
Galleria Lara e Rino Costa, Fiere di Parma
Mostra Premio Arte Carlo Farioli
Palazzo Marliani Cicogna, Busto Arsizio
Esposizione collettiva Decennale del Premio Nocivelli
Salone Nobile del Mo.Ca, via Moretto 78, Brescia
Mostra personale "Federica Cipriani Harmonia"
Barbara Frigerio Contemporary Art, Milano
2017
Mostra collettiva "Re/Creation" Barbara Frigerio Gallery, Milano
Premio Nocivelli "Poetiche a confronto"
Palazzo Martinengo Cesaresco, Brescia
Biennale di Soncino, A Marco, presso la Rocca Sforzesca di Soncino CR
Esposizione collettiva "L'universo Armonico" - Artasylum, Fermo
Design Week 2017, Esposizione collettiva Arte e Design
Neoclassica Gallery, Milano
Artist on Tour Affordable Art Fair Brussels - Bruxelles, Belgio
Esposizione personale "La bellezza dell'F24", a cura di M. L. Brunelli
Studio Legale Evolve Strada Maggiore 10, Bologna
2016
Esposizione finalisti, Premio Arte 2016 Cairo Editore,
Palazzo Reale, Milano
Esposizione collettiva Cumulus, a cura di C. Rosetti e Y. RoseTestore
Torino Esposizioni Paratissima, Torino
Esposizione collettiva vincitori Premio Nocivelli,
Accademia Santa Giulia, Brescia
Esposizione collettiva selezionati VIII edizione Premio Nocivelli,
Chiesa della Disciplina, Verolanuova
Esposizione collettiva, Summer Show 2016,
Barbara Frigerio Gallery, Milano
Esposizione collettiva "Stelle nascenti",a cura di Valeria Tassinari,
Museo Magi 900, Pieve di Cento
Affordable Art Fair, Artista selezionata "Young talents",
esposizione e performance live, Superstudiopiù, Milano
Esposizione collettiva "Arte in allegria", Galleria Pontevecchio, Imola
Esposizione collettiva 3° Festival delle Arti di Ferrara,
Grotte del Boldini, Ferrara
IN VOLO VERSO ME
San Gimignano
From 30/04/2022 to 22/05/2022
Tutti i giorni 10:30 - 19:30
More Info