Works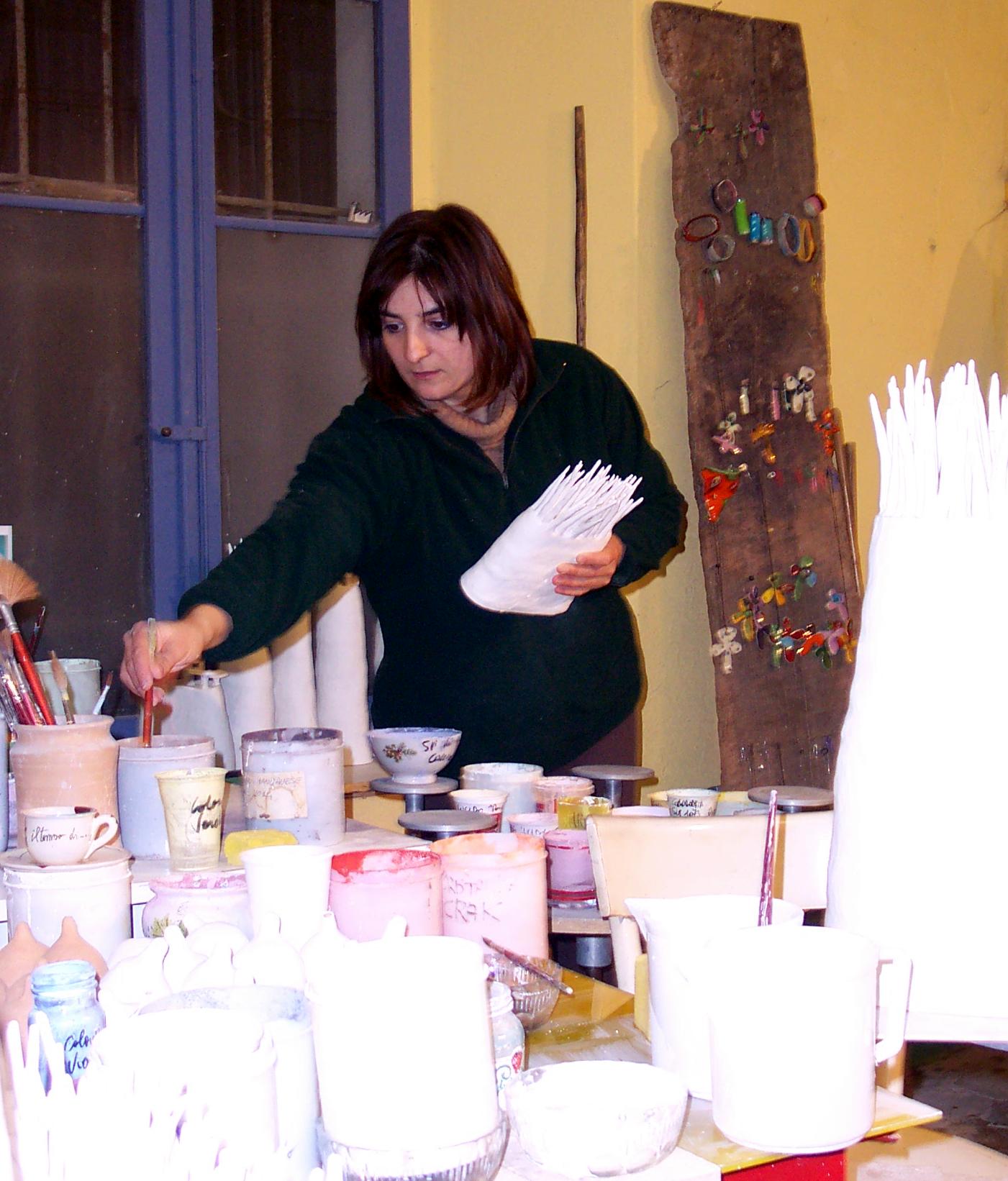 Fiorenza Pancini exhibited at Galleria Gagliardi from 2004 to 2006.
Fiorenza Pancino is a woman artist; she belongs however to a generation that doesn't need to vindicate its own affiliation of any "kind." In her installations there are not howls, but thin games of thought, short-circuits of words and traces of hands that interest the stereotypes of the femininity. In the works of the artist there are some ironic cross-references, graffianti and aware toward a domestic world populated by simulacrums and vestiges of lived and consumed subjectivities. Fiorenza Pancino revolutionizes and makes to burst the great tradition of the maiolica. The ancient practice of the decoration "with brush" is updated by the artist that, with great ease, renews a sort of "modern historied", painting in synthetic way and even "summarized", through which she cures of her whims to tell her self-referential histories.
Fiorenza Pancino was born in 1966.
She is passionate about ceramics, which she says resembles her because like her is sensitive to sudden changes in temperature. However she also uses other mediums, such as videos, photography and materials, like paper and fabric, in her artistic endeavours.
Recent projects include an International Ceramic Residency at Jingdezhen Ceramic Institute, China and at Ceratekno, Toki, Japan.
In 2018 she was asked to exhibit at the European Ceramic Contest in Bornholm in Denmark, at the Sogo Museum of Art in Yokohama in Japan, and at the Eunique Art Fair in Karlsruhe in Germany.
In 2011 she was awarded the honourable mention at the International Gyeonggi Ceramic Biennale in Icheon, South Korea, in 2013 she was asked to exhibit at Les Journes de la Céramique in Paris. In 2015 she took part in the "Ceramica Viva" group at the National Gallery of Modern and Contemporary Art, Rome. In 2017, she won the C. Casali jury prize at the 11th International Ceramic Competition in Mino also in Japan, 1st prize at Appignano Ceramica in Deruta, Umbria, and held a solo show at the Cantir Museum in Argentona in Spain.
group shows
2019
Un ambiguo malanno, Pancino, Ravagli, Zarabini, by A. Golfarelli, Oratorio S.
Sebastiano, Forlí, Italy
2018
European Ceramic Contest, Borholm, Denmark
Collettive FACE (Pancino, Kotliarsky, Keller, D'Alberto) by E. Agosti, Argillà,
Faenza, Portoni Aperti, Nove, Vicenza, Italy
2017
Sogo Museum of Art, Yokohama, Japan
Art Fair Eunique, Karlsruhe, Germany
Labor im Chor Gallery, Schwabisch Gmund, Germany
Exposition S Ceramic Art Avenue Art Gallery, Jingdezhen, China
2015
Artist of Faenza, Eri Dewa and Tomoko Sakumoto, Sekiguchi Museum of Art,
Tokio, Japan
La scultura ceramica contemporanea in Italia, Contemporary National Gallery
of Rome, by M. Margozzi, Roma, Italy
2014
Change 3 Contemporary ceramic art, Pottery centers Fornace Pagliero, by S.
Imperiale, Castellamonte, Torino, Italy
2013
Arte ceramica oggi in Italia, Villa Necchi Campiglio, by J. Blanchaert, Milan,
Italy
Les Journes de la Céramique, Place St.Sulpice, Paris, France
2011
La ceramica contemporanea italiana, Ravasou Gallery, Bandol, France
Per nuovi viaggi, Pancino,Mariani, Vecchia Pescherie Gallery, by M. Melandri
l'Immagine Gallery, Cervia, Italy
54' Venice Biennale, by V. Sgarbi, Pavillon Italy, Torino, Italy
2010
Diario pubblico, Spazio Nibe Gallery, Milan, Italy
Omaggio alla terra, Castello di Grumello by P. Daverio and J. Blanchaert,
Bergamo, Italy
2008
Anarcord, Venticorrenti Gallery, Milano, Italy
ArtGallery Admiral Parhotel, Bologna, Italy
Artefiera CERCÒ, Saragoza, Spain
Anarcord, Museo Carlo Zauli, by G. Manzoni, Faenza, Italy
2007
Museo di Montelupo Fiorentino, Firenze, Italy
Contemporary art, Sala Albertini, V.Sorrentino e T.Flamigni, Forli, Italy
Ora et labora Artecontemporanea by C. Casali, Modigliana, Forli, Italy
La terra è femmina, Palazzo Zuckermann, by G.Villani, Padova, Italy
MIART with Techne Contemporary Gallery by E. Nesti, Milan, Italy
Anarcord, Terre Rare Gallery, by G.Manzoni, Bologna, Italy
2006
Contemporanea, Artefiera, Forli, Italy
Artefiera,by Techne Contemporary Gallery, Reggio Emilia, Italy
2005
Mosaico ceramico, Sideshows at Venice Biennale by P. Daverio, Venice, Italy
L'Immagine Gallery, Cesena, Italy
2004
Museum Civico De Fabris, Nove, Vicenza, Italy
Od design, by E.Biffi Gentili, Torino, Italy
Fragile Artecontemporary, Settore territorio, by G. Manzoni, Faenza, Italy
2003
Municipal Gallery, by C. Pauletto, Portogruaro, Italy
2001
Faenza oggi, Rifugio Gualdo Tadino, by J. Ruiz de Infante, Sesto Fiorentino,
Firenze, Italy
solo shows
2019
La butterò sul surreale, by I. Biolchini, Galleria della Molinella, Faenza, Italy
2017
Il Cibo dell'anima, Museu del Cantir, Argentona, Barcellona, Spain
2014
Les Journes de la Céramique, Place St.Sulspice, Paris, France
2012
375, Banca di Credito Cooperativo Ravennate e Imolese, Faenza, Italy
2010
Passato, presente, futuro, Banca di Romagna and Museo Carlo Zauli, by C.
Casali, Faenza, Italy
Punto G, Sideshow at Contemporary Art Festival, Faenza, Italy
2009
Opere recenti, Paradigma Gallery, Firenze, Italy
2007
Fuori di Se', Casa Rossini, by S. Vecchi, Lugo, Ravenna, Italy
2005
Spazio Nibe Gallery, Milano, Italy
2002
La principessa sul Pisello, J. Blanchaert Gallery, Milano, Italy
2001
Diversi, Il Fischio,Gallery, Torino, Italy
Succede anche nelle migliori famiglie, Circolo degli artisti, by J.Ruiz de
Infante, V. Emaldi, Faenza, Italy
prizes
2017
11' International Ceramic Competition, Mino, Japan
39' International Gualdo Tadino Ceramics 2017
2016
First Prize at Competition Appignano Ceramica, Appignano, Italy
2015
59' Premio Faenza, Faenza, Italy
2014
17' Biennal de Ceramica d'Esplugues Angelina Alos, Esplugues de Llobregat,
Spain
2013
58' Premio Faenza, Faenza, Italy
2011
Honorable mention at 2011 International Competition Gyeonggi Ceramix
Biennale, Corea del Sud
First prize concorso Deruta, Pesaro, Italy
2005
17' Lilliput Ceramic Worldwide Exhibition
2004
Ceramic plates , Zagabra, Croazia
1st European Ceramics Competition, Amauroussion, Grecia
7' International Competition of Cairo, Egitto
2001
Viaggio attraverso la ceramica, International Prize, Vietri sul Mare, Salerno,
Italy
1998
First Prize Opera prima Ceramica 98', Voltana, Ravenna, Italy
workshops and residencies
2019
Macro Asilo Roma, curated by G. De Finis, Atelier #1 Residenza d'Artista,
Roma, Italy
2017
Jingdezhen International Visiting Studio Artist, Jingdzhen, China
2015
Ceratekno, Toki, Japan
2013
Coefficente H, Artist in Residence by A.Maggi, Sticciano, Firenze, Italy
2006
4' International Symposium of Ceramics, Nove di Bassano, Vicenza, Italy