Works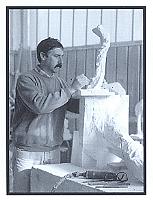 Francesco Cremoni exhibited at Galleria Gagliardi from 2006 to 2009.
"In the feeble steles exalted to celebrate the generative principle, Cremoni reveals a subdued sense of sacredness. This is already given in the archaic ritual of the nailed stone, almost the concretion of a sun-ray, a vector of energy or polarizing magnets, the vital entities being dispersed in the cosmos. But little remains of this magic and apotropaic virtue of the stones in Cremoni's steles. They are of such a purified plastic quality as to reach symbolic meanings; they are figures evoking a kind of spirituality and culture which we would call oriental, for the high degree of formal synthesis between the minimum naturalistic referent and the conceptual content. It is important to reveal how Cremoni, then as today, reserved a special attention for touch values of surfaces, taken to a certain finish which, while not passing over to icy formalistic perfection, is maintained at an extreme limit of exhaustion. And the margin of the intimare emotional and spiritual or rather poetical adhesion of the artist is within this limit during the creative process which activates, with discretion and trepidation, each aspect of his personality." Nicola Miceli da'Francesco Cremoni " Sculture"

Mentre si diploma presso l'Istituto Professionale del Marmo "Pietro Tacca" di Carrara (1977), frequenta gli studi di scultura cittadini. Quindi si trasferisce a Berna per lavorare nell'Atelier di Zutter. Nel 1978 si iscrive alla sezione di Scultura dell'Accademia delle Belle Arti di Carrara, da cui si diploma nel 1982 con una tesi su Francesco Somaini con il quale inizia un'importante collaborazione. Nel 1979 fa esperienza nel Laboratorio Bottega Versiliese di Pietrasanta e partecipa al "I Simposio di Scultura" di Carrara, dove nel 1980 vince il "Premio Acquisto" da parte del Comune di Carrara.
Nel 1984 apre il suo studio a Carrara lavorando con importanti artisti e architetti per realizzazioni di opere in marmo. Dal 1990 inizia ad insegnare presso le Accademie di Belle Arti, tra cui Bologna, Brera e Carrara, dove attualmente è titolare della cattedra di Tecnologia ed Uso del marmo. Nel 2003 cura la direzione tecnica del "XV Simposio Internazionale" di Carrara.
Tra le sue mostre personali si ricordano: Galleria Canci, Lerici, SP (1982; 1991); Homburg, Friolzheim, Heidenheim e Ramstadt, Germania (1985); Palazzo Civico, Deiva Marina, SP (1993); Galleria Fluxia, Chiavari, GE (1994); Galleria Gnaccarini, Bologna (1994); Bobadilla, Dalmine, BG (1995); Chiesa di San Lorenzo, Tigliole d'Asti (1997); Atelier Ripamonti, Parigi (1997; 1999); Palazzo dei Priori, Volterra (1998); Hotel de Ville, Neuchàtel, Svizzera (1999); Museo d'Arte Moderna Pagani, Legnano (2005); Parco di Villa San Paolo (2006); San Gimignano (2006).
Ha preso parte a numerosi simposi internazionali, ed in particolare a Carrara (1979; 1980; 1983; 1988; 1990), e poi in Fanano (MO), Germania, Spagna, Francia.
Ha realizzato molte sculture per spazi pubblici, tra cui: Parco di Homburg (1984); Villa Anparo, Mondragon, Spagna (1985); Centro Internazionale Olimpico, Losanna (commissione del C.O.N.I., 1988); Baranquilla, Colombia (1988); "Monumento per la Resistenza", Parco di S. Giulia, MO (1990); Canet en Roussillon, Francia (1991); Città di Modena (1995); Palazzo Reale, Riyadh, Arabia Saudita (1998); Città di Neuchàtel, Svizzera (1999); Città di Erba (2000); Città di Seoul (2003); Art Museum, Changowon, Corea (2003); Museo d'Arte, Fontanarosa (2003); Cimitero di Turigliano, Carrara (2004).
Moltissime le mostre collettive a cui aderisce, tra le quali: Fondazione Pagani, Castellanza, VA (1982); "Un luogo delle scultura", Firenze e Carrara (1988); Collioure, Francia (1990); Legnano (1991); La Chaussèe, Francia (1991; 1992); Castel S. Niccolò, Arezzo (1992; 1994; 1996; 1997); Fondazione Martani, Bologna (1995); "Proposte apuane", Parlamento Europeo, Bruxelles (1997); Viaduc des Arts, Parigi (1998); Fondazione Lannoye, Bornem, Belgio (1998); L'Arte per il Costruire, Treviso (2006); Parco d'Arte Pazzagli, Firenze (2007).
Importante è la sua presenza nell'area apuo-versiliese, dove ha lavorato presso i Laboratori Luigi Corsanini, Studio Nicoli, Poletti & Ghio, e S.G.F. di Carrara e la Fonderia Bronzarte di Pietrasanta, e ha partecipato a moltissime mostre, di cui si ricordano le personali: Galleria Atelier, Carrara (1990); Marina di Massa (1992); Centro Culturale "L. Russo", Pietrasanta (2000; 2004).

 
SCULTURE
San Gimignano
From 05/08/2006 to 08/09/2006
More Info