Works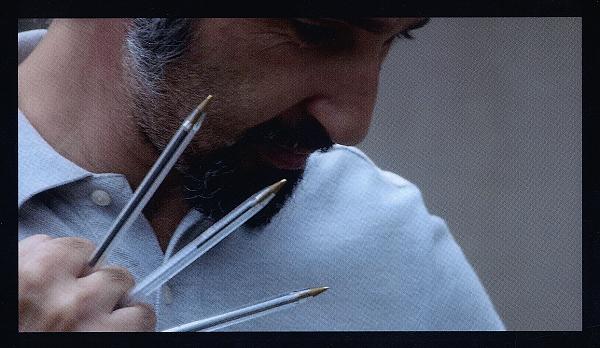 Gabriele Erno Palandri exhibited at Galleria Gagliardi ​ from 2008 to 2016.
There was an era, long ago, in which words were written in beautiful handwriting, their thoughts and vicissitudes were relied on pages of diaries, thoughts and feelings were assigned to pages of letters.
Phrases were constructed, the task of which was to voice complaints of abuse, injustice and abuse.
There was a time when he dedicated himself to writing a particular dedication because it had an important value, he educated his hand to visually transform ideas, concepts, reflections and considerations, observations and judgements, to compose letters that, one after the other, were transformed into opinions, beliefs, intentions; how many purposes and projects entrusted to the ink of a pen.
In this time a painter makes a different use of the ink contained in the modern bic pen, still in use despite the monopoly of the keyboard and pc; he uses the sign, the stroke of ink of a small pen to draw on a wooden support.
Erno Gabriele Palandri is not only a painter, he is capable of transforming the simple pictorial gesture into sentiment, into poetry.
The painting "Assuming experiences" is part of a series that the painter has dedicated to his hands: rough hands that work, gentle hands that caress, strong hands that guide and protect, small hands of children who trust each other, old hands with wrinkled skin that have worked with them without interruption, for a whole life.
The hand of a child who confidently relies on the guidance of the mature person who lovingly welcomes her.
Isabella Del Guerra, 2008.
"His art is like a hermetic poem where all is symbolic, metaphysical and existentialist, where experimenting brings to the decomposition of the traditional language." His masterpieces are time and emotions cuttings, immortalized people. The masterpiece can now be seen from all its hidden sides, the backgrounds melt with its own subjects telling us about them and about the inner world of human being. "Sum all up, letting these detailed images meet the unfocused and incomplete world of sketches. If pen is the Artist preferred tool, the type of line he chooses may vary depending on the message. Infact we may find it neat and well-outlined or unfocused, when Palandri is telling us of the outside agitated world, full of facts and of incomprehensible words; in that case, to come out are sounds more then shapes. Instead it is the incomplete image of the sketches bringing us back to his beginning when the represented subjects worth more, and the path driving us to understand the whole masterpiece is suddenly seen. R.C.
Born in Pistoia in 1970, he obtained a Diploma in Interior Design and a Maturity in Applied Art at the P. Petrocchi Art Institute in Pistoia and a Diploma in Advertising Graphics. In the 1990s he began experimenting with painting techniques, pastels, acrylics, oils and even airbrushing. Initially, he started from a surrealist base that increasingly led to figurative art. He always looks for images that convey a message and are not an end in themselves. At the beginning of the year 2000 he left the colours behind and took up the biros again, an old love, and began a new path, still figurative, but where the fundamental part was to represent a concept with a single image. He works on board left bare or working on the background with mixed media where he goes to draw (or write) with the pen. He currently works with several galleries in Italy. Some of his works are part of private and public collections.
ARTE IN TERAPIA trentatrè diagnosi d'artista curatori Alberto D'Attanasio e Nazzareno Miele
SPOLETO Chiesa di Sant'Agata
From 29 Giugno 2013 to 20 Luglio 2013
9-12 15-22
More Info