Works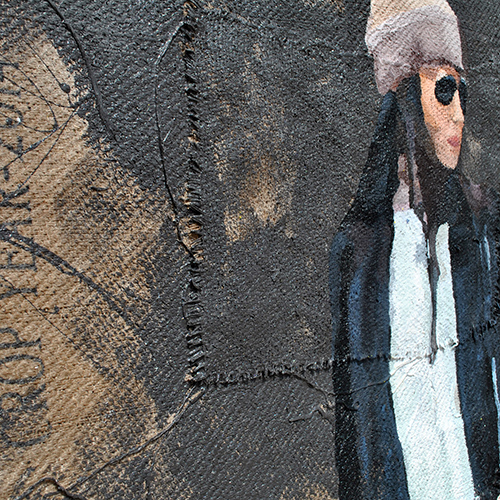 Gianluca Resi exhibits in our gallery from 2018.
Anyone, there is no longer a star to imitate, the star is in each of us.
There is no longer a star to imitate each of us is a star.
"Icons" whose works on coffee bags on which Resi paints images of faces (selfie) or life compositions. The contrast of acrylics with enamels tends to underline the contrast of the individual with the reality that surrounds it, the lack of details of the scene causes the eye to fall back only on the ground, giving that feeling of loneliness that is filled from being observed by others. the backgrounds of glazes with its castings without geometries, contrasts with the scene depicted, that feeling of calm in contrast to the chaos, typical of social media.
His subjects are ordinary and they come from everyday life; a friend standing in a room, a woman's face or one dancer who dances in her solitude. Through these explorations Resi found a perfect way to evoke the feeling of photography in painting without ever trusting to photorealism to evoke the illusion of reality in two and three dimensions.