Works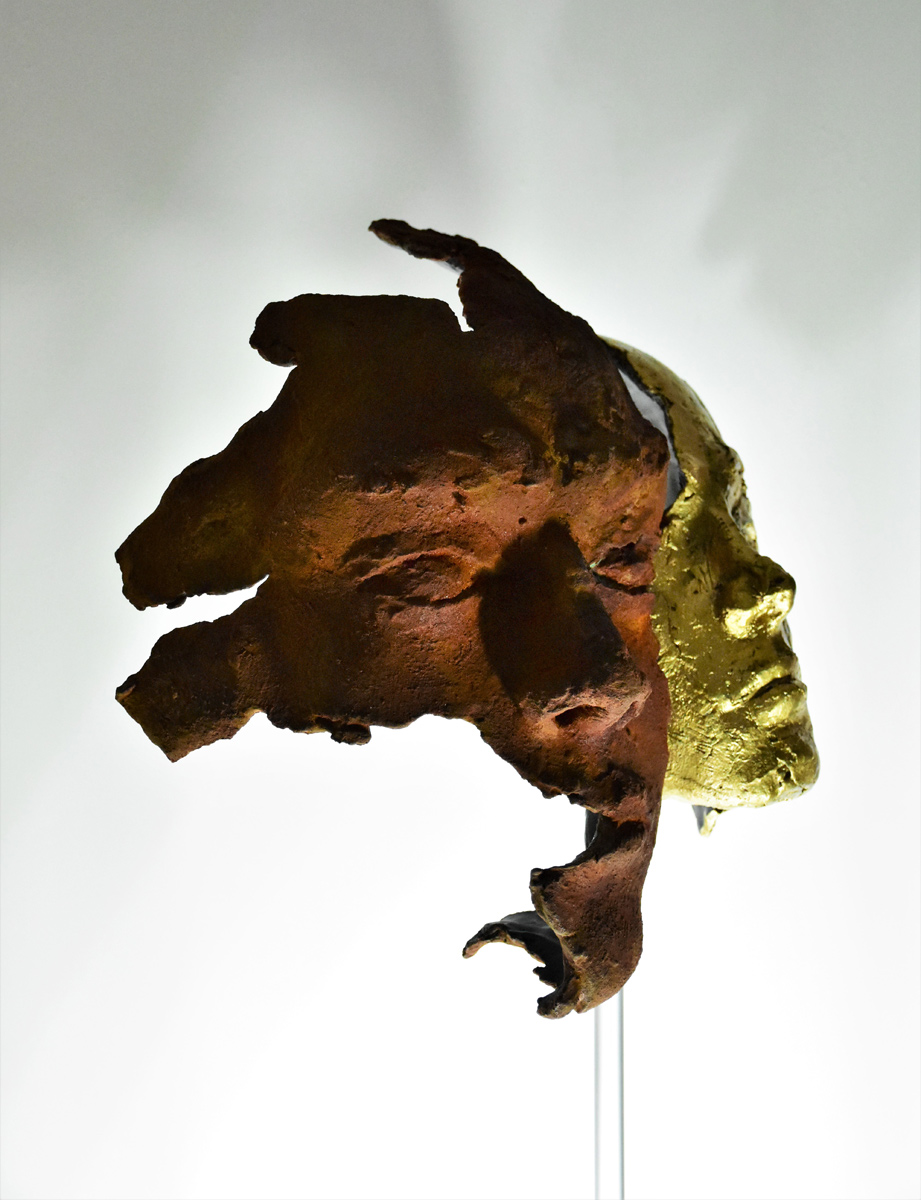 Guido Angeletti exhibits in Galleria Gagliardi since 2023.
Guido Angeletti, 1954, Italia
The series Masks is built on a dense network of correspondences, reiteration, of doubles: the presence not of one but of two faces superimposed on the figure multiplies the referentialities, the ambiguities, the limits between fiction and reality, the exchanges between portrait and mask, between the mask itself and the nakedness of the figure.
The concepts of mask and nudity introduce a reference that is very dear to the sculptor, namely Pirandello, and in particular the collection of theatrical texts entitled "Naked Masks": the mask conceals the deepest self from others but above all from ourselves and leads us either to the fragmentation of the ego that is lost in absolute confusion or to the devastating and profound search for our own being. And it is no coincidence that in Pirandello's work it is the women who renounce the masks imposed by society, paying the consequences. Through his works, Angeletti also reflects on Pirandello's other theme of the 'double', which is in a biunivocal, synonymic relationship with the mask: the Woman walking is double, the same body united but split in which the two halves are reassembled without coinciding, so as to construct the oxymoron of a figure going in two opposite directions at the same time. Once again the woman is poised between contradictions, irreconcilable realities that she stubbornly tries to make coexist in a single dimension. But, as Pirandello shows, even if one tries to dominate it as Mattia Pascal cunningly and then desperately does, the double and its infinite generations can only end in the inevitable disintegration into one, none, a hundred thousand.
Taken from a text by Claudia Andreotta, specialist in Historical and Artistic Heritage
MONOGRAPHIC EXHIBITIONS
2022 - Personale "MATERICHE INCURSIONI" di scultura, pittura e gioiello d' arte c/o Palazzo Essenza a San Miniato
2022 - Presentazione della scultura "SENSAZIONE" al convegno "Smarginature e Smarginate" c/o "Palazzo Geremia" a Trento
2022 - Consegna della scultura "LA VOCE" come "Premio Tebaldi" alla carriera del soprano Mariella Devia c/o "Museo Renata Tebaldi" a Busseto/Parma
2022 - Personale "IMPROBABILI PAESAGGI" di pittura, scultura e gioiello d' arte c/o spazio espositivo a Massa Marittima/Grosseto -
2019 - Personale "L' ARTE ILLUMINATA" di gioielli d'arte c/o la galleria "Punto G" di Pietrasanta
2019 - Personale "L' ARTE ILLUMINATA" di sculture e gioielli d'arte c/o la galleria "Punto G" di Pietrasanta
2019 - Personale "L' ARTE ILLUMINATA" di scultura e gioiello d' arte c/o la galleria "Micro Arti Visive" a Roma
2019 - Presentazione della scultura "HIPATIA" al II Congresso internazionale "El Libro" c/o Università di Granada
2018 - Personale "L' ARTE ILLUMINATA" di sculture e gioielli d'arte c/o la galleria "Punto G" di Pietrasanta
2018 - Presentazione della scultura "ISTINTO FEMMINILE" a Roma in Campidoglio in occasione del convegno "Fin da bambina allo specchio"
2018 - Personale "LE NOSTRE DONNE" c/o "Essenza di San Miniato" a San Miniato/Lucca
2018 - Bipersonale "LE NOSTRE DONNE" c/o" Loggetta del Trentanove" a Faenza
2018 - Scelto per l' esposizione di sue sculture in occasione della presentazione dello yacht "Custom Line 120" c/o i Cantieri Ferretti a La Spezia
2017 - Personale "LE NOSTRE DONNE" c/o la galleria "Spazio Grafico" a Massa Marittima/ Grosseto
2017 - Personale "LE NOSTRE DONNE" c/o "Centro Civic"o a Bolgheri/Livorno
2016 - Personale di pittura e scultura c/o "Ex Palazzo Comunale" a Castiglione della Pescaia/Grosseto
GROUP EXHIBITIONS
2023 - Collettiva "San Valentino Arte 2023" X Concorso Internazionale d' Arte Contemporanea "AMORE TORMENTATO" c/o Museo Diocesano a Terni
2022 - Collettiva "Spoleto Festival Art 2022" c/o Palazzo Della Signoria a Spoleto
2022 - Collettiva "MURI" "Dall' immagine al racconto" c/o Palazzo Dell' Abbondanza a Massa Marittima/Grosseto
2022 - Collettiva "San Valentino Arte 2022" IX Concorso Internazionale d' Arte Contemporanea "LOVE" c/o Museo Diocesano a Terni
2020 - Collettiva "I Mille di Sgarbi", esposizione annuale a Cervia
2019/2020 - Collettiva "Il luogo degli inganni", esposizione annuale c/o la Cappella Orsini a Roma
2019 - Collettiva "VII Biennale Artemidia" c/o l' Ambasciata di Bulgaria a Roma
2018 - Collettiva "On Tour Dolomiti" c/o Zot Art Space a San Cassiano in Badia
2018 - Collettiva "On Tour London" c/o The Royal Opera Arcade Gallery a Londra
2018 - Collettiva "Le Tre SSS" - Simboli,Segni e Sogni c/o Galleria Spazio 40 a Roma
2017 - Collettiva "Soul in the Art" c/o la Ipso Arts Gallery a Perugia
2017 - Collettiva "Il Volo dell'Anima Artistica" c/o la Casa dell' Aviatore Circolo Ufficiali Aeronautica Militare a Roma
2017 - Collettiva "Il Ritorno delle Muse dal Mare" c/o la Base Logistico Addestrativa dell' Esercito a Cefalù/ Palermo
2002 - 4° concorso internazionale di scultura su legno "Il Mistero dei Monti" a Madonna di Campiglio/ Trento
2002 - Concorso "Il Fiocinino" bandito dal comune a Lagosanto (FE)
2001 - Concorso di scultura "Acqua" indetto dall'Ospedale Rizzoli a Bologna
2001 - Premio nazionale di pittura e scultura "Rotonda 2001" c/o la Casa della Cultura a Livorno
2000 - Rassegna a Soggetto Sacro c/o il Chiostro Benedettino della chiesa di Santo Stefano a Bologna
1999 - Rassegna a Soggetto Sacro "Dedicato a San Luca" c/o la Sala di Città a San Lazzaro/ Bologna
PRESENZA IN COLLEZIONI PUBBLICHE
2022 - Esposizione permanente della mia scultura "IL CORO" negli spazi della "Biblioteca Casanatense" di Roma
2019 - Esposizione permanente della mia scultura "HIPATIA" alla facoltà di Lettere e Filosofia dell'Università di Granada in Spagna
2018 - Esposizione permanente della mia scultura "ISTINTO FEMMINILE" negli spazi della "Biblioteca Casanatense" di Roma
BIBLIOGRAFIA
Catalogo collettivo "SAN VALENTINO ARTE" 2023
Catalogo collettivo "Biancoscuro Art Contest" 2022
Catalogo personale "GUIDO ANGELETTI" - ISBN 978-88-97708-18-6 edito da "Il Sextante"
Catalogo collettivo "SAN VALENTINO ARTE" 2022
Catalogo collettivo "SOUL IN THE ART" (presente con 11 sculture) - ISBN 978-88-97708-17-9 edito da "Il Sextante"
Catalogo collettivo "LE TRE SSS - Simboli Segni e Sogni"
Catalogo bipersonale "Le Nostre Donne" in occasione della bipersonale a Faenza DEL 2018
Catalogo collettivo "Dedicato a San Luca" edito dalla "Accademia di Belle Arti di Bologna"
Catalogo collettivo "I Mille di Sgarbi" in occasione della omonima esposizione a Cervia nel 2020
Recensioni sulla rivista cartacea "EUDONNA MAGAZINE" in numerosi numeri
Copertina e interni illustrati interamente da mie sculture in "SE FOSSI DONNA" racconti di vari autori edito da "IL SEXTANTE" nel 2021