Works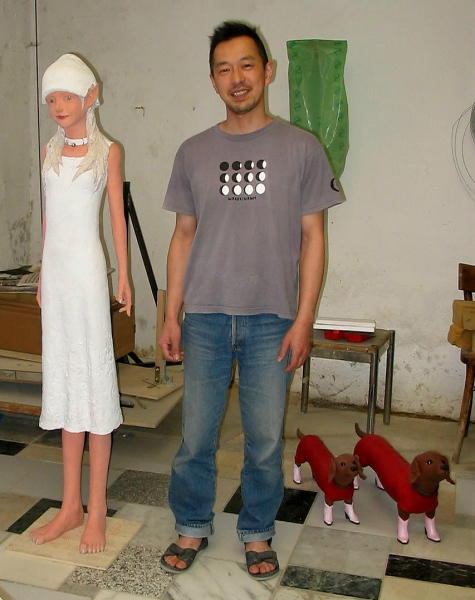 Hiroto Kitagawa exhibited at Galleria Gagliardi ​ from 2004 to 2077.
Hitagawa's work is constantly on the edge of ambiguity.Ambiguos"par excellence" in that Hiroto's heads and sculptures are hybrid,with no defined identity of their own.His style is both ironic and grave,unabashedly mixing shyness or inferiority complexes with themes and characters from the great shool of the Japanese manga with the mark and the materials of the Italian and European shool. His favourite subjects are girls who seem to step out of a Japanese manga,with a few touches between fantastic amusement and technological novelty,his male characters are half adolescents and half B class super heroes from comic strips.A combination of realism and pop amusement,showing accomplished technique which harmonises the roughness of the natural terracotta and the brightnessof the enamels. Whatever the context,Hiroto's characters are inevitably outsiders:exceptional outsiders in the serious world of the classic Italian tradition,outsiders in the cold,glassy field of contemporary installations,not very open to artists who pay too much attention to the materials,the style and the use of old or excessively refined techniques like terracotta; inevitably outsiders in the comic universe too.In the latter case,like strange ghosts suddenly materialised out of drawn pages or the evanescent consistency of videos,the characters are destined to live out their existence merely replicating the more characteristic expressions or the more prominent physical features.
Hiroto Kitagawa was born in Shiga prefecture in 1967. After graduating from the Kanazawa College of Art in 1989, he travelled to Italy, inspired by figurative Italian sculptors such as Marino Marini. Kitagawa studied at the Academy of Fine Arts in Milan and Carrara, where he was trained in traditional terracotta sculpting techniques. Since his return to Japan, Kitagawa has been a consistent exhibitor of sculptures both in Japan and overseas. Kitagawa's works use acrylics to add life to the most primitive of media –clay – in order to depict people living in the present day, with some of these works featured at an exhibition at the 21st Century Museum of Contemporary Art in Kanazawa.
Selected Solo Exhibitions
2013 "Artificial World II: Suspended Being" Tokyo Gallery + BTAP (Tokyo, Japan)
2012 M&Y Museum (Okayama, Japan)
2011 "Post New Type -Foresight" Gana Contemporary, Seoul,Korea
2010 "Hiroto Kitagawa – New Works –" Yoshiaki Inoue Gallery (Osaka, Japan)
('02, '03, '04, '06, '08)
2010/2009 "Post New Type -Super terracotta Sculptures"Eslite Gallery, Taipei
2008 "Post New Type 2008" Tokyo Gallery + BTAP (Tokyo, Japan) / Yoshiaki Inoue
Gallery (Osaka, Japan)
2007 Art Gallery Takashimaya (Tokyo, Japan) ('02, '03)
2006 Gallery K (Okayama, Japan) ('00, '01, '03)
2004 Art Salon Yutaka (Kanazawa, Japan)
Atelier Suzuki (Tokyo, Japan) ('00, '01, '02)
2003 Servis Gallery (Osaka, Japan)
2002 Consulate General of Japan (Milan, Italy)
Kuraya Art Hall (Okayama, Japan)
Gallery Katayama (Okayama, Japan)
Spazio Consolo (Marella Arte Contemporanea) (Milan, Italy)
2001 Gallery ORIE (Tokyo, Japan)
The Museum of Arts and Crafts Itami (Hyogo, Japan)
1998 SWANPLAND (Regensburg, Germany)
Museum of Contemporary Nagi (Okayama, Japan)
1997 Le stanze del Teatro Giglielmi (Massa, Italy)
Selected Group Exhibitions
2012 "Ceramic/ Figurative"" Art Gallery Takashimaya (Tokyo, Japan)
2010 "micro salon 60" Tokyo Gallery + BTAP (Tokyo, Japan)
2008 "Milestones" Tokyo Gallery + BTAP (Beijing, China)
"Collection II 'shell – shelter'" 21st Century Museum of Contemporary Art, (Kanazawa, Japan)
2007 "BTAP 5th Anniversary – Works in progress" Tokyo Gallery+BTAP (Beijing, China)
"Crafts Galelry 30th Anniversary Exhibition II – The Power of Crafts: Outlook for the
21st Century" The National Museum of Modern Art, Crafts Gallery (Tokyo, Japan)
2006 "Japanimation" Tokyo Gallery+BTAP (Beijing, China)
2005 "Alternative Paradise" 21st Century Museum of Contemporary Art (Kanazawa,
Japan)
2004 "37th Premio Vasto" Museum Civici (Vasto, Italy)
Rhe D.L Arte (Milan, Italy)
2001 "NIPPON" Palagio di Parte Guelf sala Burunelleschi (Firenze, Italy)
Galleria Gagliardi (San Giminiano, Italy)
1999 "MUTAZIONE" (Regensburg, Germany)
1998 "Senzatitolo," Sala Riunioni Circoscrizione (Carrara, Italy)
1997 "Saturnalia," Centro Culturale Mercurio (Viareggio, Italy)
"Nove artisti in Carrara," Atelier Artivisive Ass. Cult. (Carrara, Italy)
1996 "96 Miniartextil Como" (Come, Italy)
"Eccoci," (Lido di Camaiore, Italy)
1994 "Pietra Lavorata" edizione, (Castel S. Nicolo, Italy)
Public Collection
21st Century Museum of Contemporary Art,Kanazawa,Japan
The National Museum of Modern Art,Crafts Gallery,Tokyo,Japan
Tsuyama city,Okayama,Japan
Camaiore,Italy
HIROTO KITAGAWA
Taormina
From 2005 to 2005
More Info