Works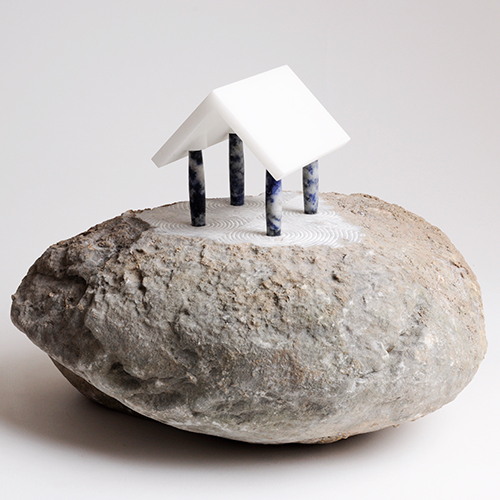 Isao Sugiyama exhibits in our gallery since 2000.
Of all the symbols of eternity and security, that which appears most frequently is the Home. The Home is the individual version of the World, in other words, the universal home of all men. This use of symbols embraces all cultures and there is no religion which hasn't adopted it. In Jung's terms, we might say that we found ourselves before an archetype, something that doesn't change with time, which isn't affected by changes in taste. From Hindus to Christians, the problem involves possession, construction, finding shelter, a place to call one's own: an elementary yet eternal need. "Going home" is synonymous with happiness and safety, and "mum and dad's house" or "The House of God" are always ready to welcome prodigal sons who've left the nest in search of knowledge. Knowledge opens the way to thousands of roads, all of which are equally probable, but in choosing means finding the way back. This is not easy. Our existence is fragile; we live temporary situations as long-term arrangements. Man easily makes mistakes, often blinded by a fictitious, false and persuasive "reality", like the sirens of Ulysses. Isao Sugiyama faces all of these themes with exemplary clarity.The artist perfectly combines extremes which are unlikely to be compatible: heat, cold, marble and wood, the transitory and the lasting, full and empty. The extremely fascinating side of his work lies in the sense of creating a link between opposing elements. Between inside and outside, for example, and the home is perfect for this, as it protects from things which are outside and, at the same time, creates a relationship between Man and nature. And this intuition is fundamental. Valerio Dehò"
Isao Sugiyama was born in Japan in 1954

Sugiyama studies at the University of Art in Tokyo-Zokei where he majored in sculpture in 1977, in 1983 he took his degree of specialization at the same university, always in 1983, he moved to Italy in order to visit a course of sculpture at the Accademia di Belle Arti at Carrara Italy and graduated in 1990.
The artistic life of Isao Sugiyama is closely linked to the artist himself, his culture, Japanese tradition, and great respect for nature and his cultural and spiritual world. Sugiyama works marble without transforming it, but gradually helping it progress from the purely natural state to the unexpected whiteness inside, revealing transparencies which magically allow the light to pass through; tiny diaphragms which transfix the eye and the heart. He works soft, pale, light wood which harmonises perfectly with the whiteness of marble, a material which should be in complete contrast, but which seems to be its natural extension. Sugiyama becomes an instrument for the celebration of spirituality, creating small temples in inaccessible places, tiny sanctuaries which welcome our soul; Sugiyama shows us an impassable path, steep stairs, very narrow bridges, impossible climbs. A difficult road, the same which we travel during our lives, at the end of which, in the Silence of the Soul, we can find ourselves. Sugiyama celebrates Nature, paying homage through himself and this is the most spiritual, deeply meaningful poetry that an Artist can create, using his own sensitivity and his hands.
Sugiyama have had many personal exhibitions in public spaces, foundations and museums in Italy and abroad as: Os Norway, Mishima Japan, Shanghai China, Brussels Belgium, London UK, Metropolitan Museum Tokyo Japan, Paris France, Iwate Japan, Civic Museum Paris Valle Maccagno Italy, Seoul Museum of Art Seoul Korea, Museum Crocetti Roma Italy, Museum of Accademia di Belle Arti di Carrara Italy, Laren Holland, HakoneJapan, MishimaJapan, New York USA, San Francisco, USA, Embassy of Japan Rome Italy, Museum National Gallery of Modern Art and The Japan Foundation Rome Italy
Symposiumus
1982 4th Hachioji International Sculpture Symposium, Tokyo, Japan
1985 1st Open-Air Sculpture Symposium Nantopietra 1985, Vicenza, Italy
1986 "Carrara, Città Laboratorio", 8th International Sculpture Symposium, Carrara, Italy
2000 Mine International Marble Sculpture Symposium 2000, Mine, Japan
2002 4th Appi-Kogen Sculpture Symposium, Appi-Kogen, Japan
Public Collections
National Gallery of Modern Art, Rome, Italy
Würth Museum, Künzelsau, Germany
The World Bank, Washington D.C., U.S.A.
Pagani Modern Art Museum, Castellanza (Milan), Italy
Murri Coporation Museum, Bologna, Italy
Chamber of Commerce and Industry, Kashiwa City, Japan
Hachioji City, Japan
Mine City, Yamaguchi, Japan
Appi, Iwate, Japan
Civic Museum Paris Valle, Maccagno, Italy
Iwate University, Japan
Church of San Michele Arcangelo, Gragnana, Italy
TRADIZIONE NEL CONTEMPORANEO
Taormina
From Giugno 2004 to Luglio 2004
More Info
ISAO SUGIYAMA
San Gimignano
From 15/09/2001 to 07/10/2001
More Info