Works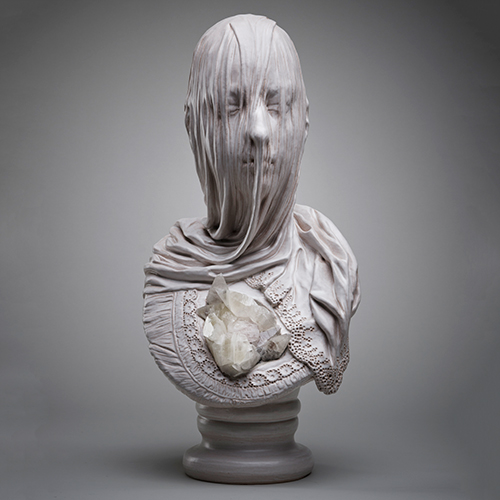 Livio Scarpella exhibits in our gallery since 2016.
[...] Livio Scarpella as Schmidlin, using polychrome terracotta to illustrate his conscience of the inseparable unity between the dazzling beauty and existential melancholy, between wild strength and complete immobility,between eroticism, more show off than lived, and the algid detachment from contingent reality. Finally, attracted by the infinite possibilities of the decorative arts, the artist has created a sort of review of busts-reliquaries of tradition baroque and late baroque, with the different materials like the gilded bronze, malachite and onyx, embossed copper and silver, pearls, crystals , corals and geodes, depicting the faces of children and little fauns, veiled faces, in a kind of collection of wonders. [...] taken from ValerioTerraroli
His sculptures respresent hyperrealistic hybrids that seem to feel the need of crying to the world their feelings. Men with donkey ears, veiled faces, heads with wings Livio Scarpella, is a versatile and refined artist with a strong personality.
He attended the Brera Academy of Fine Arts, graduating in 1990. Until 1995 he worked as an assistant at the studio of the sculptor Giuseppe Bergomi. In 1993 he obtained the "San Carlo Borromeo" painting prize (Palazzo della Permanente, Milan), and in 2002 the Durini Prize.
Some of his works have been chosen to illustrate the covers of various books by Aldo Busi.
In 2003 he was invited to participate with "Italian Factory - the new Italian art scene" at the European Parliament in Strasbourg and in the "Extra 50" section at the Venice Biennale.
His sculptures, was exposed in the important exhibition in Rome with the Bernini's sculpture,
at Embassy of Spain, at the Santa Sede (Vaticano) Roma.
Commissioned by Italian Governament, Scarpella realized two sculptures, "San Bartolomeo" and "Sant' Andrea", that have been placed in the niches of the magnificent cathedral of Noto (Sicily).
He have had many personal exhibitions in public spaces and museums in Italy and abroad as:
Award Durini Foundation Milan - European Parliament in Strasbourg France - Museum of Contemporary Art in Shangai and Taipey, China - Acquisition of the collection of the Senate of the Italian Republic, Palazzo Madama, Rome, Italy - Biennial Prize of Mediterranean countries in Alexandria of Egypt, Egypt - Venice Bienial Italian Pavilion, Festival dei 2 Mondi in Spoleto Italy - Commission of the Italian State for two sculptures for the magnificent Cathedral of Noto, Sicily, Italy - Embassy of Spain to the Holy See, Rome Italy.