Works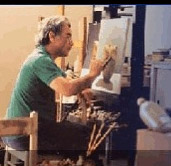 Luciano Ventrone exhibited at Galleria Gagliardi in 2009.
Luciano Ventrone (1942-2021)
Luciano Ventrone was born in Rome in 1942. When he was five years old he was sent to live in Denmark, where he stayed with a Danish woman who became his temporary foster parent. This experience doubtlessly had a deep influence on his later psychological and professional life. In Denmark, he received warmth, kindness, moral support and the first toys he had ever had. On of these was a box of paints that set him off on his painting career. Once returned to Italy, he attended the mandatory school and then, the Art school and the University of Architecture.. The years he spent there provided fertile soil, where his passion for art and his artist's sensibility could take root and flourish. Ventrone experienced the high season of battles among the various artistic currents at a very young age. He dabbled in almost all of them, but only as a means for nourishing and developing an artistic language all his own. The turning point in Ventrone's art came one day, when he met Federico Zeri, who will spend his prestigious name to impose attention towards his art works. His painting is painstake, slow, patient and rigorous. Since 1991 there have been many solo and group exhibitions of this artist, both in private galleries and public spaces, either in Italy and abroad; his works are part of basic private and public collections.
Nel 1980 realizza Caravaggio 1, a cui faranno seguito la Conversione di Paolo e, nel 1984, la Canestra, riempita però di frutta esotica. Realizza mostre personali in tutto il mondo: Studio Forni, Milano (2004); Albemarle Gallery, Londra (2005); Bernarducci & Meisel Gallery, New York (2008); Palazzo del Broletto, Como (2010); State Russian Museum, San Pietroburgo (2010); Hollis Taggart Galleries, New York (2010); Fondazione per i Ragazzi del mondo di Ibrahim Kodra, Melide (Svizzera, 2010); Art Bejing Contemporary Art Fair, Pechino (2011). I suoi dipinti sono conservati in importanti collezioni private e pubbliche, in Italia e all'estero. Tra queste, la Collezione d'Arte Moderna del Senato Italiano, la Collezione della National Gallery of Art di Washington e la Collezione dello State Russian Museum di San Pietroburgo. Nel 2011 partecipa alla LIV Edizione della Biennale di Venezia.
Luciano Ventrone has exhibited in international museums and galleries, from Rome to London, from Montreal to Singapore, from New York to Moscow, from Tokyo to St. Petersburg. His latest solo exhibition was held at the MART - Museum of Modern and Contemporary Art of Trento and Rovereto, entitled Luciano Ventrone. La grande illusione, conceived by Vittorio Sgarbi and Lorenzo Zichichi, with 18 thematic works conceived as a Focus within the exhibition Caravaggio. Il contemporaneo, with which Mart President Sgarbi intends to establish a dialogue between the Lombard master and contemporary artists.
At a very young age, he collaborated, with his drawings from life, on the drafting of the university text Sistema nervoso centrale di anatomia umana (Central nervous system of human anatomy) for the Catholic University of Rome. In 1983, an article written by Antonello Trombadori in L'Europeo prompted art historian Federico Zeri to take an interest in Ventrone's research, suggesting that he tackle the subject of still lifes. It was from here that his long and as yet incomplete research into the various aspects of nature began.
Hanno scritto di lui: Federico Zeri, Giorgio Soavi, Roberto Tassi, Achille Bonito Oliva, Vittorio Sgarbi, Marco Di Capua, Antonello Trombadori, Edward Lucie-Smith, Angelo Crespi, Beatrice Buscaroli, Evgenia Petrova, Victoria Noel-Johnson.
DENTRO
San Gimginano
From 12/09/09 to 04/10/09
More Info