Works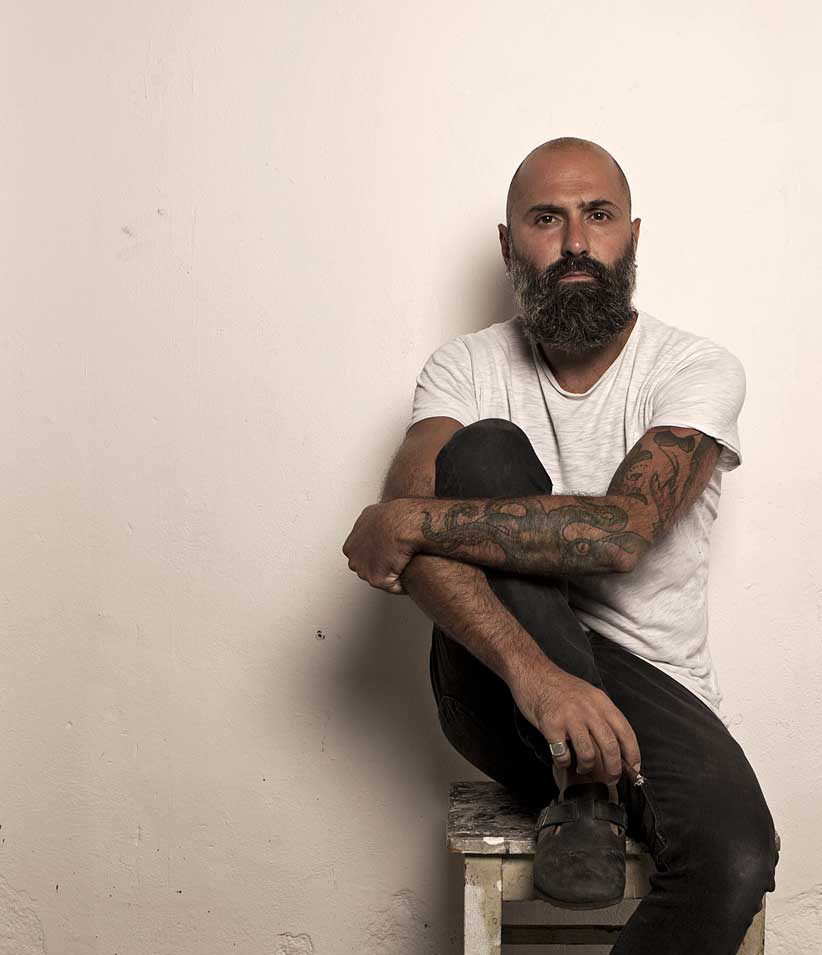 Manuel Felisi exhibited at Galleria Gagliardi from 2008 to 2011 and exhibits in our gallery from 2020.
Manuel Felisi moves confidently in the different fields of making art, from painting, to photography till installation tecniques, always telling the same theme, the dimension of Time.
"The Time" could be described as "the Theme", because everyone of us is involved; our being in there, is: Time that changes things through its passage, preserves them or either makes them dissolve.
There are different ways to tell this story; Felisi does it in a "kind" way, without being trapped in nostalgia, and, on the contrary, covering the dimesion of time, with poetic and emotional inspiration.
His works are made of several materic layers, always joined chasing the same scientific order, like following a ritual, from painting to print, yet without being mechanical, but always succeded with extreme involvement.
Time is the main character from many points of view: time like a necessary measure to create the work itself. The short-lived time, almost frozen, of the photographic instant, the digitally-processed shot, therefore printed with the absence of white on a previously prepared canvas, is like a seal capable of holding inside the work all the "Times" which can possibly be described. A photograph that ceases to be a simple shot of people, places, objects becomes a collective memory.
Besides "Time" as ideal and universal category, which rules life, beats the rithm and changes things and people.
There is, lastly, a further vision which the artist inquires throughout his work: it is the necessary time to make use of this language, the exact instant in which we relate ourselves with sounds, noises, smells, colors, thoughts that the installation allows us to experience with our senses and mind, that unique and unrepeatable moment in Space and Time.
Unique and unrepeatable, different for everyone, is the sense of brightening which the vision or the partecipation to Felisi's work communicates; it is difficult, watching his work, being pessimistic or experiencing sadness, because a sort of magic vitality animates even his most touching subject matter.
Main Exhibitions / Principali esposizioni
2022 AL DI LA' DEL FIUME, TRA GLI ALBERI mostra personale Galleria Gagliardi San Gimignano
2019 "Transmutazioni" Galleria Colossi Brescia
2019 "Wonder Time" Palazzo della Cultura Catania
2018 "Presente del Passato" Galleria Russo Roma
2018 "Perspective Gnam Roma
2018 "In Absentia" Fabbrica Eos Milano
2018 Il millenio maggiorenne " MARCA Catanzaro a cura di Luca Beatrice
2018 "new perspective" TRIENNALE milano a cura di Denis Curti
2017 Arte Fiera Bolgna Fabbrica Eos galleria Russo
2017 "tempo immobile " Fabbrica Eos Milano pdf catalogo
2016 "acqua " galleria Russo Istanbul
2016 "la memoria dell'acqua " milano
2016 Shakespeare in Rome Galleria Russo Roma a cura Andrew Dickson
2016 Arte Fiera Boloogna fabbricaeos Galleria Russo
2016 "la bellezza resta " Monza acura di Simona Bartolena
2015 Biennale Italia-Cina, Mastio della Cittadella, Torino
2015 art London galleria Russo
2015 "di terra e d'acqua" palazzo Manenti galleria Dè Bonis Reggio Emilia
2015 "di-vento"galleria Glauco Cavaciuti Milano
2015 "linee di confine" museo Bilotti Roma
2015 "memorie di equilibrio" galleria Amy-d Milano
2015 acqua palazzo Ghirlanda Brugherio
2015 arte fiera Bologna fabbrica eos Milano russo gallery Roma Istanbul
2015 la selva oscura palazzo dei Principi Correggio
2014 griglie a cura di Marco di Capua russo gallery Roma
2014 contemporary Istanbul russo gallery
2014 biennale Italia Cina Pechino
2014 wonderwalls, fabbrica del vapore milano
2014 "Materie" a cura di Simona Bartolena; castello di Trezzo, Milano
2014 Arte Fiera Bologna galleria Russo Roma
2013 "20 anni o 5 minuti" di materie Fabbrica Eos Milano
2013 contemporary Istanbul Art Fair, Fabbrica Eos, Istanbul
2013 collettiva Cavaciuti Arte Lugano
2013 Made eventi istallazione " un metro per um metro per un metro di cultura"a cura di Fortunato D'amico Milano Rho fiera
2013 "the masks we wear" arteco gallery London
2013 "Menoventi", personale a cura di Fortunato D'amicoe Maria Flora GIubilei, GAM, Genova Nervi
2013 "Barcellona showcase" casa Batllò Barcellona
2013 "Pianeta Cina – evento di Biennale Italia-Cina", collettiva, Palazzo Te, Mantova
2013 "Ceramica Terra Cultura" mostra a cura di Giulio Ceppi e Fortunato D'amico. Installazione dell'opera "Giardinetta". Salone del Mobile, Milano
2012 "biennale Italia Cina" Palazzo Reale Monza
2012 contemporary Istambul Art Fair, Fabbrica Eos, Istanbul
2012 made expo, Evento Planetarium, a cura di Fortunato D'amico. Installazione dell'opera "Ape", Milano
2012 cutlog, Fabbrica Eos, Parigi
2012 scope basel, Fabbrica Eos, Basilea
2012 "Road to contemporary art" Fabbrica Eos, Roma
2012 Piano City Milano. Installazione dell'opera "Sinfonia", pianoforte suonato da Vinicio Capossela in concerto. Rotonda Della Besana, Milano
2012 Art Paris, Parigi, Fabbrica Eos
2012 "Milan Jam", collettiva a cura di Lucy Day, Eliza Gluckman, Irina Stark, Collyer Bristow Gallery, London (U.K.)
2011 "Sinfonia" solo project & solo-show via Pasubio Milano
2011 "Proetica – Profetica – Poetica", collettiva a cura di Chiara Canali e Fortunato D'Amico, Stazione di Porta Nuova, Torino
2011 Cutlog, Contemporary Art Fair, con Fabbrica Eos, Parigi
Finalista del PRIX ARTE con l'opera "Sinfonia"
2011 "Museo Verticale", esposizione permanente, Palazzo Regione Lombardia, Milano
2011 "Il mito del vero", collettiva a cura di Giacomo Maria Prati e Paolo Lesino, Spazio Guicciardini (Milano) e Palazzo Guidobono (Tortona-AL)
2011 Road to contemporary art, Fabbrica Eos, Roma
2010 "Flowers", a cura di Ivan Quaroni, Fabbrica Eos, Milano
2010 "Pensiero Fluido", a cura di Alberto Mattia Martini, Spazio Oberdan, Milano.
Mostra promossa da Provincia di Milano, con il patrocinio di Regione Lombardia e Comune di Milano.
2010 "Remake", collettiva a cura di Alberto Mattia Martini, Contemporanea(mente, Parma
2010 "Letteralmente", personale, Visionnaire Design Gallery, Milano
2010 ROMA, Road to contemporary art, Fabbrica Eos, Roma
2010 MiArt 2010, Fabbrica Eos, Milano
2009 Step 09, Fabbrica Eos, Milano
2009 ArtVerona 09, Fabbrica Eos, Verona
2009 "Contemporary Life", collettiva, If Art Gallery, Marciana Marina, Isola d'Elba
2009 "Swingart, 18 buche in cerca d'autore", collettiva, Golf Club Le Rovedine, Opera (MI)
2009 MiArt 2009, Fabbrica Eos, Milano
2009 "Distrato", personale a cura di Alberto Mattia Martini, Contemporanea(mente, Parma
2008 "Cuoriquadrifiori", personale, Jamaica, Milano
2008 "Miami Art Basel Event", collettiva, Laure De Mazieres, Design District, Miami
2008 ArtVerona, Fabbrica Eos, Verona
2008 Opening Visionnaire Design Gallery, collettiva, Milano
2008 Collettiva, Architetture Sensibili, a cura di Linda Giusti, Castello di Rivara, Torino
2008 "Visioni urbane", personale, edifici San Faustino, Milano
2008 MiArt, Fabbrica Eos, Milano
2008 "Nato a Milano Lambrate", personale a cura di Alberto Mattia Martini, Fabbrica Eos, Milano
2007 "Art in Cocktail" collettiva, Jamaica, Milano
2007 Personale, Paparazzi Gallery, Crema
2006 "Felisi" personale, Annotazioni d'Arte, Milano
2006 "Epidemia" collettiva Palazzo nuovo Torino
2004 "Compilation" collettiva, Santa Barbara Arte Contemporanea, Milano
2003 "Origini" collettiva, Santa Barbara Arte Contemporanea, Milano
2002 "Chien ta kuo" collettiva, Scaldasole, a cura di Ivan Quaroni
2002 "Biografie" personale, pitture e sculture, Spazio Isola, Milano
2000 "Brera in Villa Tanzi" collettiva, Milano
1999 Spazio Cargo, per interni concomitanza Salone del mobile, a cura di Gheroartè, Milano
1998 "Tra arte e design" collettiva, Associazione Marta Nurizzo, Milano
1997 collettiva, Sala Napoleonica Brera, Brera, Milano
The paintings of this artist are the result of a work which is in the middle between paint and digital methods: superimpositions of filled and transparencies. Manuel Felisi uses photos taken in the places he has lived; or in which, simply, he has passed through. Images of objects and people met along his path that have no demand for quality but a fundamental value: they are traces of biographical instants. Between the floreal decorations of old clothes or wallpapers, which the artist recovers and uses to build his canvas, surface the subjects immortalized by the camera like ghosts of a memory that is not only individual, but belonging to anyone who can regain the memory of his own experience. Stopping at the borders between abstraction and figuration, Felisi creates striking oppositions among artificial and nature, man and greenery, spaces, roads, architectures often unmanned but smartened by a dynamic motion of limbs, leaves and flowers. The painting intervention greets photography in the attempt to give eternity to clothes and images, which were lacking of attention until that moment.
AL DI LA' DEL FIUME,
TRA GLI ALBERI
San Gimignano
From 06/07/2022 to 28/07/2022
Tutti i giorni 10:30 - 19:30
More Info