Works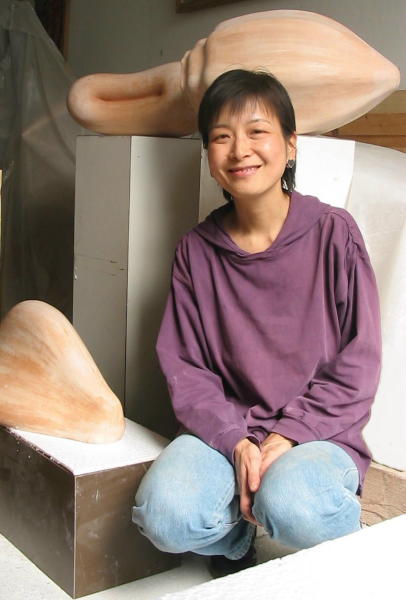 Mariko Isozaki exhibited at Galleria Gagliardi from 2005 to 2013.
Mariko Isozaki (1964 - 2013)
I thought about the first impression of "life" that I got from her works. The works are not realistic representations of living things, but they have a sense of soft curving lines, a balance of colour and a lustre which exudes life. Some people see these shapes as body parts; others as ripening blossoms. Viewing her works, one experiences the same feelings as viewing an animate objects: a warmth and a living texture. This is precisely how she intends it to be ."one can only perceive my works through the sense of sight, so I want to make objects which suggest warmth, fragrances and texture a as well. Indeed, when people describe her work they often use words like tactile and olfactory, terms which cannot possibly pertain only to the sense of sight. These combined perceptions are exactly what create the feeling of space, the relationship to the surroundings and the sense of life. They enliven the gulf between the viewer and the object and create an atmosphere otherwise unattainable through the single sense of sight. Her works, of course, don't move or grow, but the space around them changes because of their existence. The addition of other perceptions strengthens the unity between the viewer and the viewed. One can forget that her works are just ceramics.
In 1990 he graduated in "Craft and Industrial Design" at the Musashino University of Art in Tokyo, where he then taught for ten years, before specialising at the "Gaetano Ballardini" State Institute of Ceramics in Faenza (1992).
From 1994 to 2009 he presented a number of solo shows in various important galleries in Japan, especially in Tokyo, Mie, Osaka, and at the Sogetsu Art Museum in Tokyo (1999). His activity then developed at an international level, with other personal exhibitions, including: Consulate General of Japan, Milan (2003); Galleria Fogolino, Trento (2006); Zen Art, Milan (2007); Associazione Culturale Arte Giappone, Milan (2007); Naviglio Modern Art, Milan (2007; '08). He has also taken part in numerous group exhibitions, including: "International Ceramic Competition Mino", Gifu, Japan (1998); "International Competition of Contemporary Ceramics", Faenza (1999; 2003); "ASIART", Genoa (1999); "Scultura Gioiello", Lugano and Chiasso (1999); "Abitare il Tempo2, Verona (1999); "Art Works on the Desktop", Tokyo (1999-2001); "La Diversità2, Florence and Lecce (2000); "100 Kleine Werken Van Grote Meesters", Ostenda, Belgium (2000); "Naturalezza Inventada2, Cordoba and Lugo, (2000); LINEART, Brussels (2000); "Bianco e Nero", Monza (2001); "Art Rotterdam" (2001); "Duo Exhibition", Nijmegen, Holland (2001); "New Movements in Craft", Tokyo, Kyoto, Yokohama, Nagoya, Osaka (2002-'04); "Salon de la Céramique d'Art Contemporain", Paris, (2006); "ArtVerona" (2006; '08); Galleria Hausamman, Cortina d'Ampezzo, (2007); Galleria Repetto & Co. , Acqui Terme (2007); Naviglio Modern Art Gallery, Milan (2007; '09).
His works are present in important public and private collections, including: Saitama Prefectural Government Building, Japan; Cosmos Welfare Institution for the Aged, Tokyo; Kawaguchi Institution for the Aged, Saitama; Proud City Umejima, Tokyo; Zushi Ocean Villa Riviera, Kanagawa; Art Blanc Ooimachi Musée, Tokyo; Kotsu Eidan Ito Heart Spa, Shizuoka, Japan; Hotel Nikko Kansai Airport, Osaka; Inax Corporation, Japan; Kyug-Hee University, South Korea; Kutani Ceramics Institute, Ishikawa, Japan; Istituto Statale d'Arte per la Ceramica, Faenza; Museo Internazionale della Ceramica, Faenza; Sogetsu Art Museum, Tokyo; Kampo Health Center, Saitama; Meiji Life Insurance Land Axis Tower, Saitama; Trendmicro Corporation, Taipei.
In 2005, thanks to a scholarship from the Japanese government, he studied marble techniques in Carrara, where he had been living periodically since 1999, collaborating with the SGF and Corsanini Laboratories and where he took part in Torano Notte e Giorno (1999; '03; '06). In 2008 he took part in "Donna Scultura", VI ed., in the Church of S. Agostino in Pietrasanta.
Personali1994Gallery m1995Gallery Isogaya (Tokyo)1996Gallery Tao (Tokyo)Gallery m (Tokyo)1997Inax Gallery Ceramica (Tokyo)1998Gallery Tao (Tokyo)Gallery Meguro (Mie, Japan)1999Sogetsu Art Museum (Tokyo)2001Gallery Jin (Tokyo)2004Plus Minus Gallery (Tokyo)2005Gallery Tao (Tokyo)2006Galleria Fogolino (Trento, Italy)2007Naviglio Modern Art Gallery (Milan, Italy)Art Verona'07 – per Cardazzo Contemporaneo (Verona, Italy)2008Cardazzo Contemporaneo Naviglio Modern Art Gallery (Milan, Italy)Gallery Amano (Osaka)Gallery Tao (Tokyo)2009Shinjuku Takashimaya Art Gallery (Tokyo)2011Gallery Tao (Tokyo)2011Shinjuku Takashimaya Art Gallery (Tokyo)2017sexAltri spazi espositivi2002La Vinaccia (Carrara, Italy)2003The Japanese Consulate General (Milan, Italy)2007Zen Art (Milan, Italy)Associazione Culturale Arte Giappone (Milan, Italy)Collettive1998The 5th International Ceramic Competition '98 Mino (Tajimi City Gymnasium / Gifu)1999The 51st International Contemporary Ceramic Competition (Faenza International Museum of Ceramic / Italy)Scultura Gioiello 1999 (Finter Bank of Zurich / Lugano,Chiasso, Switzerland)"ASIART Asian Contemporary Art" -Biennale d'Arte Contemporanea Nr.1- (Genoa, Italy)"Abitare Il Tempo" (Verona,Italy)"Art Works on the Desktop [VIII] '99-'00" (Contemporary Art Gallery NIKI / Tokyo)2000"La Diversità Colori Locali" (Firenze Expo & Congresso, Ecomuseum Lecce / Italy)"100 Kleine Werken Van Grote Meesters" (Casino Art Gallery / Oostende, Belgium)"Naturaleza Inventada '00-'01" (Cordoba,Lugo,etc, Spain)"Art Works on the Desktop [XI] '00-'01"(Contemporary Art Gallery NIKI / Tokyo)"LINEART Art" Fair (Brussels, Belgium)2001"Bianco e nero" (Fatto ad Arte Gallery / Monza, Italy)"Art Rotterdam" Fair (Rotterdam, Holland)"Duo Exhibition" (De Vierde Dimensie Gallery / Nijmegen, Holland)2002"New Movements in Craft [I] -Respective Forms- '02-'03" (Takashimaya Gallery / Tokyo,Kyoto, Japan)2003"The 53rd International Contemporary Ceramic Competition" (Faenza International Museum of Ceramic / Italy)2004"New Movements in Craft [II] -Respective Forms-" (Takashimaya Gallery / Yokohama, Nagoya, Osaka, Japan)2006"3rd Salon de la céramique d'art contemporaine" (Salle Annexe Mairie / Paris, France)"Art Verona '06" Fair (Verona, Italy)2007Galleria d'Arte Hausammann (Cortina d'Ampezzo, Italy)"Group!" (Naviglio Modern Art Gallery / Milan, Italy)2008"The 6th Donnna Scultura" (Churh of S. Agostino / Pietrasanta, Italy)"Crystal Sweets" (Gallery Satsu / Tokyo)"Art Verona '08" Fair (Verona, Italy)"Gallerism 2008" (Osaka Contemporary Art Center / Osaka)2009"Incoerenza" (Cardazzo Contemporaneo Naviglio Modern Art Gallery / Milan, Italy)"The Power of Decoration - A View point on Contemporary Studio Craft" (Crafts Gallery The National Museum of Modern Art Tokyo / Tokyo)"Artistic Christmas Vol. 3" (Shinjuku Takashimaya Art Gallery / Tokyo)"DOMANI: The Art of Tomorrow 2009" (The National Art Center Tokyo / Tokyo)2010"CARTA al T – prove d'autore" (Cagliari T HOTEL / Cagliari, Italy) (Aquario Civico di Milano / Milano, Italy)"The 11th KAJIMA SCULPTURE COMPETITION" Bronze Award (Kajima KI Building / Tokyo)"Kunstart 10" International Contemporary Art Fair (Bolzano, Italy)"Food design" (Casa Cogollo detta del Palladio / Vicenza, Italy)"2010 Taiwan Ceramics Biennale" (Taipei County Yingge Ceramics Museum / Taipei)"MIYABI" (Accademia di Bell Arti di Carrara / Carrara, Italy) (Museo Crocetti / Roma, Italy)
Public and Private Collections
Kotsu Eidan Ito Hearth Spa "SANTENYA Ito" (Shizuoka, Japan)
Hotel Nikko Kansai Airport (Osaka, Japan)
INAX Corporation (Japan)
Kyug-Hee University (Korea)
Kutani Ceramics Institute (Ishikawa, Japan)
Faenza National Ceramic Arts Institute (Faenza, Italy)
Faenza International Museum of Ceramic (Faenza, Italy)
Sogetsu Art Museum (Tokyo)
Museum of Model (Pietrasanta, Italy)
Saitama Prefectural Government Building (Saitama, Japan)
Kampo Health Center "RAFRE Saitama" (Saitama, Japan)
Cosmos Welfare Institution for the Aged (Tokyo)
Meiji Life Insurance Land Axis Tower (Saitama, Japan)
Kawaguchi Institution for the Aged (Saitama, Japan)
"PROUD CITY Umejima" (Tokyo)
"Zushi Ocean Villa RIVIERA" (Kanagawa, Japan)
"ART BLANC Ooimachi Musée" (Tokyo)
Trendmicro Corporation (Taipei)
NIKI RESORT Inc. (Tokyo)
"PROUD CITY Shinurayasu" (Chiba)
DAYS Inc. Showroom (Tokyo)
"VENASIS Kanamachi" (Tokyo)
City hall of Tachikawa (Tokyo)
Soushi Gakuen High School (Okayama)
Taipei County Yingge Ceramics Museum (Taipei)
Ark Hills Front Tower (Tokyo)
7th INTERNATIONAL ART FAIR
BOLZANO
From 05/03/2010 to 07/03/2010
More Info