Works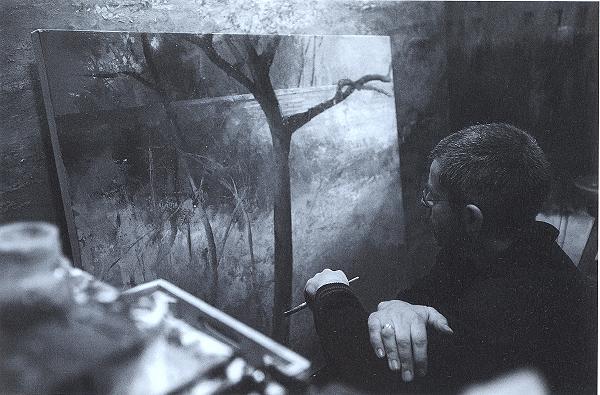 Matteo Massagrande exhibited at Galleria Gagliardi from 2008 to 2011.
"His paintings have especialy intimacy, where light and colour play predominant, almost exclusive roles. P.R. " Massagrande's vision is completely interiorized sensitivity, the stimulation of a prehensile memory moved to accentuate the light that radiates from things and that constitutes the texture of matter, of nature, of flesh,of the setting, like a syncopated and expanded resonation of energy, passion and engagement. A substantial "nostalgia" of forms, places, colours, odours, atmospheres, cuts of light, impressions, and emotions permeates an executive tension maintained by great skill and mastery, and carries forward a desire and a need to create something, not by way of representation, the pure and simple recomposition of thr image of reality, but as something felt anew, an inner resonance that stimulates and sharpens our sensory memory. It is a sort of singular imprinting that reestablishes the relationship withthe real, against the instability of overhasty vision that slips over things, and against the indeterminacy and inadequacy of prepackaged mass-culture images in the press and on television. Every object assumesy particular meaning in the fluid context of his personal experience of life, comprising tactile memories, technical suggestions, olfactory references, aesthetic tastes, and the accumulation of memories of presences, gestures, words and sounds. But this does not mean that Massagrande aims for the restitution of the object in and of itself, as an archaeological relic of his own history, and thus seeks to make it theexclusive subject of the tale and of a practice of painting that is simply the yardstick and reaffirmation of rediscovered time against the nostalgia for lost time. G.S.
Mostra personale Galleria Gagliardi, Atmosfere sospese, 2009
The reigning atmosphere in Massagrande's paintings owns a charming strength: seducing us, it nullifies the real world and encourages us to go through empty corridors with scraped walls, to open old doors to discover abandoned rooms made dusty, silent and desolated by time and sloppiness.
Muffled and quiet surroundings, in which light filters by half-closed curtains, where tables with rests of frugal meals have been just left by the fellow diners.
In these places time is suspended.
But we are expected to see new tenants coming in; they will bring new life to the house, the bare trees on which windows overlook, will soon fill with tender and green leaves, table will be set again with bread, eggs, fruits, rooms will be refilled with the guests' buzzing.
This is the magic of Massagrande's art works.
Corridors, rooms, tables, solitary beaches, are memory's places. They are situations, settings that are part of an experience belonging to each one of us.
These works have the strength and the power to refer to memories of places, atmospheres, lights of a particular day hour; remembrances recalling frames of other lived instants.
The paintings of Massagrande are not look at, they have to be lived, listened, smelt.
Isabella Del Guerra, 2009
Biography:
Matteo Massagrande Matteo Massagrande was born in 1959 in Padua, where he lives with his wife and son, and where he works as a painter and engraver, dividing his time between his studio in Padua and the one in Hajòs (Hungary). His frequent travels in Europe and throughout the world have given rise and continue to give rise to pictorial cycles and large compositions, which since 1973 (with his first exhibition in Treviso) have given rise to over a hundred personal exhibitions in Italy and abroad, as well as group exhibitions and competitions. His works can be found in numerous museums, churches, public and private collections. Before coming to the Museo al Santo in Padua with this important solo exhibition after twelve years of absence from the city, Massagrande won many prizes and awards, including the Premio Internazionale Città di Pordenone 1980, the Premio Rizzoli for graphics 1982, the Premio Burano for painting 1986, the Premio Under 35 at the Third Biennale d'Arte Sacra in Venice 1987. His personal exhibitions in public venues include, in 1992, one at the Ghirardi Foundation at Villa Contarini in Piazzola sul Brenta (catalogue edited by Giorgio Segato); in 1995 at Palazzo Crepadona in Belluno with Opere 1974-1994 (catalogue edited by Paolo Rizzi) and in 1996 at Palazzo Sarcinelli in Conegliano with Opere 1986-1996 (catalogue edited by Marco Goldin). In 1995, the Museo Civico in Padua dedicated an anthological exhibition to him in the Oratory of San Rocco, Incisioni 1974-1994, (catalogue edited by Giorgio Segato). In 1997 at Casa dei Carraresi, Treviso, Opere su carta, (catalogue edited by Marco Goldin). In 1997 he exhibited at the Civiche Gallerie di Arte Moderna e Contemporanea in Ferrara (catalogue edited by Franceso Loperfido). In 1998 he returned to Casa dei Carraresi, Treviso with Incisioni 1974-1998 (catalogue with texts by Enzo Siciliano, edited by Marco Goldin) and in 1999 to the Museo delle Mura in Borgotaro (Pr). Parallel to his painting, he has developed his graphic activity, which began in 1974 and has recently brought some of his engravings into the Prints Cabinet of the Uffizi in Florence. As a graphic artist, he has taken part in numerous prestigious group exhibitions: in 1984 at the Graphic Collection of the Fondazione Bevilacqua La Masa, Venice; in 1998 at Engravers from Treviso in the Twentieth Century at Palazzo Sarcinelli, Conegliano; in 1992 at the Prints Cabinet of the Academy of Science and Art in Zagreb, in 1993 at the First Biennial Exhibition of Romeo Musa Engravings and at the Repertory of Italian Engravers at the Cabinet of Ancient and Modern Prints, Bagnacavallo (Ra). His activity as an illustrator: in 1989 he illustrated the book Passato prossimo, published by the Rotary Club International; in 1991 the collection Ne Tisini with poems by Giorgio Segato, published by Biscupic, Zagreb; in 1993 the short story Cercando Sisol by Ermanno Olmi; in 1998 Fulvio Tomizza's short story Le stelle di Natale. Rejecting all the "isms" and fashions of the time, Matteo Massagrande likes to define himself as faithful to a personal, noble pictorial vision. His language is a cultured synthesis of great history and the most modern figurative research. The most significant encounters Along his thirty-year journey as an artist, he has met some of the leading figures in the art and culture of our time, from some of whom he has drawn useful lessons. They are writers such as Alberto Moravia, Giorgio Saviane, Giuseppe Berto and Fulvio Tomizza; directors such as Ermanno Olmi and Giulio Bosetti; actors such as Marcello Mastroianni; poets such as Paolo Ruffilli and Mario Stefani; the tenor and painter Mario del Monaco; the screenwriter Rodolfo Sonego. And of course many artists, including: Giorgio de Chirico, Virgilio Guidi, Tono Zancanaro, Riccardo Licata, Augusto Murer, Nino Springolo, Orfeo Tamburi, Gina Roma, Giovanni Barbisan, Guido Cadorin, Luigi Tito, Giuseppe Marchiori, Guido Perocco, Bruno Saetti and Carlo Ludovico Ragghianti; engravers Lino Bianchi Bariviera and Valeria Vecchia. ARTIST'S CHRONOLOGY 1973 He began to exhibit in a collective exhibition of local painters in Treviso. He met Nino Springolo, Gina Roma and the tenor and painter Mario del Monaco with whom he often discussed painting techniques. 1974 First meeting with Giovanni Barbisan from whom he learnt the techniques of engraving and with whom he established a deep friendship destined to last over the years. 1975 In Venice, he meets the painter Luigi Tito who invites him to the Free School of Nude at the Art Institute: a fundamental meeting that transmits to him the importance of matter in painting. 1976 He met Guido Cadorin who, seeing his first works, decided from the very first meeting to teach him. The first lesson was a test of humility towards art: the master taught him how to sharpen a pencil. Subsequent meetings dealt with the more sophisticated techniques of 15th-century egg tempera, which are still part of Massagrande's technical heritage. In 1976 he participated for the first time in the historic Burano Painting Prize, where he met Giuseppe Marchiori, Guido Perocco and Carlo Ludovico Ragghianti. 1977 He met Giorgio de Chirico who defined him as a 'painter's face'. He gets a promise from Massagrande to always remain faithful to great painting and encourages him to continue developing great painting techniques. 1978 Attends Virgilio Guidi, Tono Zancanaro, Augusto Murer, Alberto Moravia, Giuseppe Berto, Paolo Ruffilli, Mario Stefani, Bruno Saetti. 1979 Frequent study trips to Paris. 1980 In Rome he met Lino Bianchi Bariviera and Valeria Vecchia, from whom he learned many engraving techniques and the expressive freedom of the graphic sign. He was awarded the City of Pordenone International Prize. 1981 He met Ermanno Olmi who led him to reflect on the importance of sobriety in artistic expression. 1982 He definitively abandons restoration work, to which he has dedicated himself since 1977. He receives the Rizzoli Prize for graphics. 1983 Becomes friends with Rodolfo Sonego. 1984 He met Riccardo Licata. 1985 In Paris he meets Orfeo Tamburi from whom he learns to love the vision of cities, without falling into repetitiveness. He meets the publisher Franca May and Valerio Adami. 1986 Created a large cycle of frescoes and paintings in a historic building in the heart of London. Awarded the prestigious Burano Painting Prize. 1987 Undertook several study trips to New York and Washington, Belgium, Holland and Germany. Awarded the Under 35 Prize at the Third Biennale of Sacred Art in Venice. 1989 He had the opportunity to climb onto the jetties of the Sistine Chapel during the restoration of the vault frescoes. Illustrates the book Passato prossimo, published by the Rotary Club International. 1990 Visits the historic Velázquez exhibition at the Prado in Madrid and resumes his studies of the subject. 1991 Created an altarpiece for the church of Consandolo (Fe). He illustrates the collection Ne Tisini with poems by Giorgio Segato, published by Biscupic, Zagreb. 1993 Married Angela. She illustrated the short story Cercando Sisol by Ermanno Olmi. 1994 Publication of a monograph that symbolically closes the period of his youthful painting. He began to attend Hajòsi Alkotòtàbor, the International Art Campus of Hajòs (Hungary) where, in addition to painting together with established artists from Eastern Europe, he taught young students from various Art Academies. 1995 He began to collaborate with the Teatro Stabile del Veneto, directed by Giulio Bosetti, for which he created the paintings for the posters promoting theatrical performances. Among these, Massagrande's favourite is Le ultime lune (The Last Moons) with Marcello Mastroianni, an artist with whom he has been linked by friendship since 1982. 1996 Restoration work began on his studio in Hungary. 1997 He creates the altarpiece for the high altar of the church of S. Ignazio di Loyola in Padua. 1998 Completes the restoration of the Hungarian studio. He illustrates Fulvio Tomizza's story Le stelle di Natale (Christmas stars). 1999 Birth of his son, Zaccaria Rodrigo. 2001 He creates an altarpiece for the church of San Bartolomeo in Mestrino. 2002 He began to develop new techniques, conducting in-depth studies of matter and light, unmistakable characteristics of his painting.