Works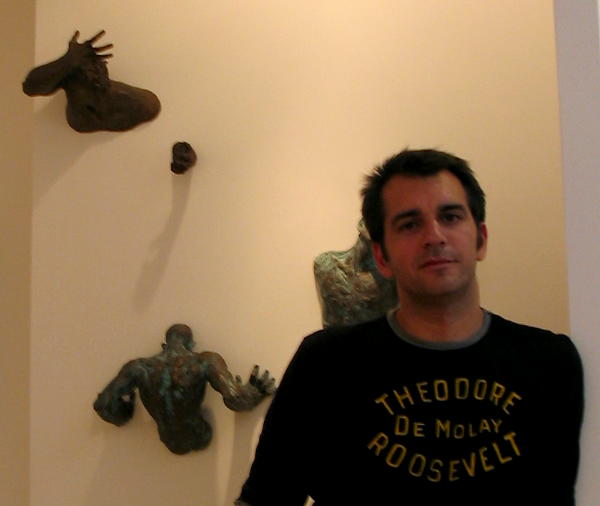 Matteo Pugliese exhibited at Galleria Gagliardiin Galleria Gagliardi from 2003 to 2009.
Still before knowing Matteo Pugliese in meat and bones,I have known him in one of his clay forms, while he was pushing out of an algid white wall, lacerating himself the muscles, shouting a painful silence with wide open eyes up to break themselves. I have observed him for a long time, from every angling, under every light, as hypnotized in front of that materialized cry - principle of escape, utopia of salvation - that only a well trained conscience to the blindness would have been able to ignore not to recognize as its same reflex.I would like that you succeeded in devoting a hour of your time to this offer of a new experience, that you stripped you of every role, mask, self-defence, that you dipped you in this microcosm of white walls from which now sprout a face, now a face and an arm, and then a leg, and then a whole body, that twists him to free himself from some flat innocence, to be born to the senses. There is no peace, satisfaction there is no calm; the goal is the movement, the destination, the escape.Every new reached condition, ends up anesthetizing the senses and these "damned of the perpetual motion" they have as misssion the endless search of the Truth, aware that the Truth with it "V" capital it doesn't exist, we can convince only us that it is that "comfortable armchair" on which to let us survive when we become too much tired to continue in the search, too disenchanted for keeping on cultivating a hope, too much old men to go Over. Antonella Baldoni
Matteo Pugliese was born in Milan in 1969.
In 1978 his family moved to Sardinia where Matteo lived for the next 12 years.
During this time he developed a strong love for drawing and sculpture and continued his art work without any formal education. After finishing his secondary school studies in classics in Cagliari, he returned toMilan to attend university.
In 1995 he was awarded his degree in Modern literature at the University of Milan with a graduation thesis on Art criticism.
Encouraged by friends, in 2001 he organised and financed his first solo exhibition renting private exhibition space in the centre of Milan. Only 18 months later he held his first "official" exhibition in a gallery in Brera, Milan, and after a few months he held a solo show in Brussels.
Today his works are on permanent display in galleries in Italy and major cities throughout the world: New York, Rome, Hong Kong, London, Antwerp, Lugano and have been shown at some of the most important Italian and international art fairs such as the Hong Kong Art Fair (Hong Kong), ArtFirst (Bologna), Arco (Madrid), and Fiac (Paris).
In recent years his pieces have been sold with considerable success at some of the world's most prestigious fine art auction houses (Christie's, Sotheby's, Bonham's, and Dorotheum).
2021
Naturalia Collective Exhibition Al Blu di Prussia Napoli, Italy
2019
Leonardo Da Vinci - Art & Science – Then & Now - Collective Exhibition City University Exhibition Gallery
Lau Ming Wai Academic Building, City University of Hong Kong, Kowloon Hong Kong
Seven Dimensions Solo Exhibition Kwai Fung Hin Art Gallery Exchange Building, Hong Kong
Nelle tue mani Solo Exhibition Imago Art Gallery Lugano Switzerland
The Guardians Solo Exhibition Boise Art Museum, Boise, Idaho, Julia Davis Park. USA
2018
The Guardians Solo Exhibition Massey Klein Gallery New York, NY USA
Matteo Pugliese Sculptures Solo Exhibition M Contemporary Gangnam-gu, Seoul, South Korea
White Collective Exhibition Imago Art Gallery Lugano, Switzerland
The Wall Collective Exhibition Palazzo Belloni Bologna Italy
2017
Vortici Solo Exhibition Villa Fiorentino Sorrento Italy
Spiriti Ostinati Solo Exhibition Milano Malpensa Airport (Terminal 1: Arrivals) «La porta di Milano»-Italy
In collsborsxionr/In collaboration con/with Imago Art Gallery and SEA spa
Spiriti Ostinati Solo Exhibition Imago Art Gallery Lugano, Switzerland
2016
The Secret Solo Exhibition WM GALLERY I Antwerpen, Belgio
Spiriti Ostinati Solo Exhibition FONDAZIONE LA VERSILIANA, MARINA DI PIETRASANTA, ITALY
Organized by Imago Art Gallery Lugano Switzerland
Extra Moenia Solo Exhibition ROBILANT VOENA GALLERY, Saint Moritz, Switzerland
2015
Breath of Freedom Solo Exhibition BERTRAND DELACROIX GALLERY, New York USA
Delphine Boël, Octave Landuyt, Matteo Pugliese Collective Exhibition WM GALLERY, Antwerp, Belgium

2014
Gravitas- Barbara Nati, Matteo Pugliese mostra collettiva CASA D'ARTE ARTRIBÙ, Roma
Serenissima Babel Solo Exhibition CAFFÈ FLORIAN, piazza San Marco, Venezia, Italy
2013
Passaggi Solo Exhibition IMAGO ART GALLERY, Lugano, Switzerland
Corazze Solo Exhibition FONDAZIONE MUDIMA, Milano Italy
Presentazione della scultura in bronzo "Custode Samurai V" presso il MAS-Museum aan de Stroom Anversa Belgio
MUSEUM ON THE RIVER, Antwerp, Belgium Solo Exhibition
2012
MATTEO PUGLIESE: SCULPTURES Solo Exhibition WO-MEN IN FINE ART, Antwerp Belgium
The summer of the Beetle Solo Exhibition GALERIE NOORDEINDE, The Hague, Holland
Matteo Pugliese-CORAZZE Solo Exhibition CASA D'ARTE ARTRIBÙ (CATALOGUE), Roma, Italy
2011
I Guardiani del Tempo Solo Exhibition IMAGO ART GALLERY, Lugano, Switzerland
Matteo Pugliese: Out of the Wall Solo Exhibition SCULPTURE GALLERY, Brussels, Belgium
Matteo Pugliese – From the wall and further tales Solo Exhibition KWAI FUNG HIN ART GALLERY, Hong Kong.
2010
La profondità nel segno: Demetz, Galliani, Pugliese Collective Exhibition CASA D'ARTE ARTRIBÙ, Roma
HEROES: Matteo Pugliese Solo Exhibition GALERIE NOORDEINDE, The Hague, Holland
Sublimazioni, Demetz, Ottieni, Pugliese collective Exhibition CASA D'ARTE ARTRIBÙ, Roma, Italy
2009
Through Light and Space: Giorgio Morandi & Matteo Pugliese Collective Exhibition IMAGO ART GALLERY, London, UK
Matteo Pugliese e Walter Trecchi Collective Exhibition GALERIE NOORDEINDE, The Hague, Holland
2008
Matteo Pugliese, Sculptures Solo Exhibition FILIP KESTELOOT SCULPTURE GALLERY, , Brussels , Belgium
2007
Matteo Pugliese & Martin Palottini Collective Exhibition GALERIE NOORDEINDE, The Hague, Holland
Extra Moenia Solo Exhibition TEATRO LIRICO DI CAGLIARI, , Cagliari, Italy
2006
Contraria-mente Solo Exhibition GALLERIA GAGLIARDI San Gimiganno, San Gimignano (Siena), Italy
Matteo Pugliese Solo Exhibition GALLERIA PITTURA ITALIANA, , Milano, Italy
De Ontsnapping: M.Pugliese, A. Smirnof, Sokia, Collective Exhibition GALERIE NOORDEINDE, , The Hague, Holland
Matteo Pugliese- Sculptures Solo Exhibition PALAZZO COMUNALE DI SAN LORENZO AL MARE, (IM), Italy
2005
Extra Moenia Solo Exhibition GALLERIA GAGLIARDI San Gimignano, Taormina (Messina), Italy
Matteo Pugliese & M.M. Gautier Collective Exhibition FILIP KESTELOOT «SCULPTURE GALLERY» , Brussels , Belgium
2004
Freedom Solo Exhibition GALLERIA GAGLIARDI San Gimignano, San Gimignano (Siena), Italy
Flight from the wall Solo Exhibition FILIP KESTELOOT SCULPTURE GALLERY, Brussels, Belgium (catalogue)
2003Matteo Pugliese, sculture: 1998-2003 Solo Exhibition GALLERIA «IL CASTELLO», Milano, Italy (catalogue)
2002
Matteo Pugliese- Sculptures Solo Exhibition OREA MALIÀ, Milano, Italy (catalogue)
2001
Extra Moenia, Matteo Pugliese Solo Exhibition MCCANN-ERICKSON, Milano, Italy
CONTRARIA-MENTE
San Gimignano
From 16/09/2006 to 08/10/2006
More Info
PROMETEO SFIDA ANCORA GLI DEI
SAN LORENZO A MARE
From 07/08/2005 to 28/08/2005
More Info
OLTRE OGNI LIMITE
Taormina
From 04/06/2005 to 24/06/2005
More Info
FREEDOM
San Gimignano
From 21/02/2004 to 14/03/2004
More Info