Works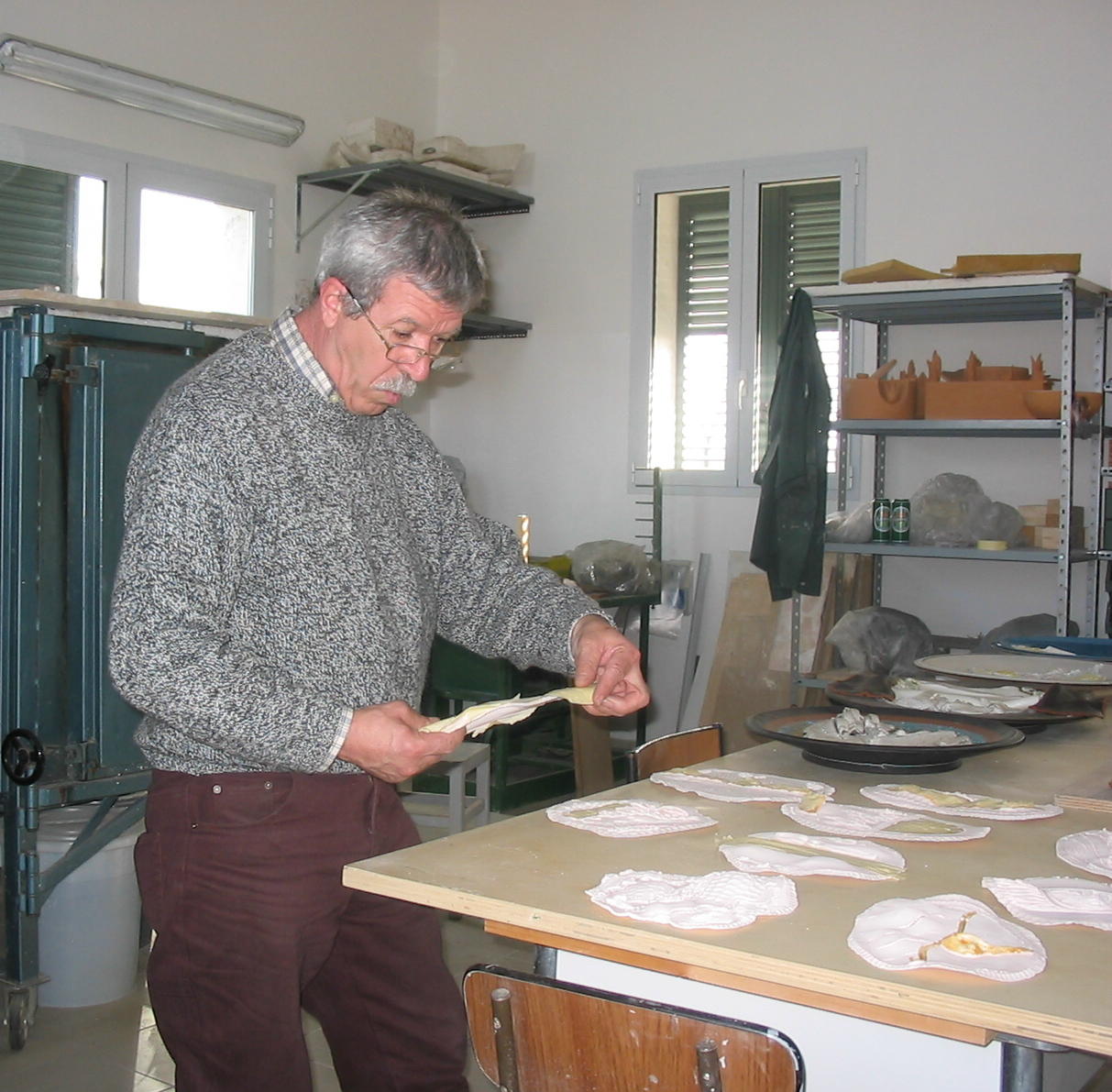 Mauro Tampieri was born in 1945.
He graduated from the "G. Ballardini" State Institute of Ceramics in 1963. His teachers included Angelo Biancini and Carlo Zauli, with whom he later became a valuable collaborator.
Tampieri's experience was consolidated by meeting and comparing himself with masters such as Angelo Biancini and Carlo Zauli and with other ceramists from Faenza, with whom he took part in numerous collective exhibitions in the 1970s and 1980s.
From 1963 to 1967 he worked as an apprentice at Carlo Zauli's studio where he returned occasionally as a collaborator from 1973 onwards.
From 1967 to 1973 he taught moulding and forging at the "Domenico Colao" Art Institute in Vibo Valentia and from 1973 he occupied the chair of moulding and forging at the "G. Ballardini" Art Institute for Ceramics in Faenza, where he taught until 1993.
In 1976 he was awarded a Gold Medal at the XXXIV International Ceramics Competition in Faenza.
In the same year, together with Emidio Galassi, he opened a ceramics workshop focused on the production of sculptures and small series of artistic and decorative items.
In 1979 he won the 3rd prize at the National Competition in Reggio Calabria.
In 1982 he was appointed a member of the International Academy of Ceramics in Geneva and in the same year he won the Targa d'Oro at the 22nd International Competition in Gualdo Tadino, the Titograd Prize at the first World Triennial of Small Ceramics in Zagreb and the 3rd prize at the National Competition of Ceramics in Savona.
In 1984 he took part in the "Laboratorio Giocare con l'Arte" at the International Ceramics Museum in Faenza.
In 1986, after breaking his partnership with Emidio Galassi, he opened his own workshop in Faenza: the "Studio d'Arte Ceramica Tampieri".
In the same year he presented a small stoneware sculpture entitled Deformazioni materiche at the Raccolta Internazionale di Ceramica d'Arte Contemporanea in Castelli, in the province of Teramo.
In 1995 he was invited by Professor Gian Carlo Bojani to take part in the exhibition "Virtualità del vaso" (Virtuality of the vase) in Vitorchiano and presented some of his works at the Macef in Milan.
His works can be found at the International Ceramics Museum in Faenza, at the Galleria d'Arte Contemporanea in Arezzo and at the International Collection of Contemporary Ceramics in Castelli.
His talent has often been recognised at prestigious art exhibitions in Italy and abroad. His works are exhibited at the International Museum of Ceramics in Faenza, at the Contemporary Art Gallery in Arezzo, at the Municipal Centre of Industry and Culture in Tokyo and in many other international venues.
Further recognition for his work will be granted by the Società di Mutuo Soccorso "I Fiori", which has awarded him the Leon d'Oro Prize, the most important and oldest prize in the city of Faenza; the award ceremony will be held in September 2011.
Aldo Savini writes of Mauro Tampieri's work: "...Tampieri's almost virtuosic skill in mastering a technical manual knowledge that requires methodological awareness, rigour and, above all, an exercise that nourishes the historical legacy of Faenza's ceramic culture. But in order to survive, the legacies of history must be brought up to date and for the artist there is a need for empirical research, experimentation, not reckless or transgressive but, as Tampieri understands it, always simply innovative".