Works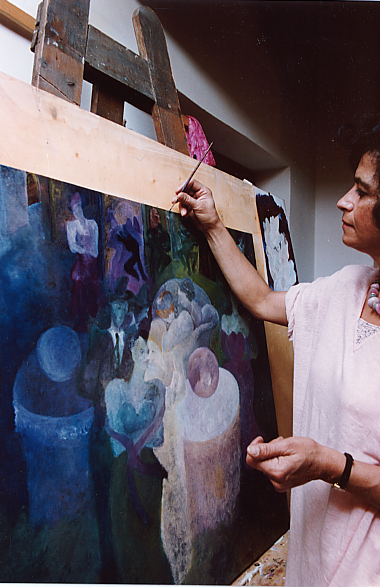 Ornella Baratti Bon exhibited at Galleria Gagliardi from 2000 to 2004.
Ornella Baratti Bon's art has undeniably Central European implications. Her most recent works are almost without exception domestic scenes set in interiors, and tend increasingly to narrate through figures. Critics have already remarked in the past on this air of "daily life narrative", pervading the discourse that Baratti Bon has been engaged in since the sixties, and have pointed to a constant progressing "from the intimate to the fantastic" as the main feature of her figuration. At first sight, in fact, this seems indeed to be the dominant register in her painting. And yet, if one takes a closer and deeper look, one cannot fail to see that the source of her narrative is not after all a world of fantasy. Her art can rather be described as emblematic of the very nature of daily life, as exeplifying the "absurd" lurking in it, the "shadows" that pervade it. All in all, if considered chronologically and in their enirety, Ornella Baratti's paintings may be said to form the chapters of a long narration about life. Marco Fagioli
Le mostre-concerto itineranti hanno spesso accompagnato la presentazione di libri e dischi da lei stessa illustrati, come quello intitolato "Nuova Coralità" del 1976.
Ha inoltre collaborato con il poeta feltrino Gian Citton che ha presentato sue mostre e per il quale ha prodotto opere pittoriche e grafiche ad accompagnare pubblicazioni di liriche. Nel 1980 è tornata nella natia Firenze dove ha cominciato a frequentare il gruppo del Conventino, così chiamato dal luogo nel quale il gruppo teneva studi aperti, un ampio complesso conventuale che da molti anni ospita artisti, tanto da essersi trasformato in una sorta di istituzione, ed ove tutt'oggi la pittrice lavora. In Toscana la sua attività espositiva è proseguita nel capoluogo, ma anche a Sesto Fiorentino, Prato, Pistoia e Pienza. Per una decina d'anni i suoi lavori sono stati esposti in permanenza in una galleria di San Gimignano. Ornella Baratti Bon ha partecipato a mostre in varie città europee: tra queste al Grand Palais di Parigi, alla D'Haudrecy Art Gallery a Knokke-Zoute in Belgio e al castello di Mönchengladbach in Germania. Tra le sue attività più recenti si ricordano nel 2007 la presenza alla fiera biennale "Classica" a Kortrijk in Belgio, l'esposizione alla Galleria Stranger a Tokyo e a Campden in Inghilterra. Nel 2008 c'è stata una nuova mostra alla Galleria D'Haudrecy in Belgio e l'invito alla manifestazione dedicata all'Italia ad Amerongen in Olanda. Nel 2009 una ventina di quadri dell'artista sono stati esposti in vari luoghi dell'Olanda in mostre itineranti.
All'attività di pittrice Ornella Baratti Bon unisce quella di incisore e di scultore di sigilli.
Suoi quadri sono stati utilizzati per lanci pubblicitari come manifesti, per agende, per calendari, in riproduzioni numerate e firmate come oggetto di regalo, per riviste musicali e letterarie; ha realizzato un mural per il Comune di Lizzano Pistoiese, ed è spesso invitata presso gli studi artistici e letterari ad esporre la propria poetica. Le sono stati dedicati articoli su quotidiani locali e riviste. Sue opere figurano in collezioni private di tutto il mondo.

La poetica di Ornella Baratti Bon è riassunta dalle sue stesse parole: "Se dipingo è perché non amo il vuoto, come chi scolpisce non ama il soverchio. Potrei parlare anziché dipingere e così riempire il vuoto con le parole. Invece lo riempio di segno e colore perché questa è la mia lingua: vorrei che mi leggeste nella stessa lingua". L'artista predilige le scene di vita in interno: stanze fantastiche, costruite con una prospettiva onirica, circhi, "sipari di teatrini sghembi, nei quali si muovono e dai quali si staccano figurette immerse in una vita apparentemente quotidiana, e invece stralunata, che sembra trasformare un "piccolo mondo" gozzaniano nella camera metamorfica di Kafka" (Lara-Vinca Masini). È stato osservato che i suoi riferimenti culturali sono mitteleuropei e letterari (da Franz Kafka, appunto, a Berthold Brecht), ma la critica ha richiamato anche certa pittura espressionista italiana, da Lorenzo Viani a Scipione, e ancora Marc Chagall, Alfred Kubin, George Grosz e Francis Bacon, quest'ultimo "per quanto riguarda l'intensità e l'accensione allucinata di certi colori, tra loro stridenti ed esplosivi" (Lara-Vinca Masini). Le composizioni della Baratti Bon sono passate dai "toni chiari, quasi vaporosi, con uso esteso della biacca" a una gamma cromatica tendente al nero, al bitume, alla terra d'ombra, coniugata in spazi sempre più ossessivamente scanditi" (Marco Fagioli) come nell'opera conservata nella collezione Rizzarda, restando comunque il colore "strumento di lettura psicologica". Su di lei hanno scritto: Alberto Caramella, Gian Citton, Marco Fagioli, Lara-Vinca Masini, Francesco Guerrieri, Mario Morales, Franca Nesi, Ernestina Pellegrini e Lucilla Saccà.
2003
Torino - Galleria Arteincornice on-line - Artias: acquerelli
Ancona e Falconara - Aeroporto Internazionale Raffaello Sanzio - Omaggio ad Artias
Numana - Parco del Conero-Sirolo - Omaggio ad Artias
Sirolo - Parco del Conero-Sirolo - Artias: «la Morte di Sardanapalo»
2002
Urbino - Palazzo Ducale, Sale del Castellare - Tentazioni visionarie: dipinti ed opere su carta
Urbania - Palazzo Ducale, Museo Civico - Tentazioni visionarie: ceramiche
Giulianova - Museo dello Splendore - La morte di Sardanapalo
Castelli - Museo della Ceramica
Deruta - Museo Regionale della Ceramica - Artias, Pignon
Padova - ArtePadova: Fiera d'Arte Moderna e Contemporanea
Torino - Galleria Arteincornice
Fermo - Centro d'arte contemporanea Raffaello Sanzio - Artias e la nouvelle École de Paris
2000
Numana - Chiesa San Giovanni Battista – Veneziani, Passanti
Pechino (Cina) - China National Museum of Fine Arts - Artias, Guevara
Finale Ligure - Oratorio dei Disciplinanti
1999
Orvieto - Palazzo dei Sette
1998
Versailles (Francia) - Galerie Cadre Noir
Thonon-les-Bains (Francia) - Maison des Arts - Malgré tout… la peinture
Sassoferrato - Museo Civico e Pinacoteca Comunale
1997
PHILIPPE ARTIAS "OPERE '65 - '96" testo di Isabella Del Guerra
San Gimignano - Galleria Gagliardi
Parigi - Galerie Grondin Thibault
1996
Aosta - Centro Saint Benin Montecosaro e Galleria Il Picchio
1995
Thonon-les-Bains (Francia) - Maison des Art Thonon-Evian
Thonon-les-Bains (Francia) - Galerie Patrice Alexis
Lione (Francia) - Auditorium - Un itinèraire 1960-1995
Corbas (Francia) - Centre Culturel Le Polaris
San Gimignano - Galleria Gagliardi
Vitorchiano - Chiostro San Agnese e D'A Gallery
1994
Recanati - Galleria La Meridiana
1993
Recanati - Galleria La Meridiana
1992
Bologna - Galleria Morgana - Segno e colore. Impeto e nuove forme
Fermo - Palazzo dei Priori - Antologica
1991
Ferrara - Palazzo dei Diamanti - Antologica
1990
Parigi (Francia) - Carré des Arts du Parc Floral - Artias: le peintre qui n'en croit pas ses yeux
Recanati (Italia) - Galleria La Meridiana
1989
Ginevra (Svizzera) - Galerie La Corraterie - Artias nude
1988
Versailles (Francia) - Galerie Cadre Noir
Ginevra (Svizzera) - Galerie La Corraterie
Beverly Hills (USA) - Ana Izax Contemporary & Fine Art, under the auspices of the Consul general of France
1987
Ginevra (Svizzera) - Galerie La Corraterie
Macerata (Italia) - Galleria Apogeo
1986
Macerata (Italia) - Galleria Apogeo
1985
Pescara (Italia) - Galleria Italarte
Numana (Italia) - Fattoria Le terrazze
Città del Messico (Stati Uniti Messicani) - International Cultural Center
1983
Milano - Galleria Toninelli
1982
Tolentino - Chiostro della Basilica di San Nicola
Pescara - Galleria Italarte
Roma - Galleria Virdis Diffusion
Cagliari - Galleria Virdis Diffusion
Ginevra (Svizzera) - Musée du Petit Palais
1981
San Marino (Repubblica di San Marino) - XIX° Edizione della Manifestazione d'Arte, Castello di Serravalle - Philippe Artias
Torino - Galleria Gissi - Dipinti, acquerelli
Lido di Spina - Museo alternativo di Remo Brindisi
Ginevra (Svizzera) - Musée du Petit Palais
Lione (Francia) - Galerie Verriére
1980
Lione (Francia) - Galerie Verriére
Macerata - Galleria Ambiente
Nantes (Francia) - Galerie Convergences
Roma - Galleria Toninelli - Tre grandi opere su Roma 1
1979
Saint-Paul-de-Vence (Francia) - Musée Municipal - Philippe Artias S.V.
Monterotondo - Studio d'Arte il Grillo - Itinerario italiano
Parigi - Musée de Grand Palais FIAC
Roma/Milano - Galleria Toninelli
1978
Torino - Galleria Gissi
Modena - Galleria Mutina
Milano - Centro Culturale Francese
Ancona - Galleria Il Centro
Montegranaro - Galleria d'arte 3C
1977
Auvernier (Svizzera) - Galerie Numaga - Dessin
Lecco - Galleria Visconti
Alessandria - Galleria La Maggiolina
Torino - Galleria Gissi - Dipinti, acquerelli, disegni
1976
Parigi (Francia) - Galerie Saint-Germain - Artias 1975
Parigi (Francia) - Galerie Saint-Germain
1974
Auvernier (Svizzera) - Galerie Numaga
Lione (Francia) - Galerie Verrière - Peinture récentes-papiers découpés
Parigi (Francia) - Galerie L
Parigi (Francia) - Galerie Le Soleil dans le Tête
1973
Parigi (Francia) - Galerie Verrière
Lione (Francia) - Galerie Verrière
1972
Parigi (Francia) - Galerie Iris Clair
1970
Ginevra (Svizzera) - Musée du Petit Palais
1968
Lione (Francia) - Galerie Verrière - Peinture recente
1965
Saint-Étienne (Francia) - Galerie Chiméne
Lione (Francia) - Galerie l'Art e la Vie - Aquarelles et gouaches
1961
Neuchâtel (Svizzera) - Galerie Numaga
1959
Lione (Francia) - Galerie l'Art e la Vie
La Chaux-de-Fonds (Svizzera) - Galerie Numaga
Stoccolma (Svezia) - Artkarium Gallery
Parigi (Francia) - Galerie Synthèse
1958
Saint Jeoire en Faucigny (Francia) – L'Art au Village
1956
Clermont-Ferrand (Francia) - Galerie A
Saint Jeoire en Faucigny (Francia) - L'Art au Village
1952
Cannes (Francia) Galerie de la Croisette