Works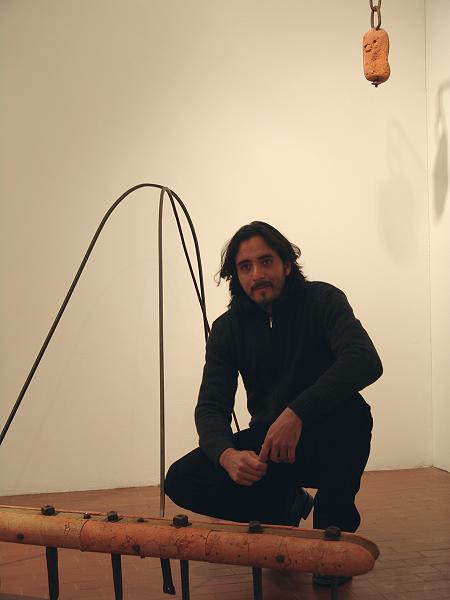 Oscar Dominguez exhibited at Galleria Gagliardi from 2006 to 2007.
The Fire: the best sculptor's ally; the element that transforms, melts, paints, and gives back malleable forms, like clay and even the hardest metals. In effect, the artist is capable to stretch out the exquisite "traps" into this primordial element, in order to capture every touch of the colour of the poorest matters, like clay and metal, where they conceal themselves in memories of the mythical meteorites falling from the sky then rekindled in the forges of Vulcano. Dominguezis accostumed to "force" the land with excess heat, until making it implode and compel all of the chromatic exuberance, tactile and material, hidden in its pores. "". Josune Ruitz de Infante
Oscar Dominguez was born in Tucuman, Argentina, in 1970. After his academic training he moved in 1999 to Faenza (Ra), where he lives and works. His sculptures are enriched by the light and warmth of the earth; they are poor in materials but can release strength and energy, passion and vigour. Each work recounts a journey, a search into the history of myth, to come to tell of man, nature and life in an absolutely timeless space.
His main exhibitions and participations include: International Biennial of Cairo, Egypt (first prize), 2000; International Biennial of Cairo, Egypt (guest), 2002; Rojo Tierra, one-man show at Circolo degli Artisti, Faenza, 2003; Memoria del fuego, curated by J. Ruiz de Infante, Bagnacavallo, 2004; Donde pasa el rio, one-man show in Palazzuolo sul Senio, 2005; various one-man shows, in Tuscany, curated by Galleria Gagliardi, 2006; Bocas del tiempo, curated by Claudia Casali, Brisighella, 2007; Demora, curated by Josune Ruiz de Infante, Castrocaro, Forlì, 2009; Il silenzio del grano, ex Circolo degli artisti, Faenza, 2010; Pedes in terra ad sidera visus, curated by Claudia Casali, Banca di Romagna, Faenza, 2011 and Los nacimientos, Amerongen Castel, Holland, 2011.
2006 TERRA, FERRO E FUOCO organizzata da Galleria gagliardi San Gimignano mostra personale
introduction by Josune Ruitz de Infante
ART IN PARK Villa San Paolo
In 2014 he was a guest at the Biennale del Disegno, curated by Massimo Pulini, with an installation at the Museo della Città. Rimini.
In 2016 he participates in the major exhibition CERAMIX, from Rodin to Schütte based in Paris and the Netherlands.
Since 2012 he has been creating Land Art installations and installations linked to large-scale architecture in Italy and abroad.
He has been curating SPAZIO at the CONTEMPORANEA Fair in Forlì/Cesena since 2003, where over the course of 15 years he has hosted more than one hundred of Italian and foreign artists.