Works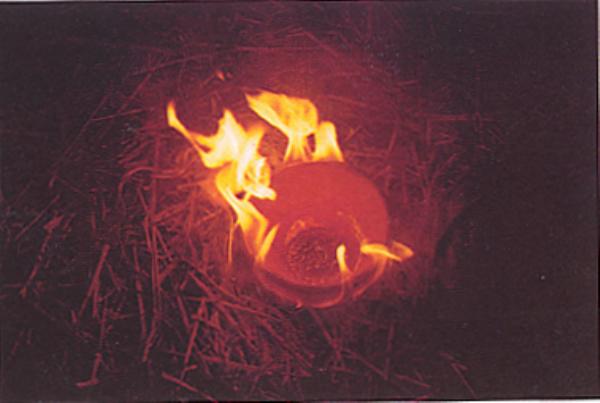 Paola Paronetto exhibited in Galleria Gagliardi from 2004 to 2010.
Raku originated in Kioto in the late XVI sec. With the potter Chojiro, a Korean immigrant and became exclusively linked to Japanese Zen tradition of the Tea Ceremony. It was first brought to attention of the Western world by Bernard Leach shortly after the beginning of this century, but the potter who is responsible for establishing "raku" as a popular creative method of pottery making is the American Paul Soldner who began his experiments around 1960. "Modern Raku" can be described, at its most rudimentary technical level, as a low fire pottery technique in witch bisque clay objects are placed in a pre-heated kiln and brought up quickly to a glaze maturing temperature (around 1000°C). The incandescent objects are then removed from the kiln with tongs and generally placed in a barrel of combustible material, covered and allowed to smoke for some predetermined amount of time (port firing reduction). This"raku" process is exciting and the result are never completely predictable, as all "raku" ceramist well know. Accidents can always happen with the shock treatment the clay undergoes. Only continuous practice diminish the percentage of cracked pieces and glaze failures.
Paola Paronetto was born in Pordenone in 1965.
She began her ceramic training in Umbria and Tuscany, where she learned the main techniques of working with clay and developed her first connections with a world that immediately fascinated her. After continuous personal research and experimentation with numerous ceramic techniques and materials, she focused on paper clay. In this way her "Cartocci" collection came to life, a rich series of sculptural objects made following lengthy and arduous procedures. Unique pieces, that are exhibited in the finest shops and galleries in Italy and worldwide.
She collaborates with architects and designers in the realization of leading interior design projects. The most prestigious magazines in the sector dedicate articles and interviews to her and her work has been published in a number of books on design and ceramics.
Some of the most recent exhibitions include:
2016/2017: "W. Women in Italian Design" at the ninth edition of the Triennale Design Museum, Milan;
2017: Contemporary Ceramics Centre London (Personal Exhibition);
2018 /2019: MUMEDI Museo Mexicano del Diseño, Mexico City in collaboration with La Triennale di Milano;
2019/2021: Particle & Wave - Paper Clay Illuminated - Arizona/Idaho, The first touring exhibition presenting works of Paper Clay.
PAOLA PARONETTO
Taormina
From 27/08/2005 to 18/09/2005
More Info