Works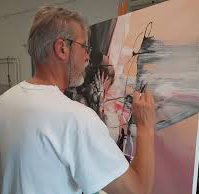 ART GERMANY 2016 – Stuttgart – dal 10 Novembre al 16 Dicembre
AAF SINGAPORE 18-20 Novembre
ARTE PADOVA 11-14 Novembre
AAF STOCKHOLM dal 13 al 16 Ottobre
AAF HAMSTEAD LONDRA 13-16 Giugno
IL LABIRINTO DELL'IPNOTISTA
A.A.F. SINGAPORE 22-24 Aprile
Palazzo Gallio, Gravedona Inaugurazione giovedì 24 marzo
A.A.F. LONDRA 10 - 13 Marzo
VECCHIATO ART GALLERIES - Padova- Speciale televisivo 3 Marzo
ZENZERO ART GALLERY – LUGANO – collettiva "YOU WILL BE MY MIRROR"
A.A.F. SINGAPORE (12/15 Novembre)
ARTIMINO 31 ottobre - 1 novembre
A.A.F. AMSTERDAM - 29 Ottobre/1 Novembre
STRESA - Modella per l'Arte 2015
ISTITUTO ITALIANO DI CULTURA HELSINKI 1 - 28 ottobre 2015
A.A.F. STOCKHOLM 1 - 4 Ottobre 2015
IMMAGINA ARTE FIERA REGGIO E. - 26-28 Settembre
AFFORDABLE ART FAIR SEOUL – dal 10 al 13 Settembre
EXPO 2015 - EXPO IN CITTA', piattaforma culturale che il Comune e la Camera di Commercio di Milano hanno voluto affiancare al Padiglione Italia destinato all'alimentazione.
L'Arte e il Tempo è l' official event, ideato da Giulia Sillato e diretto da Giulia Sillato e Giammarco Puntelli, che accoglierà le mie opere dal 10 al 30 Giugno 2015 presso il Palazzo dei Giureconsulti, in Via dei Mercanti, angolo Piazza Duomo.
MUSEO ROCCA FLEA – Gualdo Tadino (PG)
Vernissage "ITALIE" organizzata da BAM GALLERY , in collaborazione con la Dante Alighieri a Ville de Montauban (F), presso l'Antico Collegio – DAL 3 AL 12 Febbraio
Inaugurazione mostra museo di LUCCA - 19 dicembre 2014 - 15 febbraio 2015
ARTE PIACENZA 6-8 Dicembre
Presente a Milano Danza Expo
ARTE PADOVA 14-17 Novembre 2014
BIELLA - ARCHIVIO PRIA – dal 31 Maggio al 5 Luglio
MILANO - BIBLIOTECA UMANISTICA DELL'INCORONATA – dal 29 Maggio al 7 Giugno
GALLERIA BOSI - ROMA
MILANO - Sheraton Milano Malpensa, Dicembre 2013 – Marzo 2014
MILANO - "COREOGRAFIA D'ARTE 2013 – SPAZIO TADINI"
via Niccolò Jommelli, 24 Milano - dal 29 novembre al 21 dicembre 2013 - VEDI PDF X INFO
ARTE PADOVA 15/18 Novembre Galleria Per Capita - Vecchiato Art Galleries
IMMAGINA ARTE IN FIERA {Reggio Emilia} 25/28 Ottobre
Galleria Per Capita {stand 55}
MIAMI, ART BASEL MIAMI 5-8 DICEMBRE 2012
ARTE PADOVA, Dal 9 al 12 Novembre (Vecchiato Art Galleries)
ROMA, AFFORDABLE ART FAIR (Galleria Il Novecento Arte) - 26 Ottobre 2012 / 28 Ottobre 2012, La Pelanda - ex Mattatoio Testaccio - Piazza Orazio Giustiniani,Roma
MILANO, Libreria BOCCA in Galleria Vittorio Emanuele II, martedì 11 settembre 2012, ore 18.30 - personale "Sussurri dall'abisso" a cura e con presentazione di Giorgio Lodetti e Giovanni Serafini - scarica il CATALOGO della mostra
FINLANDIA (TALLIN) – AMBASCIATA ITALIANA Maggio
FINLANDIA (HELSINKI ESPOO) – BIBLIOTECA SELLO (a cura dell'Ambasciata Italiana) dal 24 Maggio al 6 Giugno
STOCCOLMA - BIBLIOTEK ALVIK - Esposizione promossa dall'ISTITUTO ITALIANO DI CULTURA DI STOCCOLMA "ITALIARTS", dal 10 al 22 Maggio 2012
Intervento di Mario Guderzo Direttore del Museo Canova
ART EXPO BARI dal 18 al 20 Maggio (Galleria ESS&ERRE – Roma)
ART EXPO AREZZO – dal 27 al 30 Aprile (Galleria Tartaglia Arte – Roma)
MILANO - presente al SALONE INTERNAZIONALE DEL MOBILE 2012, dal 17 al 22 Aprile
presso: BAMAX – Pad.1 stand B21.
MANTOVA - Galleria Errepi Arte - mostra personale, domenica 1° aprile 2012 - ore 17.30 "Reperti"
ARTE PORDENONE - 3° Salone d'Arte Moderna e Contemporanea - dal 31 Marzo al 2 Aprile - Galleria Ess&rre Roma
presente alla 54° Biennale di Venezia – Padiglione Italia – Torino (fino al 28 Febbraio)
ARTE CREMONA – dal 11 al 13 Febbraio 2012 (Galleria ESS&RRE – Roma)
MILANO - AFFORDABLE ART FAIR - 5 febbraio
BERGAMO ARTE FIERA – dal 13 al 16 Gennaio 2012 - (Galleria ESS&RRE – Roma)
Pier Toffoletti exhibits in our gallery since 2018.
All the works published on our website, are present in the gallery, are original and sold with our certificate of authenticity, with photos and data of the work itself.
The Body Splash and Face Splash works are made on canvas with acrylics and oil, are unique, original and handmade without any analog or digital support.
ARTWORKS "REMAKE" by Pier Toffoletti by Pier Toffoletti are made with photos printed on canvas and shot with brushstrokes of oil and acrylic that make it different from the original, the works "REMAKE" are present in other galleries but not in Galleria Gagliardi.
As in musical remakes, where successful songs are re-proposed with new rhythms and sounds, in the field of visual art as well, Pier Toffoletti proposes a selection of some of his original works, with a technique he himself developed, of contamination between painting and technology that allows him to obtain a reinterpretation similar to the original work but not the same, with new colors and pictorial solutions. Therefore, this is indicated and signed on the back as a "Remake", it is a unique piece of work but not original.
For company policy, Pier Toffoletti's Remakes are not distributed in galleries but are presented by a single referent in international Affordable Art Fairs, at an accessible price for these fairs
Poetics
His hands search for the colour by compressing it, completing a work that actually takes shape by deflagrating the shape itself, appearing as a positive negation, as a rebirth from the ashes of what is left of pure existence, as a dimensional passage that goes beyond the theater of our lives. Nothing to do with dripping or with Pollock's action painting. Indeed, in this case the apparent randomness is governed by the profession and the broad academic knowledge with the mental parameters that Toffoletti imposes on himself the choice of the size of the canvas, the selection of colours and a basic composition that is often morphologically recognizable. The most mysterious and relatively new part, instead, is the epilogue, that we could define as the epiphany of form. The lucidly excited, desperately animated quest becomes more cerebral and meditated with the discovery of a female body – or better, with the rediscovery of the spirit of an organism. The performing action becomes deeper, slower and almost meditative in conferring consistency to something impalpable. In that moment, Toffoletti complies with the call of the spirit that asks to be dressed, to have a material semblance. Many are the spirits that the painter from Friuli must research and cover with colour, exalting an almost otherworldly light.
from SPLASH! - Maurizio Vanni
He has had many personal exhibitions in public spaces and museums in Italy in almost all the territory and abroad as: Cesky Krumlov Repubblica Ceca, Gent Belgium, Geneve Swizzerland, Tokyo Japan, Den Haag Holland, Las Vegas USA, Gent Belgium, Luxembourg, Yokohama Japan, Nizza France, Strasbourg France, Coral Gables Florida USA, Nötsch Austria, Miami Beach Florida USA, Innsbruck Austria, New York USA, Greenville North Carolina USA, Philadelphia USA, Kiev Ucraina, Montauban France, Saint Paul de Vence France, Pirano Slovenia, Montecarlo Principato di Monaco Francia, Tolouse Francia, Lugano Switzerland, Naples Florida USA, Singapore, Amsterdam Holland, Helsinki Finlandia, Stockholm Sweden, Seoul Corea del Sud, Bruxelles Belgio, London UK, Hong Kong, Stuttgar Germany.
Many art critics have written texts on his work, including: Kazuo Akiyoshi, Dalmazio Ambrosioni, Laura Basso, Anna Caterina Bellati, Carol Damian, Raffaele De Grada, Mimmo Di Marzio, Giovanni Faccenda, Paolo Levi, Luigi Meneghelli, Daniela Pronestì, Paolo Rizzi, Giovanni Serafini, Vittorio Sgarbi, Maurizio Vanni