Works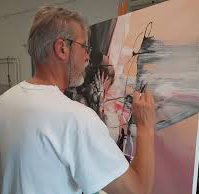 Pier Toffoletti exhibits in our gallery since 2018.
His hands search for the colour by compressing it, completing a work that actually takes shape by deflagrating the shape itself, appearing as a positive negation, as a rebirth from the ashes of what is left of pure existence, as a dimensional passage that goes beyond the theater of our lives. Nothing to do with dripping or with Pollock's action painting. Indeed, in this case the apparent randomness is governed by the profession and the broad academic knowledge with the mental parameters that Toffoletti imposes on himself the choice of the size of the canvas, the selection of colours and a basic composition that is often morphologically recognizable. The most mysterious and relatively new part, instead, is the epilogue, that we could define as the epiphany of form. The lucidly excited, desperately animated quest becomes more cerebral and meditated with the discovery of a female body – or better, with the rediscovery of the spirit of an organism. The performing action becomes deeper, slower and almost meditative in conferring consistency to something impalpable. In that moment, Toffoletti complies with the call of the spirit that asks to be dressed, to have a material semblance. Many are the spirits that the painter from Friuli must research and cover with colour, exalting an almost otherworldly light.
from SPLASH! - Maurizio Vanni
He has had many personal exhibitions in public spaces and museums in Italy in almost all the territory and abroad as:
Cesky Krumlov Repubblica Ceca, Gent Belgium, Geneve Swizzerland, Tokyo Japan, Den Haag Holland, Las Vegas USA, Gent Belgium, Luxembourg, Yokohama Japan, Nizza France, Strasbourg France, Coral Gables Florida USA, Nötsch Austria, Miami Beach Florida USA, Innsbruck Austria, New York USA, Greenville North Carolina USA, Philadelphia USA, Kiev Ucraina, Montauban France, Saint Paul de Vence France, Pirano Slovenia, Montecarlo Principato di Monaco Francia, Tolouse Francia, Lugano Switzerland, Naples Florida USA, Singapore, Amsterdam Holland, Helsinki Finlandia, Stockholm Sweden, Seoul Corea del Sud, Bruxelles Belgio, London UK, Hong Kong, Stuttgar Germany.
Many art critics have written texts on his work, including: Kazuo Akiyoshi, Dalmazio Ambrosioni, Laura Basso, Anna Caterina Bellati, Carol Damian, Raffaele De Grada, Mimmo Di Marzio, Giovanni Faccenda, Paolo Levi, Luigi Meneghelli, Daniela Pronestì, Paolo Rizzi, Giovanni Serafini, Vittorio Sgarbi, Maurizio Vanni