Works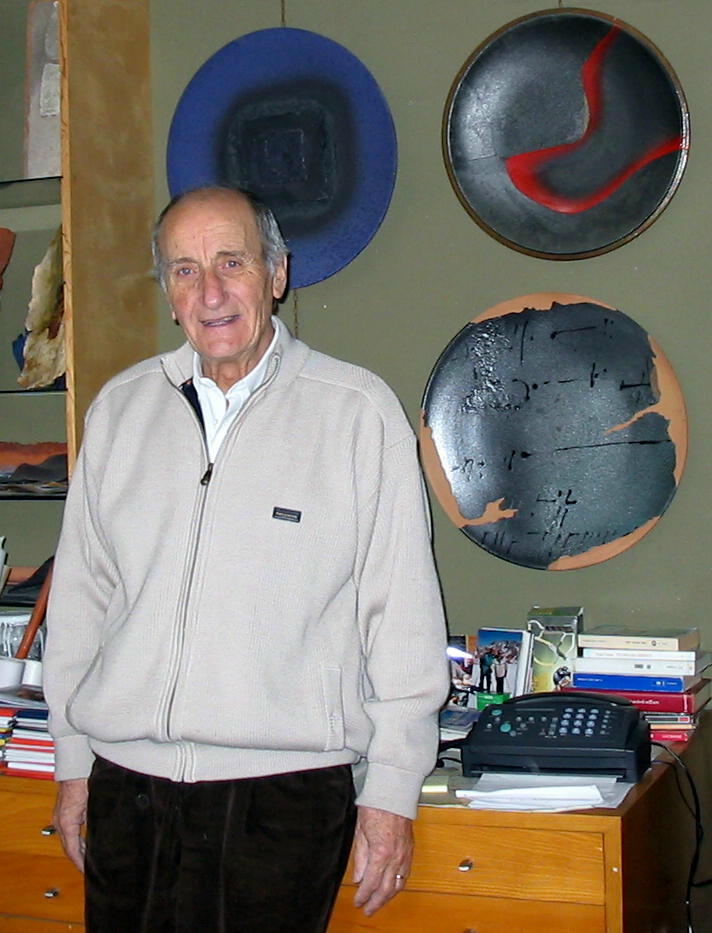 Pompeo Pianezzola exhibited at Galleria Gagliardi from 1994 to 2010.
Pompeo Pianezzola (1925-2012)
Evocation and mystery are constant poetic motives in the art of Pompeo Pianezzola. To reach these thematic objectives the artist - that is also painter and draftsman of notable thickness - primarily uses ceramics, realizing surfaces that come "you sensitize" from signs, pigments and inserts of clayey subject, in abstract formal demonstrations entirely and therefore intensely antinaturalistic. It has justly observed as these expressive forms can historically constitute - in theirs substantially "graphic" manifesting - an answer, and represents a complementary polarity to the preceding ceramic experiences of plastic plant of Fontana and Leoncillo. And an exercise of writing and investigation conducted materic "in surface" - through the use of technical wise of light forging and decoration engraved and embossed - the action that describes the investigation and the artistic reflection of Pianezzola. This style can be defined by now - later over forty years of career - a true distinctive element of the artist that allows one precise recognisability, even if in this whole departed time in the search and in the experimentation intermediary stages can evidently be traced strongly building and evolutionary, that contribute also to the actual aesthetical and formal definition of the recent works.
The ceramist and designer Pompeo Pianezzola was born in Nove, in the province of Vicenza, in 1925 and began his career as a ceramist at a very young age, working as an apprentice at the "Antonibon-Barettoni" ceramics factory and studying at the local G. Fabris Art Institute under Andrea Parini and Giovanni Petucco.
He then attended the Academy of Fine Arts in Venice.
From the very first years of his activity he was concerned with combining the quality of his work with the need to produce in industrial series, obtaining, from the end of the 1940s, his first awards both in Italy and abroad, awards that were widely recognised in the following decade.
In 1939 he joined "Antonibon Barettoni" with the qualification of decorator.
He taught at the Istituto d'Arte di Nove (Art Institute of Nove) from 1945 to 1977 and became its director from 1963 to 1968.
In 1949 he was given the opportunity to open his own painting studio at "Barettoni".
In the 1950s he met the artistic world and participated with important painters in painting and ceramics exhibitions in Italy and abroad.
In 1953 he was invited by the Association of Figurative Arts Artists to the 23rd Art Exhibition at the Basilica Palladiana in Vicenza.
In 1957 he opened his own factory in Via Molini 77 in Nove, where he produced both artistic and commercial pieces. At the same time he collaborated as a designer with the Appiani ceramic factory in Treviso and Zanolli & Sebellin in Nove.
Antonio Lucietti and Ico Parisi worked with Pianezzola.
In the 1950s he was first in several editions of the Vicenza competition.
In the 1960s his works lost their figurative aspect and took on an increasingly informal tone.
In 1962 he came first at the Gualdo Tadino competition and in 1963 he won the Faenza Prize, with a large gold-on-black shield, ex aequo with Fulvio Ravaioli, Leoncillo Leonardi and the Belgian Rogier van De Weghe.
In the same years he made some decorations for plates inspired by the paintings of Tiepolo and Guardi and produced by the Novese manufactory "Antonibon".
He took first place at the 1968 and 1970 editions of Saie in Bologna and at the International Ceramics Exhibition in Nagoya, Japan, in 1974.
In 1963, after winning the Faenza Prize, he retired from actual production and was appointed director of the Nove Art Institute.
During these years he abandoned ceramics to create sculptures in plexiglass, metal and glass but in 1974, having returned to his old love, he took part in the II International Symposium of Ceramics in Nove and in 1978 he took part in the first exhibition "Sculptors of Ceramics from Veneto".
He left ceramics again for a few years until 1992, when he took part in the exhibition in Mulhouse at the Maison de la Ceramique and presented his personal exhibition "Ceramica, sentimento del Tempo" in Beijing.
Pompeo Pianezzola has written the most beautiful pages of twentieth-century Italian ceramic art: on small and thin slabs but, paradoxically, monumental in their capacity for attraction and lyrical unfolding. Each of his pages, like each of his "scrolls" and "books", appears like the petrification of an ancient sapiential or religious text corroded by time and burnt by wars or human indifference but, precisely because of this, made even more mysterious and precious. The impossibility of extracting the intimate meanings contained in these solidifications likens his most famous works to auroral and indecipherable manuscripts and to silent witnesses of eternal, potentially revolutionary and definitive truths. Only with the earth could the chapters of an attempt at knowledge as old as the human adventure be written. Still regular in form, even in the presence of deformations, lacerations and cracks, Pianezzola's pages preserve the recognisable characteristics of a mental and cognitive project which, in the motionless fixity of a suspended time, succeeds in triggering fertile dialogues and physical participation. Pianezzola, progressively freeing ceramics from artistic-craft and sculptural legacies, has led his expressive intentions to a simple confrontation with thin slabs of the most varied soils on which, as on superimposed sheets of precious paper, he has collected, condensed and highlighted the signs, objective and never narrative, of destructive fires, of surprising tumescence, of brilliant colouristic apparitions, of unintelligible and mysterious writings, of timeless graphisms and stains that conceal, forever, messages coming from the most diverse cultures and histories. Moreover, the artist started out from painting at a time (the early 1960s) when the destiny of ceramic art seemed to coincide with that of sculpture. Looking more to Alberto Burri or Mark Rothko than to Leoncillo or Lucio Fontana, Pianezzola opened up new horizons for ceramics. This original attempt earned him the Faenza Prize in 1963 with a series of glazed terracotta shields where, against a black background, the last abstract syntheses of the natural references of his early period appear. After his apprenticeship at the Antonibon-Barettoni factory, Pianezzola attended the Art School in Nove and then the Decoration Course at the Accademia di Belle Arti in Venice where he was a pupil of Bruno Saetti. As a teacher and director of the Art Institute of Nove, Pianezzola took part, at a very young age, in the 7th Milan Triennale, in the Angelicum Sacred Art Exhibition in Milan (1950) and was mentioned as a painter by Gio Ponti in the pages of Domus. This was the period of Transenne, Finestre, Gabbie and his participation in national and international exhibitions organised by Galleria Totti in Milan. In 1953 he founded, with others, the Gruppo Artisti delle Nove (Artists' Group of the Nine), in 1957 he opened his own studio and, in 1959, he won his first Palladio Prize at the Mostra Concorso della Ceramica in Vicenza, a prestigious award that he was to receive three more times. His interest in design developed significantly with his collaboration, from 1967, with the Appiani company of Treviso, with which he won the First Prize at the 1970 SAIE in Bologna. His research into panels, which began in 1958 with Interno and Stracciato, continued with the black refractory plates Museo Internazionale delle Ceramiche in Faenza viale Baccarini 19 - Faenza RA - Tel. 0546.697311 - www.micfaenza.org - e-mail: info@micfaenza.org exhibited in 1972 at the "International ceramics" exhibition at the Victoria and Albert Museum in London. In 1980 he had his first personal exhibitions abroad, especially in Japan, where his works were appreciated for their sensitive approach to Zen culture. In 1981 he began the Pagine series and, in 1982, he placed La grande pagina in the boardroom of the Banca Popolare di Vicenza. Pianezzola is now an acknowledged master and his works are hosted in the most important museums and art galleries in Europe and abroad. Among the works on show at the MIC, some are very recent creations. They are slabs opened by gashes (2006) and large sheets painted in watercolour on which ceramic versions of the subjects are shown (2007). In the first case Pianezzola seems to want to open his pages to glimpse a never-before-revealed beyond (sometimes coinciding with nothingness and sometimes with new hermetic sheets) while, in the second, the ceramic fragments dialogue with their graphic representation, triggering endless questions about the primogeniture of reality. A meditation, and a masterly lesson, by one of the most attentive investigators of materials addressed to those who, still today, consider ceramic art a specific discipline and not a language open to all possibilities.