Works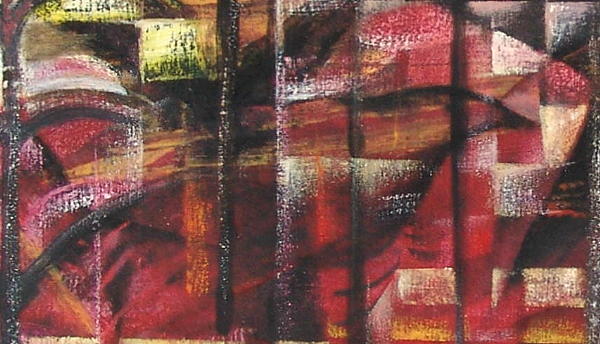 Pôsó Shahidi exhibited at Galleria Gagliardi from 2006 to 2007.
Like setting out in a little boat in the middle of a very large and deep ocean. Speaking, like paintings, is like embarking on a similar journey. I cannoy even keepquiet because there are so many things tosay: how I find myself between light and darkness, amongst the infinite images and thoughts which occupy my mind. With painting I can describe situations and with subtle vibrations of colour I can compose musical pieces, and partecipate in other people's joys, offering them my coloured testimony of this wonderful existence. Everything comes spontaneously. From the depths of silence can be heart fascinating sounds and so I listen in my precious moments of solitude. To set out and to go in the directionof the light,yes, where the paths are lost in infinity. Thus we can feel there is no beginning and no end, therefore a detailed landscape is lost in the unity of being. With the light we enter into the dimension of absolute depth. I want to dance with the colours and the wind which carrier me away, in a small area like that of a picture. It does not matter, in the mental microcoemic dream, we can live a momento as though it were years, and in every moment be aware of an infinite cosmos. A life which flows and vibrates in us and in all the parts of nature, creating images the play of light and shadow. Pôsó
Pôsó's entire artistic career is represented on two exhibition floors: the paintings inside the Villa and, in the Park, the sculptures, in an itinerary that is not strictly, but aimed at enhancing the comparison between the same themes and subjects.
Pôsó Shahidi (1950) is an artist of Iranian origin, born in Persian Azerbaijan, a region rich in great cultural traditions rooted in Assyrian Babylonian and Tsarathustrian culture, a place of passage and birthplace of the Sufi tradition.
Already as an adolescent, Pôsó's attention was drawn to extraordinary figures in the field of philosophy and art such as Rumi and Shams Tabrizi and other enlightened people of all times.
As soon as he had the chance, he devoted himself to creating and experimenting. He attended art school and later moved to Italy where he graduated from the Academy of Fine Arts in Florence.
His love of art, nature and knowledge led him to travel and study in many parts of the world, painting hundreds of miniature works.
His love of nature, silence and peace led him to choose Tuscany as the place to live and work, where he devoted himself to painting, experimenting with various painting techniques such as frescoes and murals. He delved into colour theory and art therapy, proposing yoga as a union between micro and macro creator in his works. The artist's vision becomes a witness to the Universe, the contemplation of the infinity that surrounds us and the magic and wonder of creativity and creation as a gardener embellishes the garden of the world. For years and years he has devoted himself religiously to painting and other forms of art. More than 2,000 paintings and sculptures bear witness to this 30-year dedication and he works tirelessly with confidence in his heart.
Many paintings are dedicated to nature.
In 1980 he began to exhibit and held an exhibition to underline the importance and delicacy of nature and man's impact on it.
He continued with other exhibitions: in Florence, Arte per arte in 1981, a personal exhibition in the town of Rignano, in Sesto Fiorentino and in Pratolino at Villa Luzzi in 1982.
This was followed by a series of exhibitions in Holland at the Acanthus Gallery in Maartensdijk and the Zagijn Gallery in The Hague. Another nine exhibitions were held in Holland between 1986 and 1991, including one in Rotterdam and one at the National Library in ETTEN.
In 1987 he painted a large mural (220 square metres) in the Church of Santo Stefano in Vicolagna. Another large exhibition, at the Badia Fiesolana, personally curated by Father. Two more major exhibitions in the United States: at the Stevenson Gallery in San Diego and at the W Gallery in La JOLLA, also in California.
Some of his works became part of the Rosini Gutman Collection, together with those of Warhol, Schifano, Lichtenstein, K. Haring and other great contemporary artists.
Many other exhibitions followed in these years: at the Prilli Gallery, at the Scalzi di Venia, at the Gagliardi Gallery in San Gimignano, at the Beato Angelico Museum in Vicchio, at the Biennale of Contemporary Art in Tehran. Many of his works are part of large public and private collections in Los Angeles, Milan, Copenhagen and Syracuse.
POSO'
San Gimignano
From 23/05/1992 to 18/06/1992
More Info