Works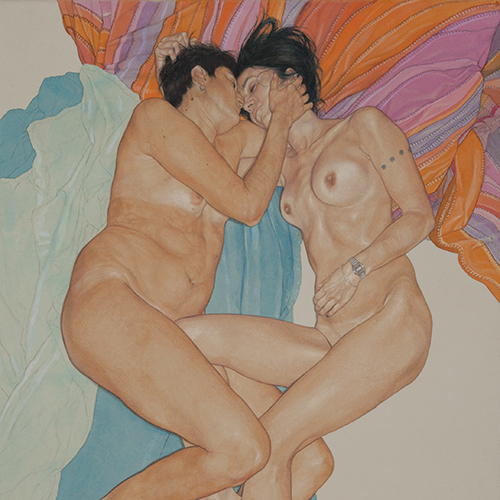 Riccardo Mannelli exhibits at Galleria Gagliardi since 2011.
Riccardo Mannelli's paintings communicate tow things to me: the first is that the history of the soul's adventures and misadventures is inexorably written on the body; the second is that the body leads to the disquieting scenario of the undifferentiated that the ancients called the "sacred, and that we, much more modestly, call the "unconscious" from which humanity has emancipated itself to inaugurate its history but that it cannot set aside if it doesn't wish to extinguish it. The ones who know how to draw on the primordial chaos, thereby risking giving up control over themselves in that little reassuring territory that is the mixture of all things (...). Umberto Galimberti "hasta manana mi amor" investigates the affectionate gestures and tenderness shared by lovers portrayed in intimate moments, captured just when they wish each other goodnight; there's a hypothetical night of sleep or oblivion in front of them, which could also metaphorically be "a nuttata"*, as quoted in the Italian comedy of Eduardo de Filippo **, which they face with this uncomplicated and disarming optimism determined by the certainty of their reciprocal passion: "see you in the morning my darling". "Blues" are single female portraits captured in moments of thoughtful abandon, immersed in their mystery; apparently unfathomable and "untellable" moods that find communicative release thanks only to their unbridled sincerity, like a blues, hence the name. Flesh and the body are the human spectacle par excellence; the most mysterious and less mysterious of all. Everything depends solely on the gaze of the spectator. It is possible to rebuild beauty, because we have the rubble in front of us.
Born in Pistoia (1955), he has been working with the national and international press since 1975; since 1980 he has been producing drawn reports around the world. He is a leading figure in major European satirical publications (L'Echo des Savanes, Humour, Cuore, Satyricon, etc.), some of which he directs or participates in founding (Il Male, , Boxer, Il Cuore). He has worked for La Repubblica and Il Fatto Quotidiano, as well as for other newspapers and magazines, including foreign ones. He has published several books, most recently "Fine penna mai" in 2013. At the same time, he has developed a personal pictorial research, documented in various exhibitions and catalogues, including: the pictorial cycle of sixty works Commedia in Z.E.R.O. (catalogue); the virtual frieze projected onto the Ara Pacis Apoteosi dei cortti, which gave rise to the book of the same name; with Jan Saudek Teneri Barbari (catalogue); in 2011 he was invited to the 54th Venice Biennale, in the Italian Pavilion. Also in 2011 he exhibited the entire cycle "commedia IN Z.E.R.O." at the Spoleto Festival (catalogue). In 2012 he published the art book "A." for Tricromia and held a solo exhibition "Appunti per la ricostruzione della bellezza" at Galleria Gagliardi in San Gimignano. In 2015 he held a two-person exhibition at the Philobiblon Gallery "ROPS + MANNELLI" (catalogue); the same exhibition was transferred from March to June at the Palazzo Ducale in Urbino, curated by Vittorio Sgarbi. February 2016 solo exhibition at Building Bridges Art Gallery in Los Angeles. Teaches at I.E.D. where he coordinates the Illustration and Animation department.
Biography
After obtaining his diploma as a surveyor, he began to attend the Faculty of Architecture in Florence, 'but' he adds, 'I never completed my studies. (..) I had the good fortune to meet Emilio Isca from Turin, who published Help, the only satirical magazine of the time, and I started to do some drawings for him and that is when my profession began.
During his military service in Pisa, in 1980, he published under the name Folgore.
Author of illustrated reportages first for La Repubblica then for Cuore.
Lived for three months in Nicaragua between 1982/83 during the Sandinista revolution.
Collaborations
He was under the bombs in the Yugoslavian war, as a 'Pirla', as he defines himself in an interview with the newspaper la Repubblica: 'Usually, in war zones, journalists work in hotels, collecting the press agencies. Instead, I ask for permission, rent a car and go and see for myself (...) I sit there and draw. I do it from the battlefields, from the cafés, from the inside of a small car with which I travelled 20,000 kilometres in the 1980s.
He created the virtual frieze "Apoteosi dei cortti" (Apotheosis of the Corrupt) projected on the external wall of the Ara Pacis in Rome. In 2009, he held the "Teneri Barbari" (Tender Barbarians) exhibition with Czech photographer Jan Saudek; in 2011, he exhibited his entire pictorial cycle "COMMEDIA IN Z.E.R.O." for the first time as part of the 54th Spoleto Festival Art Exhibitions. Also in 2011, he was invited to the 54th Venice Biennale where he exhibited three works in the Italian Pavilion. In the same year he received the Forte dei Marmi Award for Political Satire.
He has collaborated with the main Italian satirical magazines (Il Male, of which he was one of the founders, Cuore, Boxer), with comic magazines such as Linus and Alter Linus, and with newspapers and magazines such as Playmen, Blue (Coniglio Editore) L'Europeo, La Stampa, Il Messaggero, Lotta Continua, il manifesto, la Repubblica and abroad L'Heco des Savanes (France), Humor, Pagina 12 (Argentina). He collaborates with Il Fatto Quotidiano.
He designed the cover for Paola Turci's album Ritorno al presente.
He teaches life drawing and anatomy at the European Institute of Design.
Opere principali
2015 Rops + Mannelli. Incantazioni /Anatomie dello spirito, Ed. Philobiblon
1013 Fine penna mai - tutti i disegni satirici della rubrica fuorigioco pubblicati da "Il fatto quotidiano" con la prefazione di Marco Travaglio Ed. Mompracem
2009 Apoteosi dei corrotti: disegni preparatori per un fregio celebrativo (con testi di Filippo Ceccarelli e Marco Travaglio), Roma, Coniglio
2007 "Therese Philosophe" Denis Diderot – illustrazioni di Riccardo Mannelli Coniglio Editore
Jan Saudek – Riccardo Mannelli Teneri barbari / tender barbarians - a cura dell'istituto culturale ceco
1994 Carni scelte – Blue book
1990 Appunti, cronache, reportages, saldi di fine secolo - Roma, Daga
1985 Nicaragua - introduzione di Saverio Tutino, S.l., Sestili
1984 Chilometri di chili: viaggi fra le anatomie metropolitane - illustrazioni scritte di Costantino Liquori, Roma, Phantasmagorie
Mostre Personali
2016 - Bellezza vera, Galleria Gagliardi, San Gimignano Settembre/Ottobre
2016 - Notes for the Reconstruction of Beauty, Building Bridges Art exchange, Los Angeles CA Gennaio/Marzo
2015 - Rops + Mannelli. Incantazioni /Anatomie dello spirito, con Félicien Rops, Palazzo Ducale, Urbino
2015 - Rops + Mannelli. Incantazioni /Anatomie dello spirito, con Félicien Rops, Philobiblon, Roma
2013 - Appunti per la ricostruzione della bellezza, Studio Rosai, Firenze
2012 - A. Parlando proprio di corpo, Tricromia Gallery, Roma
2012 - Appunti per la ricostruzione della bellezza, Galleria Gagliardi, San Gimignano
2011 - Appunti per la ricostruzione della bellezza, Studio 7 Arte Contemporanea, Rieti
2009 - Teneri Barbari, con Jan Saudek, Castello Carlo V, Monopoli
2010 - Je suis l'excessive, Tricromia Gallery, Roma
2006 - In sonno, Tricromia Gallery, Roma
2005 - Stanze di guerra, C.S. Brancaleone, Roma
2002 - Eccetto me e la mia scimmia, Teatro Puccini
1999 - Global soup, Galleria A.A.M., Roma
Collettive
2011 - Padiglione Italia, 54ª Biennale di Venezia, Venezia
2011 - Mostre d'arte del 54º Festival dei 2 mondi di Spoleto, Spoleto
2011 - (In) Sofferenza, Galerie Stephan Stumpf, Monaco
2010 - Ritratti Italiani, Fondazione Durini, Milano
Riconoscimenti
1992 Premio Caran d'Ache al Salone Internazionale dei Comics
Note
La Nazione
Roberto Incerti, 20mila chilometri dentro le notizie, in la Repubblica.it, 3 febbraio 2002. URL consultato il 19 giugno 2013.
Riccardo Mannelli @Tricromia, su tricromia.com. URL consultato il 19 giugno 2013.
http://www.galleriagagliardi.com/en/art-exhibition-year/2016-12/riccardo-mannelli
Collegamenti esterni
Così gli illustratori italiano conquistano il mondo - La Repubblica
Ritratti d`artista. Riccardo Mannelli, sul portale RAI Arte, su arte.rai.it.
Visioni memorabili e fotogrammi implacabili di Fabio Norcini, su scanner.it.
Intervista al grande disegnatore Mannelli: "Scalfari mi trattò come da delinquente" Il Garantista 2 dicembre 2014 di Susanna Schimperna
Felicien Rops in mostra assieme al contemporaneo Riccardo Mannelli - Urbino Servizio [collegamento interrotto], su urbinoservizi.it.
La bellezza nuda - La Repubblica, su repubblica.it.
Mannelli e Rops, la strana coppia dell'arte - di Francesca Massaro Araldo dello spettacolo 2 marzo 2015, su araldodellospettacolo.it.
komikazen festival Riccardo Mannelli, su komikazenfestival.org.
A lion in winter - huffingtonpost Shana Nys Dambrot
Juxtapoz Paintings by Riccardo Mannelli, su juxtapoz.com.
El impresionante realismo eròtico de Riccardo Mannelli - Cultura inquieta 13 mayo 2015, su culturainquieta.com.
DIARIO DI UN VIZIO
MUST - Museo Storico della Città di Lecce
Via degli Ammirati, 11 - Lecce (Italy)
From 05/03/2019 to 31/05/2019
More Info
Bellezza Vera
San Gimignano
From 10/09/2016 to 02/10/2016
More Info
Appunti per la ricostruzione della bellezza
San Gimignano
From 31/03/2012 to 22/04/2012
More Info
Padiglione Italia - della 54°Biennale di Venezia.
TORINO
From 26/02/2012 to 26/02/2012
More Info