Works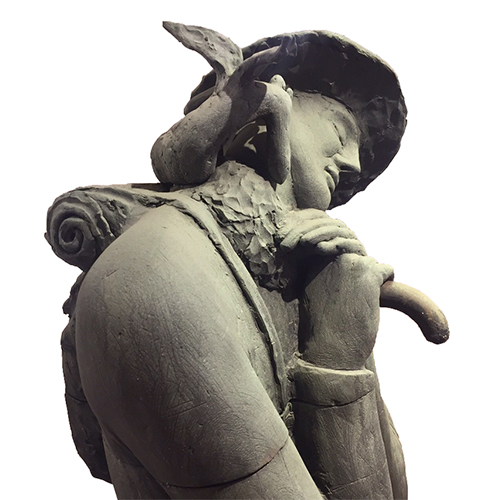 Sergio Zanni exhibits at Galleria Gagliardi since 2016.
Sergio Zanni was born in Ferrara on May 22nd, 1942. He attended the Academy of Fine Arts in Bologna studying painting and deepening research on modeling. In the while, until 1995, he teached in the Institute art "Dosso Dossi" of Ferrara. Featured in numerous exhibitions in Italy and abroad, Sergio Zanni is now considered one of the great national sculpture. Among the last exhibitions, are highlighted the exhibitions in 2004 at Palazzo Massari Ferrara, in 2011 at the Biennale di Venezia, in 2012 in Berlin, in 2014 the Museum Magi of '900 . "The wayfarer, then, is not just a topic for the artist to develop: it is the very essence of the artist's decades-long search. The wayfarer is also a person who travels through time and space. He is the bearer of stories and the custodian of wisdom. Hovering over the precipice that separates the past from the unknown, between tradition and subversion. He is the person that sews together an interior baggage of experiences and anecdotes through his nomadic lifestyle. Lastly, he is the one who considers spirituality the only wealth which is worthy of being treasured during our eventful earthly existence."
After graduating from the Dosso Dossi Art Institute in Ferrara, he attended the Academy of Fine Arts in Bologna.
He combined his artistic activity with teaching at the same "Dosso Dossi" art institute until 1995.
He used terracotta for his sculptures and later moved on to lighter materials for large-scale works.
Vittorio Sgarbi has described him as a "Paduan surrealist".
The sculptor himself defines his artistic career in this way: "My job allows me to travel continuously to discover unknown lands. These lands have materialised in a myriad of characters: hermits, rain lords, assassins, war memorials, devils, guardians of the plains, gypsies, observers, walkers. Divers, waiters, figures without a front, pilots, cloud chasers, oblomovs, smokers, war painters, mysterious angels, siren songs and so on, right up to the latest works, equilibrists, Ulysses and other wayfarers. Towards the end of the 20th century, I was faced with the problem of making large works: the beloved terracotta is unfortunately heavy and fragile. In a way, I was obliged to experiment with materials that were more practical and much less noble than earth. So in this last phase I started experimenting with polystyrene covered with kryptonite and iron ball (very recent materials for stage design), fibreglass, iron rod and assemblages with iron objects. These materials were used to create my largest works: the kamikaze, the victors' chariot, the group photo with the six white pilots, the great wayfarer, the kamikaze, the kamikaze and the iron ball.
Mostre personali e collettive
1973 - Centro attività visive, palazzo dei Diamanti, Ferrara
1976 - Galleria Intermidia, Ferrara
1978 - Chiesa di Santa Lucia, Bologna
1979 - Accademia dei Concordi, Rovigo
1980 - Artaga, galleria comunale, Faenza
1981 - Aletheia - Lethe immaginale pagano, mostra itinerante, Palazzo dei Diamanti, Ferrara; Palazzo Alberini, Forlì; Loggetta Lombardesca, Ravenna
1983 - Galleria Zarathustra, Milano
1984 - Galleria Tommaseo, Trieste; Galleria l'Officina, Trieste; Galleria Cristina Busi, Chiavari; Galleria Minima, Reggio Emilia; La persistenza del mito nella pittura e scultura degli anni '80, Centro comunale di cultura, Valenza; Tridimensionale, Termoli; IV Rassegna internazionale della ceramica, Caltagirone
1985 - Biennale di Milano
1986 - Galleria Rossana Ferri, Modena; Teatro et Mitologie, Philippe Giumiot Art Gallery, Bruxelles
1987 - Santa Maria delle Croci, Ravenna
1988 - Galleria Il Bulino, Modena
1989 - Galleria Il Girasole, Legnago
1991 - Galleria Tommaseo, Trieste
1992 - Sala Benvenuto da Garofalo, Palazzo dei Diamanti, Ferrara
1993 - Galleria San Carlo, Milano; Galleria Rosso Tiziano, Piacenza; Galleria Modula Arte, Parma
1995 - Circolo degli artisti, Faenza; La pittura e la scultura fantastica e visionaria, Centro culturale di esposizione e comunicazione "Le Zitelle", Venezia; Biennale del Bronzetto, Padova; Galleria Stadmaeuer, Villach, (Austria)
1996 - Galleria San Carlo, Milano; Galleria Palazzo Vecchio, 2, Firenze; Omaggio a Sergio Zanni: Terra plasmata, Fiera artigiana, Firenze; XXII Premio Sulmuna, Sulmuna; Monumentalmente vostro, Villa Pacchiani, Santa Croce sull'Arno, Pisa; Migrazioni spirituali mediterranee, Bettona (Perugia); 25 anni di scultura in Europa: le opere della Fonderia Venturi arte, Delizia Estense del Verginese, Portomaggiore (Ferrara); Le forme del fuoco: 100 sculture in Montenapoleone, Milano; Galleria Rosso Tiziano, Piacenza
1997 - Galleria Modula Arte, Parma; XXXVIII Mostra della ceramica, Castellamonte; Omaggio a Morandi, Grizzana Morandi; Ancora è calda l'erba sui miei prati, Galleria Forni, Milano
1998 - Continuità dell'immagine, Galleria Davico, Torino
1999 - Galleria Davico, Torino; Galleria Forni, Bologna
2000 - Arte fiera, Bologna
2002 - Galleria Cristina Busi, Chiavari
2003 - Workshop, Oligo-Miocene shallow water carbonates: biogenic components and facies, Università di Ferrara
2005 - Etroubles, Museo a cielo aperto
2006 - Galleria Forni, Bologna, Di Ulisse e d'altri viandanti; Visionari Primitivi Eccentrici, Galleria Civica di Palazzo Loffredo, Potenza
2007 - Equilibri di viaggio, Balocco Art Hotel, Porto Cervo, Arzachena; Difformi forme, Galleria Marchesi, Ferrara; Biennale del Muro Dipinto 2007, Rocca Sforzesca - Pinacoteca, Dozza (BO); Copulamundi, C.ETRA, Castel Bolognese (RA)
2008 - Sergio Zanni - Viaggiatori, viandanti ed equilibristi, Cà Cornera, Porto Viro (RO); Sebastiano tra sacro e profano, Monica Benini Arte, Ferrara; Anch'io Pinocchio, Galleria del Carbone, Ferrara
2009 - Il cielo alla rovescia, Galleria del Carbone, Ferrara; Arte per Emergency, Galleria del Carbone, Ferrara; Sergio Zanni - L'Auriga, il Nichilista e il Viandante, Galleria del Carbone, Ferrara; Generazioni, Istituto d'Arte "Dosso Dossi", Palazzo Cavalieri, Ferrara; Tredicesima ora. 12 + 1 Interpretazioni sul tempo, Laboratorio di Ingegneria e Architettura Marchingegno
2010 - Il cielo alla rovescia. Il cielo in una scatola. Omaggio a Galileo, Casa di Virginio Ariosto, Bondeno (FE); Puerto Sebastian: Il mito di San Sebastiano nell'arte contemporanea, Museo Parmeggiani, Cento (FE); Sergio Zanni - Sculture e disegni, Galleria Cristina Busi, Chiavari (GE); Gallerie al Museo, MIC Museo Internazionale delle Ceramiche, Faenza (RA)
2011 - 54º Biennale di Venezia, Padiglione Italia, Venezia; Progetto Scultura 2011, Castel Sismondo, Rimini; In Illo Tempore/Daniela Carletti, Castello della Rocca, Cento (Ferrara)
2012 - Illustrissimo Pinocchio - Immagini ferraresi, Portomaggiore (Ferrara); ...e come esuli pensieri..., Galleria del Carbone (Ferrara); Metamorfosi, Maurizio Bonora, Gianni Guidi, Sergio Zanni, Galleria del Carbone (Ferrara); Das Szenische in der Bildenden Kunst (Rolf Escher, Sergio Zanni, Viktor Müllerstaedt), Georgia Berlin Galerie (Berlin); Omaggio a Michelangelo Antonioni dagli amici della Galleria del Carbone, Galleria del Carbone (Ferrara)
2013 - Biennale Internazionale di Scultura, Castello di Racconigi; I cercatori dell'immutabile, Spazio Rosso Tiziano (Piacenza)
2014 - Künstler aus Ferrara, Italien, Kreis Galerie (Norimberga); Custodi di un tempo, MAGI'900 Museo delle eccellenze artistiche e storiche, Pieve di Cento (Ferrara)
2015 - Scultura/Mosaico, EXPO 2015, EatItaly, Milano; Acqua, farina, lievito... pane, Galleria Il Ponte, Pieve di Cento
2016 - Pellegrini, viaggiatori, viandanti, Museo e Oratorio di Santa Maria della Vita, Bologna
2016 - Pellegrini, viaggiatori, viandanti, Galleria Gagliardi San Gimignano Arte Contemporanea, San Gimignano.
Pellegrini, Viaggiatori, Viandanti
San Gimignano
From 02/07/2016 to 30/07/2016
More Info