Works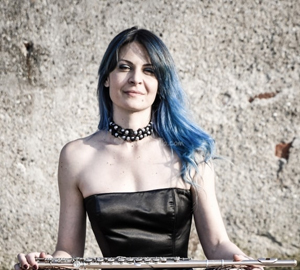 Sylvia Catasta exhibits at Galleria Gagliardi since 2019.
Sylvia Catasta was born in Fermo, graduated in Restoration at "U. Preziotti" Institute of Art and at the same time got her Master's Degree in Flute at the "G. B. Pergolesi" Conservatory of Music.Very soon she was invited to take part in group shows in the Marche region, gaining good approvals and commissions for portraits, until music took her elsewhere.Moved to Milan to deepen her musical studies, she began a career playing as flutist and piccoloist for the most prestigious orchestras of the classical panorama as "La Verdi" in Milan, the Teatro alla Scala, the Orchestra Internazionale d'Italia, while collaborating with the most famous artists of the pop / rock scene as Orchestra Arranger. In these years however she continued drawing portraits, until 2017 when painting came back forcefully in her life. In December 2018 some of her works have been exhibited by the Galleria Mario Giusti HQ in Milan and in May 2019 one of hers was auctioned and sold by Sotheby's. The Value, as a moral and intellectual dimension, is the concept that moves each of her works, more or less explicitly. The Cloud series comes from the need to catch a light, a color, that moment of wonder that leads us to ignore the time and connecting it to sensations, memories, sounds. In a synesthetic analogy where the form is melody, Sylvia's clouds are a celebration of the sound mixture, of color as light that creates images and emotions that are always subjective and individual.
As an instrumentalist, he has played with all the main Italian orchestras such as the Filarmonica delle Scala, the Orchestra Internazionale d'Italia, the Orchestra Sinfonica di Milano "Verdi", the Orchestra dei Pomeriggi Musicali di Milano, the Orchestra Filarmonica Italiana. He has then edited the arrangements of the orchestral section for record productions and tours of well-known artists. Among them Muse, Elisa, Negramaro, Adriano Celentano, Mario Venuti, Stadio, Massimo Ranieri.
In 2012 he founded the new Pop Orchestra of Milan, Synthonic, then he took care of the string section for several tours. A separate speech deserves the meeting with Max Gazzè: in 2009 he took part in the Casi Ciclici Tour, then he wrote and arranged L'Uomo Sinfonico, performed by the Orchestra Toscanini of Parma and the Roma Sinfonietta. He worked as musical assistant with the well-known composer Ezio Bosso for a film production by Gabriele Salvatores, and collaborated with Nicola Tescari on the soundtrack of a television film. International collaborations include one with Joyce Elaine Yuille, a New York jazz-soul singer, and one with Mika.
https://www.facebook.com/sylvia.catasta/videos/10223671849207952