Works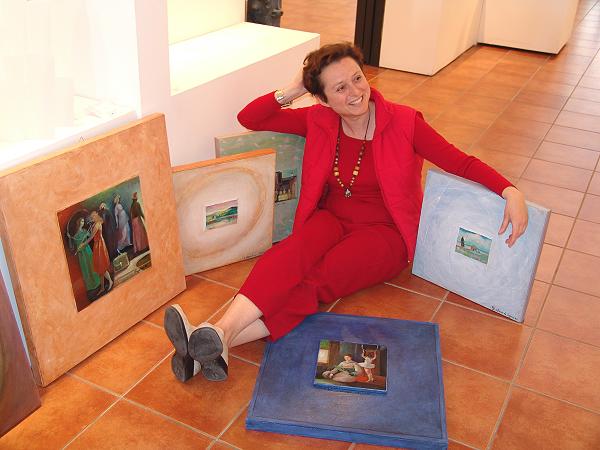 Silvia Vagarini exhibited at Galleria Gagliardi from 1993 to 1995.
Silvia Vagarini is a young girl, but she is treading the boards of the art of painting for several years. We do not know exactly when this young girl began painting, but her pictures seem to be centuries old. Because of a kind of metempsichosis, this young girl remains tied to her purgatory, but she is able to create lively paintings. Silvia Vagarini has lived many lives. She manages to give vibrations of an ancient sonority to her personages, who are pervaded by overspread monochrome, shrinking from the arrogant chromatic manner of many other painters, not only in Tuscany, but everywhere. ItaloTassinari (1995)
Silvia Vagarini was born in 1967.
She owes her inclination to painting to the assiduous attendance of Cesare Vagarini, also a painter, my father's uncle; Silvia is deeply grateful to him, having received from him her first and fundamental ethical and artistic orientations (admiring his human bearing and the religious intensity of his being).
I attended the painting course held by Professor Ferdinando Farulli at the Academy of Fine Arts in Florence, where I graduated in 1991.
Since then, I have never stopped painting, which I do on a daily basis.
I have always tried to maintain contact with my cultural roots. Piero della Francesca, Pontormo, Raphael, Leonardo, and even the Pre-Raphaelites: these are the conscious sources from which I draw inspiration.
From 1993 to 1995 1 from 2000 to 2004 I exhibited my works permanently at the Galleria Gagliardi of San Gimignano (SI)
1993- Personal exhibition at the Galleria Gagliardi of San Gimignano, Siena
1993- Personal exhibition at the ATRIUM gallery of Monterotondo, Rome in collaboration with Galleria Gagliardi San Gimignano
1998- Personal exhibition at Villa Breda in Padova
2001- Solo exhibition at the Speiserkasse in Geilenchirchen - (Cologne) Germany
2007- Solo exhibition at the Galleria Mentana, Florence
2007- Solo exhibition at the deconsecrated church of S. Monaca, Florence
2008- Solo exhibition "A occhi chiusi" at the Limonaia of Villa Vogel, Florence
2011- Personal exhibition "Imagining Eden" at the Civic Gallery 69, Florence
PRIZES
- First prize for young people Lastra 1997
- XXIV Florence Prize 2006
They wrote about me:
- In the exhibition held at Villa Breda in Padua: Prof. Giorgio Segato
- In the exhibition held at the Mentana Gallery: Pier Francesco Listri
- In the exhibition held at Galleria Civico 69: Sonia Salsi in the May 2011 issue of the magazine Pegaso.
SILVIA VAGARINI
San Gimignano
From 05/06/1993 to 24/06/1993
More Info