Works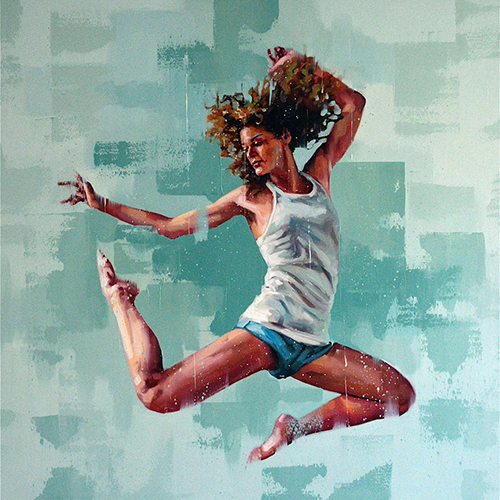 Silvio Porzionato exhibits in our gallery since 2015.
Silvio Porzionato is a figurative painter who prefers oil paint on canvases. He takes photographs of friends and people he meets on the street. His figures are depicted in statuary close-up, although ordinary people; they have the power to make us forget the typical private dimension of the portrait and, at the same time, they have the power to become icons of the human race. Silvio graduated from art school, then he has been head designer for a decade in an important Italian company.
At the end he decided to start a new life in the silence of the countyside, closely with nature and art.
So he found his way: he has been noticed and he got many national awards.
Porzionato is a figurative painter who prefers oil paint and acrylic on large canvases, focusing mainly on the use of the color black and white and various shades of gray, telling painting in his personal reflections on the man and woman and, inevitably, the flow of time.
The artist lives and works in a close and intimate contact with nature and art.
Silvio Porzionato begin to exhibit in 2007 and the same year was selected to the premium Arte Mondadori. In 2008 he participated in a project entitled "10 Artists limited edition" in collaboration with an important design firm. In addition to numerous solo and group exhibitions, in 2010 he won the critics Award at Art Saluzzo, graded first in the "Premio Leonardo" (Leonardo Award) and has recently created a work "permanent" for the Museum of Urban Art in Torino MAU. In 2011, selected for the 54th Venice Biennale, exposing both the Pavilion regional Italian Pavilion in Turin, Sala Nervi.
There are many personal exhibitions in Italy at: Parma, Aosta, Milan, Faenza, Nonantola, Reggio Emilia, Castel San Pietro, Palazzo Strozzi Florence, Ancona, Erice, Venice Biennale, Bari, Polignano Mare, Salerno, Cuneo, Massa Carrara, Rome, Bologna, Gubbio, Parma, Pecci Prato Museum, San Felice sul Panaro, and abroad: London GB, Antibes France, Frankfurt, Darmstadt, Mulhacher, St Peter Lübeck Germany, DubrovniK Croatia, Piran Slovenia, Miami Florida USA, Bogotá Colombia, Istanbul Turkey, Chicago IL USA, San Francisco California USA, Hong Kong.