SCULTURE
by GIORGIO LAVERI
presentation by Stefano Gagliardi ART IN PARK Excelsior Palace Hotel
from 04/06/2005 to 26/06/2005
2005 - Galleria Gagliardi, Taormina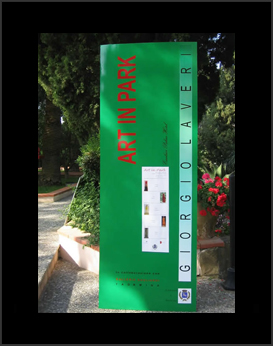 Giorgio Laveri was born in Savona in 1950.
He matured various artistic experiences dedicating to cinema and theatre since the early 70s.
At the same time he developed a pictorial research on canvas and ceramic, tended to increase connections between different art disciplines.

After the first solo exhibitions in Genova in 1973, some "on subject shows" were born, art expression proposals to complete cinematographic and theatrical sets.

In 1990 he perfected his research with the early theatrical representations in ceramic-light-movement.

In the meanwhile he took part at many exhibitions, at the Museum Giardino Pacetti, Bologna Art fair, at thw Union Banque Suisse in Lugano.

In the last years he has tied his work to public events in Italy and abroad.