Sottovetro: il tempo modifica lo spazio, ma lo conserva
by VIRGILIO
from 13/03/2010 to 28/03/2010
2010 - Galleria Gagliardi, San Gimignano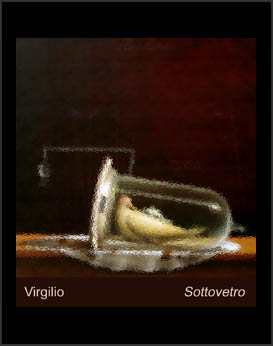 "Under the glass: time modifies the space but preserving it" is the title of the solo exhibition held at Galleria Gagliardi in San Gimignano.
Behind the pseudonym "Virgilio" hides an artist determined to unveil reality's secrets, through mysterious enigmas and rebuses. Virgilio is a juggler of the iconic interpretation, a metaphysics' messenger, a translator of thought. "Under the glass" is not just a title, but also a cycle of paintings that the Artist is going to realize exclusively for the gallery.
The subject of the glass bell, its sacredness and conservation, will be inquired, for the second consecutive year, with the typical artist's irony: under the bells enigmatic characters are revealed, learned quotations, improbable subjects. At times vegetables, or humanized animals, more frequently anxious figures bearing esoteric messages. And if bell represents the vision's universe, or the magnifying glass to make the vision interpretable, it is proper that it may be dusted, shattered, splintered, overturned. Virgilio, introducing his exhibition states: "painting does not exist, it is not tangible, it is at all effects an optical illusion: reality is a mutable reality, the pictorial representation is such an illusion changing in an immutable icon in time".
The mimetic ostentation of Flemish memory is subject of reflection about the ethics of the contemporary man. On exhibition, more than fifteen unedited works, realized for this occasion: rigorously painted using acrylics on board and an extremely thin brush, they provoke an ambiguous fascination to the spectator.